This article was written by Christian Doherty and published in the Innovations magazine #2.
---
Pacemakers, handguns, fighter jet parts, windpipes, inflatable flowers, shoe insoles, dolls based on photos – these are just a few of the things currently being printed around the world with innovative technology that could change our world.
The idea of using a printer to produce three-dimensional, physical items sounds like science fiction but the technology – now more commonly referred to as additive manufacturing (AM) – is becoming increasingly commonplace. However, many of these developments are still outliers – it's possible to print a 3D inflatable flower, but we're unlikely to see such objects for sale in a florist's window any time soon. To date, much of the technology's potential has been based on novelty and not innovation.
 
All that may be about to change – in fact, the worlds of design and manufacturing are facing a potential revolution. This market has grown enormously: according to the benchmark Wohlers report, the market for 3D and AM grew in 2012 by 28.6 per cent, which represents around US$2.2bn (compared with US$1.7bn in 2011), with growth averaging 30 per cent year on year. In addition, the number of 3D and AM machines now stands at around 8,000 around the world, increasing by a factor of ten in the last year, according to Wohlers.
A new era?
"It's not a new process – in fact, the technology first appeared in the 1980s to manufacture plastic parts," explains Yannick Cadoret, mechanical expert for corporate engineering at Thales. "It was called rapid prototyping back then. In a couple of hours, the 3D printing machine processes a 3D CAD (computer aided design) drawing and produces the prototype part layer by layer. A photo-reactive liquid polymer is cured by a UV laser on a build platform which is lowered to solidify the next layer to build up your part."
 
With this as its foundation, 3D printing has become a common way to make prototypes and models, as well as plastic parts in niche products like in-the-ear hearing aids. But in the last decade, thanks to advances in design and materials, it has morphed into a genuine alternative to established manufacturing techniques for plastics and metals such as casting, injection moulding and machining.
"With AM, you can change the process with lots of advantages," says Cadoret. "You can reduce manufacturing cycle times, mass, costs and waste combined with greater flexibility in the design. It offers real opportunities to make your products more attractive and competitive. Instead of buying a kilogram of metal and removing up to 90 per cent (machining), with AM you use only the materials you need and you don't have to buy an expensive block of material."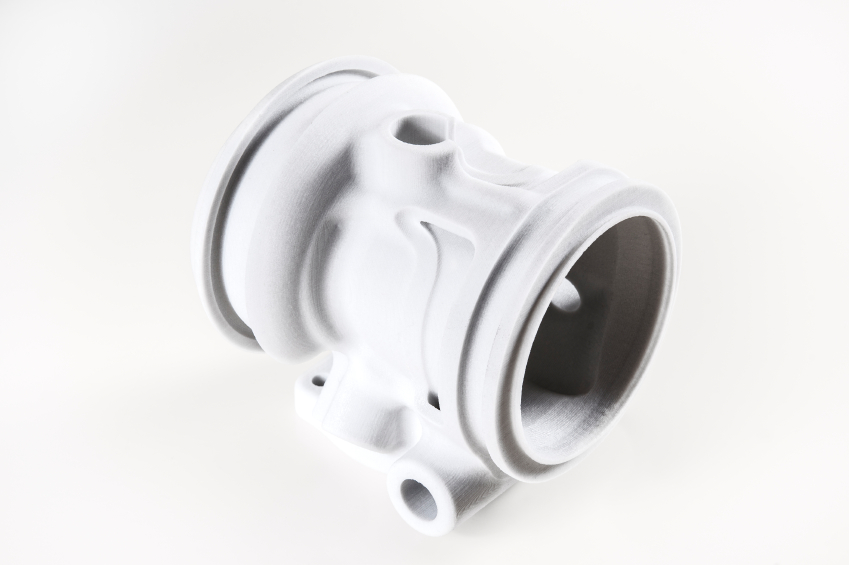 Count the benefits
Additive manufacturing has two enormous advantages over traditional manufacturing methods. First, it liberates designers and engineers from the limitations inherent in conventional manufacturing: using additive manufacturing techniques can allow complex parts to be produced with relative ease.
 
Second, producing modified parts can now be done at a fraction of the cost – simply tweak the 3D CAD model and off you go. Perfecting a component, a process that was once painstaking and expensive, is now simply a matter of saving a new file. Currently, AM is most concentrated in the medical, automotive and aerospace sectors.
 
Medical engineers can design and build implants, prostheses, hearing aids and so on. Plastic surgeons can build a new nose, for example, by adapting the individual designs to each customer using a 3D model.
 
AM is now capable of delivering a huge range of small, largely plastic parts with increasingly complex structures.
Looking ahead, the focus for those at the cutting edge is twofold: develop new materials and drive the process of making stronger, more complex components with significant mechanical properties.
Driving innovation
Thales has been at the forefront of this new technology, fostering the growth of AM in France, and is a leading member of a consortium that is aiming to place Europe's aerospace industry at the centre of the AM revolution. The Additive Manufacturing Aiming Towards Zero Waste and Efficient Production of High-Tech Metal Products (AMAZE) project is a 28-member group of manufacturers across Europe, including Airbus Group, AVIO, BAE Systems and Volvo, committed to working together to both foster AM across the continent as well as developing components and techniques.
 
Additive manufacturing and 3D printing have been, more than most new technologies, the subjects of some very outlandish coverage. Various reports claim the technology will allow criminals to print their own disposable handguns and builders to "print" a new house for pennies. Not likely, says Dickens, but he does acknowledge that there are some truly staggering opportunities ahead.
In the meantime, the truly game changing application of AM techniques may be much closer to home. "I think it's just a matter of time before you see people making replacement organs using this sort of technique," says Dickens. "You could take living tissue and build up an object in a similar way to the sort of cheaper printed processes that are being used now. "People would be working on multiple types of living tissue and doing it in a very controlled atmosphere, so that the stem cells don't die. We will be building living tissue, but it's going to be probably another 10 or 20 years before we start to see much of that happening – but it is starting to happen now. "
 
Food for thought indeed…
 
The cost of a 3D printer capable of producing small plastic parts is now running under US$1,000, but for a machine capable of making metal parts, it can be anywhere between US$150,000 and US$1m.