At a time when threats to civilians and military forces are evolving faster than ever, Thales is providing versatile fire control platforms that can be used in a variety of environments against a wide range of ground and air-based targets. These systems are expected to be in UK service until 2026 and beyond.
In war and civil defence, the threat you're trying to protect against today could be of an entirely different nature or location tomorrow. And next month it could all change again.
Thales is answering this uncertainty with two advanced fire control platforms – one vehicle-mounted and the other man-portable – which bring a versatile, rapid response defence capability to a wide range of environments and missions.

RAPIDRanger
RAPIDRanger is a lightweight, highly automated multi-missile launcher which can be fitted to most tracked and wheeled military vehicles.
Capable of defeating airborne threats as diverse as unmanned air vehicles (UAVs), cruise missiles, fixed wing ground attack aircraft and late unmasking helicopter targets. RAPIDRanger can also be loaded with a range of missiles from Thales and other providers, adding the ability to attack ground targets such as armoured personnel carriers, static installations and terrorist platforms.
The addition of an integral 360° surveillance sensor provides the RAPIDRanger with completely autonomous system operation for 24/7 force protection.
RAPIDRanger can also be integrated into a network-enabled force structure and can be coordinated with early warning Command and Control system, tracking a number of prioritised targets.

Lightweight Multiple Launcher – Next Generation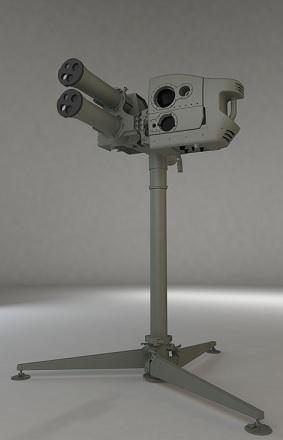 LML-NG is the latest iteration of Thales's Lightweight Multiple Launcher. This man-portable system can be mounted on a tripod or vehicle and loaded with Thales's STARStreak and Lightweight Multirole Missiles for rapid reaction to a wide range of threats.
The high-speed flight of STARStreak is ideal for head on and fast-crossing aerial targets and helicopters, while the Lightweight Multirole Missile adds the capability to defeat surface targets such as Light Armoured Vehicles (LAVs), trucks and fixed installations, as well as aerial targets such as UAVs and helicopters.
An extremely accurate stabilised laser guidance system is included and LML-NG supports a choice of manual and Automatic Target Tracking modes.
The LML-NG can be assembled and made ready for firing in just a few minutes. All that is required is to erect the tripod, fit the head assembly and sensor unit. Two missiles can be loaded, allowing the engagement of multiple targets in quick succession.

A reliable solution to unpredictable threats
No one knows what the future holds. The only certainty, as the saying goes, is change. We do know, however, that the technology that's now available to hostile forces, including previously unsophisticated terrorist organisations, poses a real and growing threat to people and infrastructure.
By developing weapon systems that can be mounted to any vehicle, and are light and portable with a choice of missile solutions, Thales is helping armed forces to respond quickly and accurately anywhere that protection is needed.