2018 Farnborough Airshow: join us on a trip into the heart of Space!
Are you "Space Experienced"?
If you're going to attend the Farnborough International Airshow this week, check out the "Space Experience"! In fact, it's a spectacular interactive exhibition in which visitors plunge into a world explaining all of Thales Alenia Space's space activities. The highlight of the Space Experience is a video called the "Immersive Space Journey". It was designed as a veritable voyage into the heart of space, via a trip from Earth to Mars. Just waiting to be discovered in the Space Zone in Hall 1.  

The European satellite-maker will be highlighting its wide range of activities at this event. The focus will be on constellations, such as Iridium® NEXT for telecommunications, BlackSky for Earth Observation, the new Spacebus NEO telecom product line, and space exploration with the fabulous ExoMars program in the spotlight.
Iridium® NEXT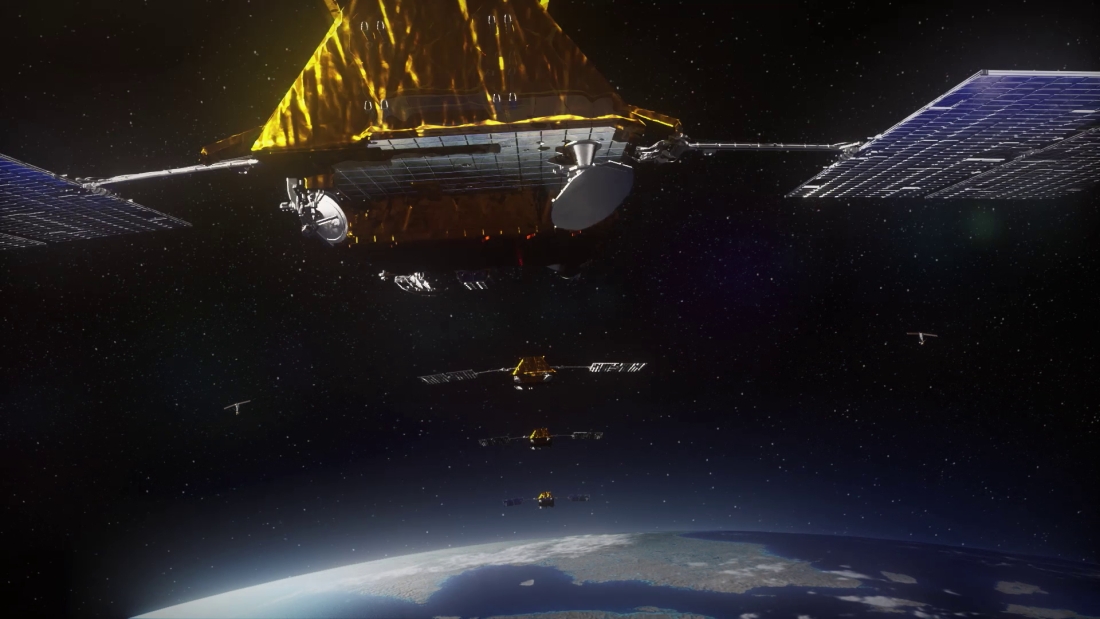 To date, 55 Iridium® NEXT satellites are already in orbit and operational. Thales Alenia Space rose to the challenge of commissioning a complete turnkey system, one that would also be compatible with the original generation of Iridium satellites (Block 1). By the end of the year this constellation will be complete, with a total of 66 telecom satellites in low Earth orbit. Thales Alenia Space, prime contractor for this impressive constellation, is on schedule to deliver all satellites on time.
BlackSky, a new take on Earth observation constellations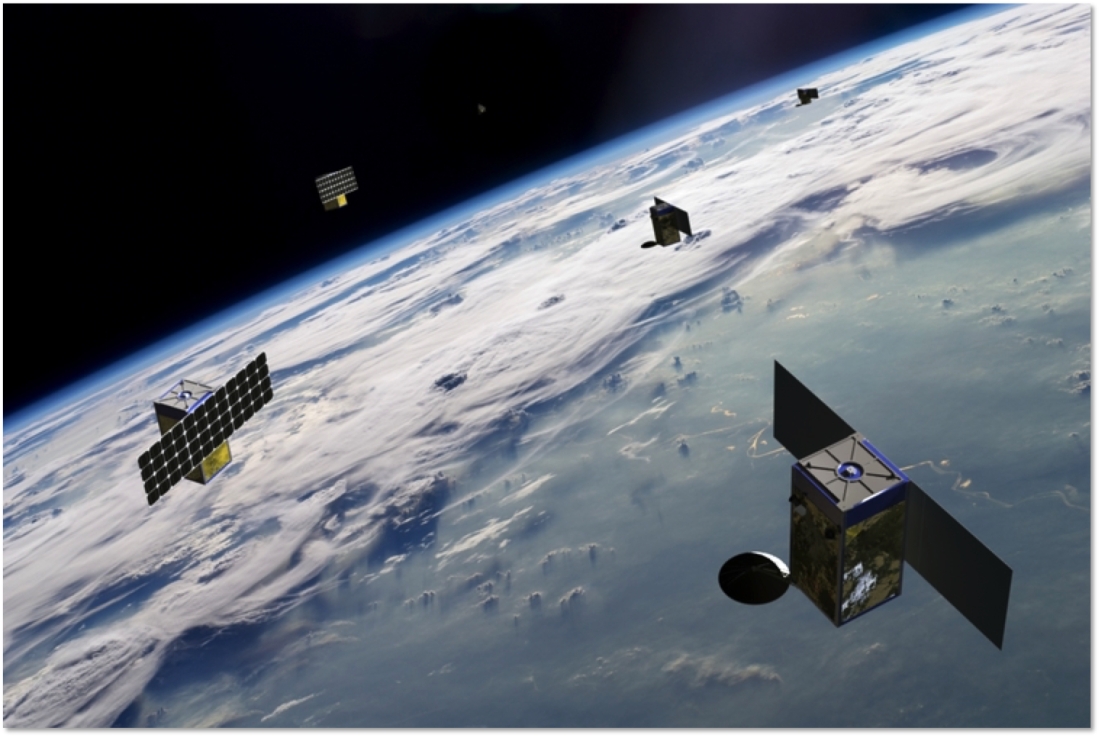 Like the telecommunications market, the Earth Observation sector is also being transformed. The latest example is BlackSky, an upcoming constellation of 60 Earth observation satellites that will give users state-of-the-art geo-space services. To handle this large constellation, Thales Alenia Space teamed up with the American company Spaceflight Industries to create a 50-50 joint company, LeoStella LLC.
"This joint venture, combining the high-tech design of the platform developed by Spaceflight Industries with the industrial expertise of Thales Alenia Space in terms of building large constellations, will offer production capacity beyond the needs of BlackSky," said Jean-Loïc Galle, President and CEO of Thales Alenia Space, in March 2018. "Our partnership reflects the transformation strategy conducted by Thales Alenia Space in the 'New Space' environment, enabling us to carve out a position as a major manufacturer in the sector for constellations of observation satellites with short revisit times in Europe and the United States."
BlackSky and Telespazio had also signed a collaboration and marketing agreement, allowing them to distribute each other's products and services, thus jointly fostering a unique market for applications and services. Through this agreement, Telespazio will market BlackSky products and services in Europe to leading government customers.
Spacebus NEO: 4 contracts already in hand, and first launch planned in 2019!
Thales Alenia Space kicked off the development of its new telecom satellite product line with the aim of delivering the best possible geostationary satellite solution to meet the needs of operators in this fiercely competitive market. Four satellites based on Spacebus NEO platforms have already been ordered by private and government customers, with a first launch planned in 2019.
"This platform is more robust, more modular, more powerful, more innovative and more flexible, meaning that it is perfectly suited to the constantly evolving telecommunications market," said Bertrand Maureau, Vice President for Telecommunications at Thales Alenia Space in May 2018.
Spacebus NEO platforms with all-electric propulsion feature major innovations:  
Highly innovative thermal control and a high-performance power subsystem.
A flexible and modular design.  
Payloads optimized for each customer's requirements, including digital and VHTS (Very High Throughput Satellite) solutions.
ExoMars 2020: Exploring Mars and perhaps its inhabitants…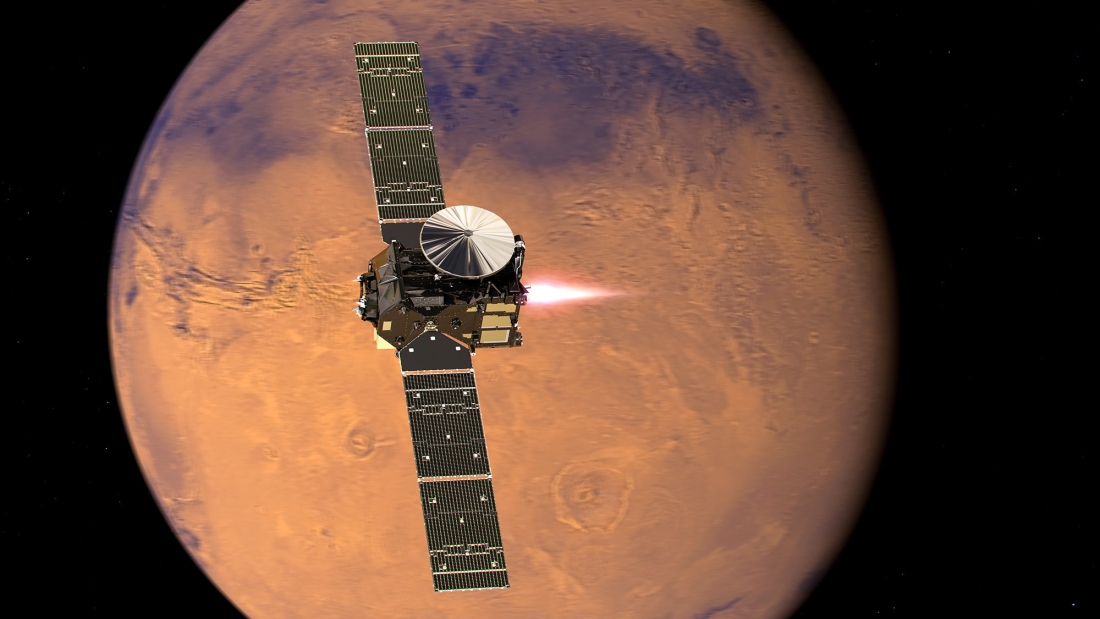 The Red Planet has not been in the news this much since the Martian invasion in Orson Welles' 1930s radio program! A few months ago, a Tesla electric car was boosted towards Mars by a big new SpaceX launch vehicle. In Europe, the Trace Gas Orbiter (TGO) from the ExoMars program was placed into its definitive orbit a few months ago, after reaching the Martian atmosphere in October 2016. The science mission could finally really get under way, and spectacular images have already been sent back home.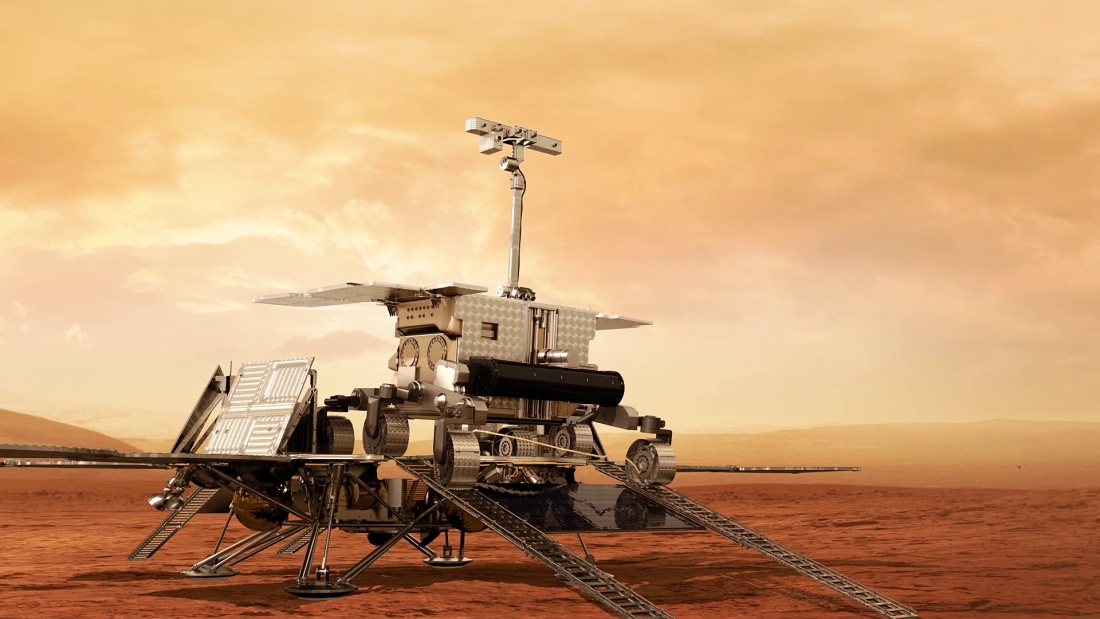 Meanwhile, the ExoMars 2020 mission is approaching very quickly. This second mission in the program includes a carrier module (CM), a descent module (DM) and a rover weighing 316 kilos, carried on the landing platform (LP). ExoMars is a joint Martian exploration program between the European Space Agency (ESA) and its Russian counterpart Roscosmos. Like ExoMars 2016, Thales Alenia Space is once again prime contractor for ExoMars 2020, leading an industrial consortium. The European satellite-maker, will take charge of designing and integrating all components (France and Italy), developing the navigation and guidance system, the descent module's atmospheric reentry, descent and landing system, and the rover, including the creation of the analysis lab (ALD), plus providing basic equipment for the descent module, including the radar altimeter.
Within the consortium, Leonardo will provide the soil sample drill, OHB the carrier module and various rover instruments, with the rover itself supplied by Airbus Defense & Space. NPO Lavochkin will build the landing platform.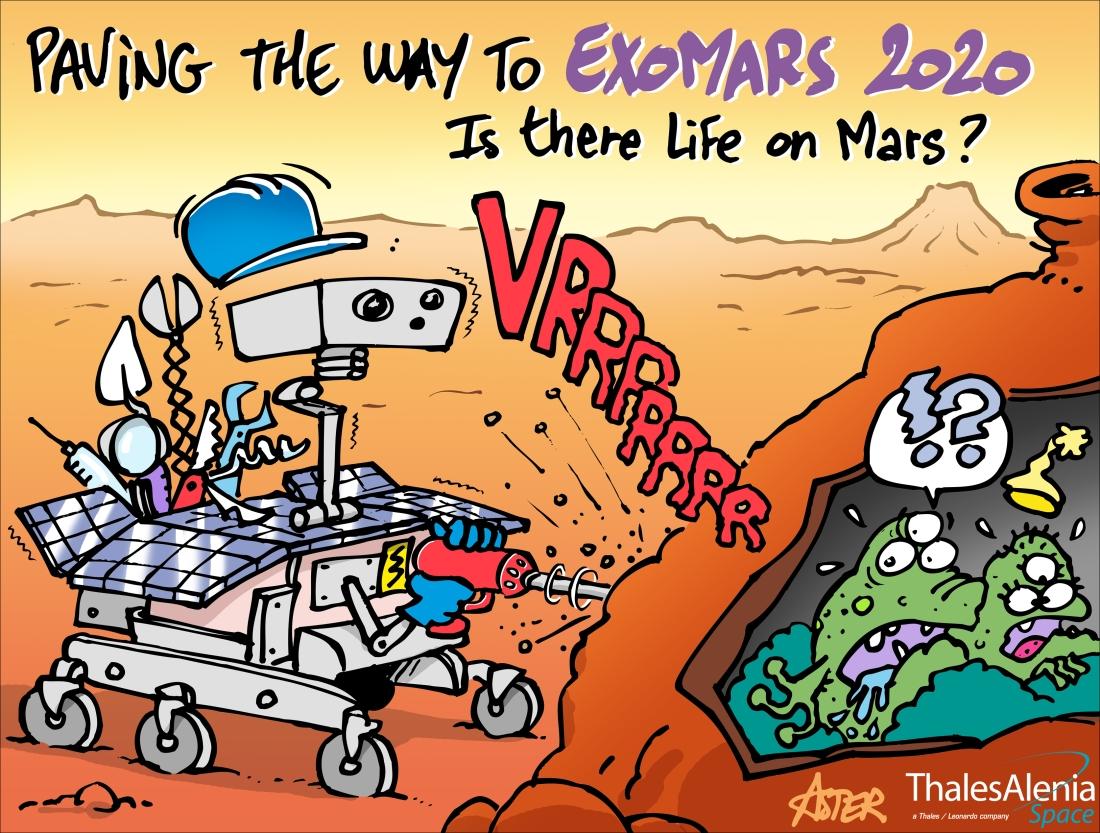 ESA's Rover should land on Mars in 2021, carrying the ultra-sophisticated mini-lab mentioned above. Equipped with a sophisticated and powerful drill, the rover will be capable of drilling into the Martian soil to a depth of 2 meters – a world first. The aim is to find traces of bacteria in the subsoil, which could prove – or not! – the existence of past life on Mars. ExoMars 2020 could even offer an answer to the existential question posed by David Bowie: "Is there Life on Mars?" Analyses of the samples collected by the Rover will be transmitted back to Earth via the TGO, providing food for scientific research for years to come. Meanwhile, the orbiter itself will continue its mission of analyzing the presence and origin of trace gases in the Martian atmosphere, especially methane, which it will have to determine is of biological origin or not.
Thales Alenia Space: partner in the most impressive space exploration missions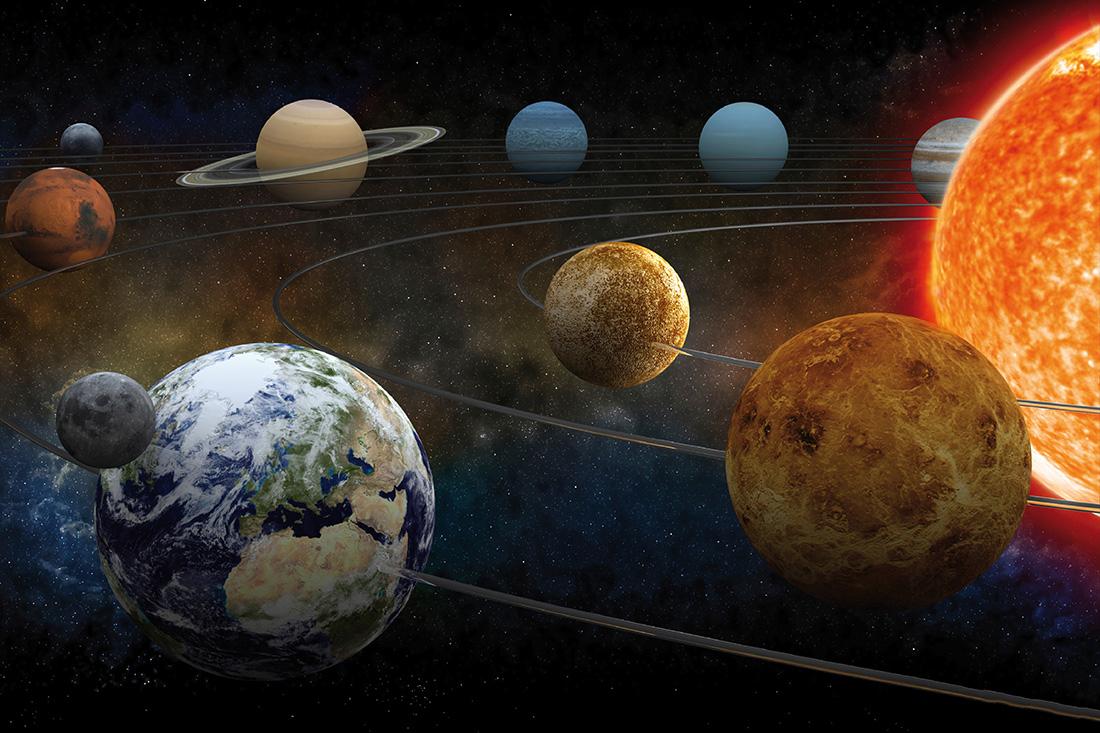 Venus, Mars, Mercury, Saturn, asteroids and comets… Thales Alenia Space has always been a pivotal partner in the impressive missions conducted to explore our Solar System. Furthermore, the company provides fully half of the pressurized volume on the International Space Station, and makes the pressurized cargo modules (PCM) for Cygnus cargo supply vessels, which carry food and water, spare parts and science experiments to the ISS.
Copyrights:
First artistic view: © Thales Alenia Space/Briot
Iridium NEXT: © Thales Alenia Space/Master Image Programmes
BlackSky: ©SpaceFlight Industries
ExoMars TGO: © ESA
ExoMars Rover: © Thales Alenia Space/Master Image Programmes
ExoMars Cartoon: © Aster