It's a pivotal moment for the commercial telecom satellite market, with the advent of exciting projects for both constellations and large satellites providing broadband Internet access. Hyperconnectivity is the new watchword, but in fact nearly half the planet still can't connect to the Internet easily and affordably – or at all! The need to guarantee universal Internet access now seems an obvious imperative, from the social, moral and commercial standpoints.
In the security and defense sectors, space telecommunications systems provide an essential link for forces in action. They guarantee control over information flows between these theaters of operation and command centers, to help observe, orient decide and act (the OODA loop). These systems are used to exchange the voice, data, image and video communications which are vital for all armed forces, on land, at sea or in the air, as well as special forces. These armed forces expect military satellites offering significant capacity and flexibility, capable of providing telecom resources no matter where they're deployed.
This degree of flexibility results from a combination of system architecture and payload performance, capable of keeping up with changing mission requirements. The use of steerable antennas allows satellites to cover all theaters of operation, including a specific ability to redirect beams according to changing operational needs. A system-level approach of this type has to guarantee optimized connections at all operational levels, under any weather conditions. Furthermore, all connections have to be ultra-secure to combat any type of jamming or interception, and ensure service continuity across each system. In addition, the system has to protect itself against all types of cyber attacks, whether intrusion, spying, etc.
 
Thales Alenia Space has invested in new technologies in recent years to provide solutions addressing the changing expectations in satcom markets. During the 2015 Paris Air Show, the company introduced its new products (Spacebus NEO, flexible payloads), and emphasized its telecom expertise and major achievements in satellite constellations.
 
Civil telecom systems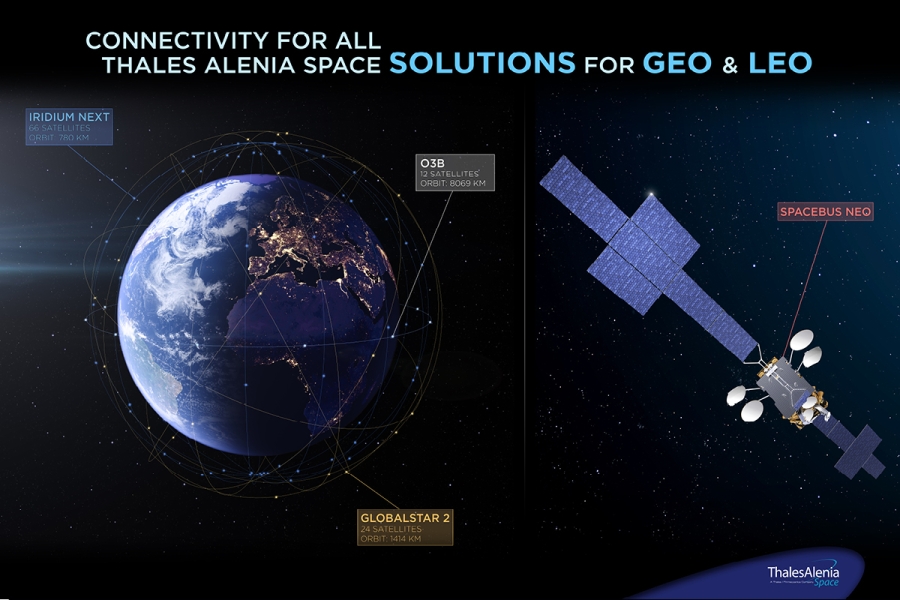 Thales Alenia Space is a world leader in the design of telecommunications satellites, including platforms and payloads. The company proposes a wide range of solutions, from high-performance components to complete turnkey systems. The platforms in the Spacebus family of geostationary satellites are now being upgraded with the advent of the Spacebus NEO; this new platform family perfectly addresses operator demand for competitiveness, flexibility and multi-launcher compatibility.
Thales Alenia Space also offers a family of flexible payloads, which keep pace with operators' changing requirements over the course of a telecom mission.
Spacebus NEO: all electric!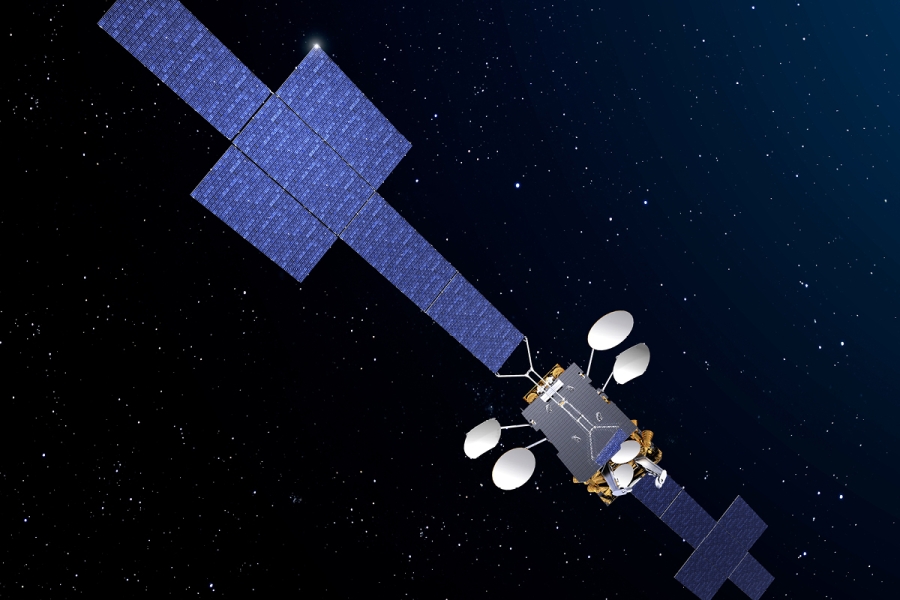 Spacebus NEO is the new family of Thales Alenia Space platforms, designed for geostationary telecom satellites. It will be available in different versions, one with all-electric propulsion.
A large variety of configurations:
This new platform will come in a variety of versions for all types of geostationary satellites, from entry-level to ultra-high capacity. Operators can also choose the propulsion configuration they prefer, including hybrid or all-electric versions. Starting in 2016, these platforms will host payloads up to 2 metric tons, and power of 20 kW or more.
All-electric version available in 2015:
The Spacebus NEO all-electric version will be available in mid-2015, with a payload capacity of more than 1,400 kg and power exceeding 16 kW.
 
Flexible payloads: foreseeing the unforeseeable!
Thales Alenia Space has developed a wide range of solutions allowing operators to adapt to unexpected needs, not only during satellite construction, but also during its life in orbit. These solutions support the satellite's in-flight reconfiguration, including: changes in service zones, new allocations of satellite power between service zones, communications channels with variable frequency bands, frequency agility for secure communications, and flexible and interference-resistant satellite remote control.
The global benchmark in satellite constellations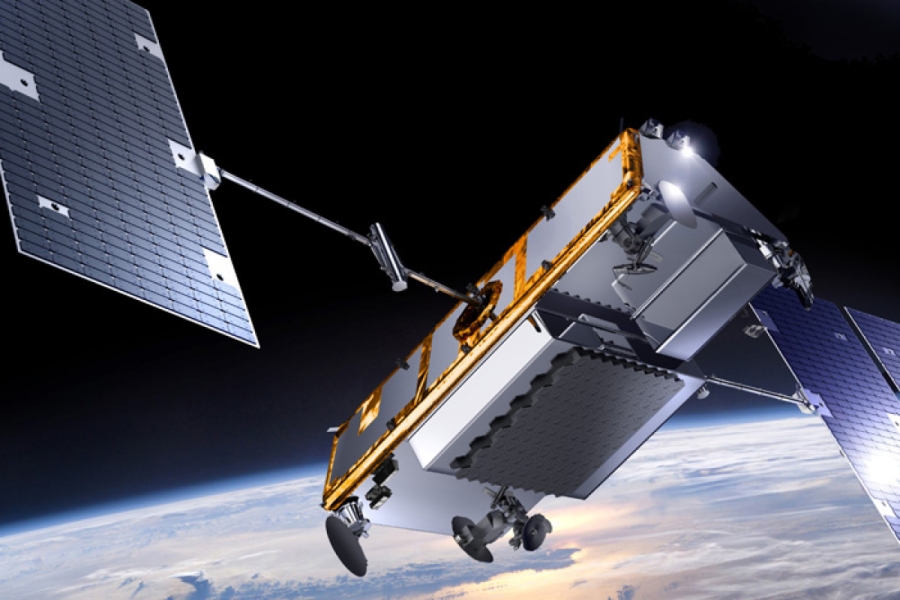 With a total of 125 satellites ordered for low and medium orbit constellations, Thales Alenia Space is the global benchmark in this sector. The French-Italian joint venture has already built 24 second-generation satellites for Globalstar, 20 for O3b Networks, and is prime contractor for the Iridium NEXT system, comprising 81 satellites. This constellation will be up and running in 2017.
Military telecom systems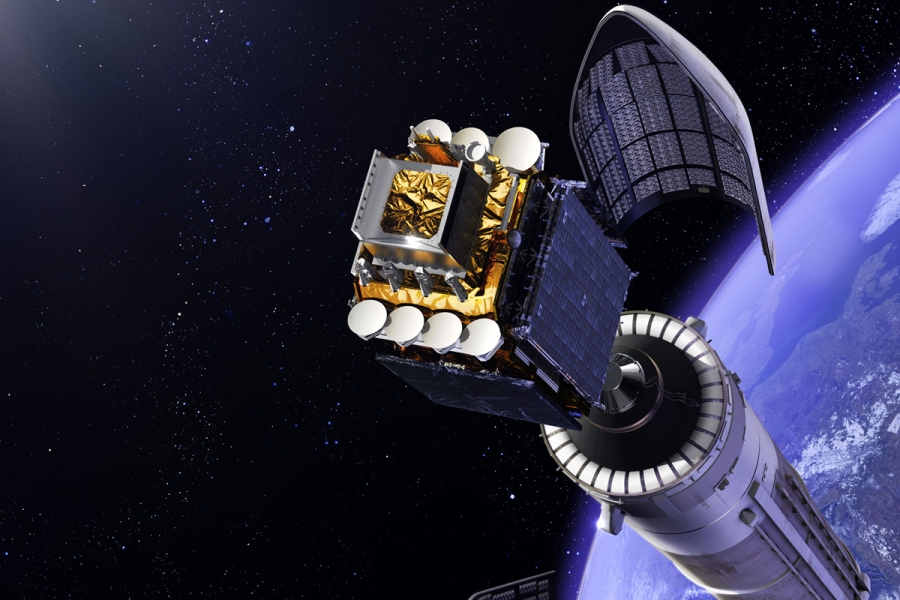 After Athena-Fidus in 2014, this year saw the successful launch of Sicral 2, a satellite built by Thales Alenia Space and Telespazio through the Space Alliance. Sicral 2 is a joint program between the Italian defense ministry and the French defense procurement agency DGA, supplying services to the armed forces of Italy and France, which have provided 62% and 38% of project funding, respectively. Sicral 2 will provide unprecedented flexibility and versatility, while also guaranteeing interoperability with current satellite systems, the terminals deployed by allied forces (NATO), and national telecom networks. This technology jewel will provide the telecom capacity needed for secure strategic and tactical data links. All types of platforms – land, sea and air – will be able to benefit from this flexible and resilient spacecom capacity.
Thales Alenia Space's military expertise:
 
Thales Alenia Space's track record in military telecoms includes:  
Prime contractor and exclusive supplier of French milsatcom systems for 30 years (Syracuse 1, 2, 3).
The production arm in the first European joint venture (Franco-Italian) in military and dual space telecoms (Sicral 2, Athena-Fidus).
A major player in the NATO Satcom program, Syracuse 3's solutions being used in particular by the Alliance.
Prime contractor for all very-high-resolution instruments on French intelligence satellites (Helios, Pleiades, CSO families).
Prime contractor for the Spirale early warning satellites.
Responsible for ground segments on the EGNOS and Galileo navigation systems (security and signal integrity guarantee).
World leader in space altimetry (indispensable for French submarine forces).
Contributor to defense and dual systems in export markets (SAR Lupe, Comsat BW, Yahsat 1A and 1B, Koreasat 5, Star One C1 and C2).
     
All payloads on French and Italian defense satellites are built by Thales Alenia Space (telecommunications, observation, SIGINT, early warning, altimetry).
 
Copyrights for both the artistic views and the Spacebus Neo video: Thales Alenia Space - Master Image Programmes