Factory of the Future: robotic SAPHIR system in operation
You may have read media reports on SAPHIR, an industrial project that kicked off two years ago, and uses robots to make the structural panels for satellites. Today, the SAPHIR system, comprising two robotic arms working collaboratively, is in service in the clean rooms at Thales Alenia Space's plant in Cannes, southern France.
SAPHIR, a different kind of robot

SAPHIR is a robotic system designed to automate the installation of inserts in the structural panels for telecommunications satellites.
 
The system is based on a workstation with two robotic arms: one prepares the work, the other installs the inserts. This project, which reflects our teams' industrial expertise, will considerably reduce the time needed to bond the 3,500 inserts needed on each panel. The aim is to reduce the cycle from three weeks and two employees working continuously, to one week for a single operator.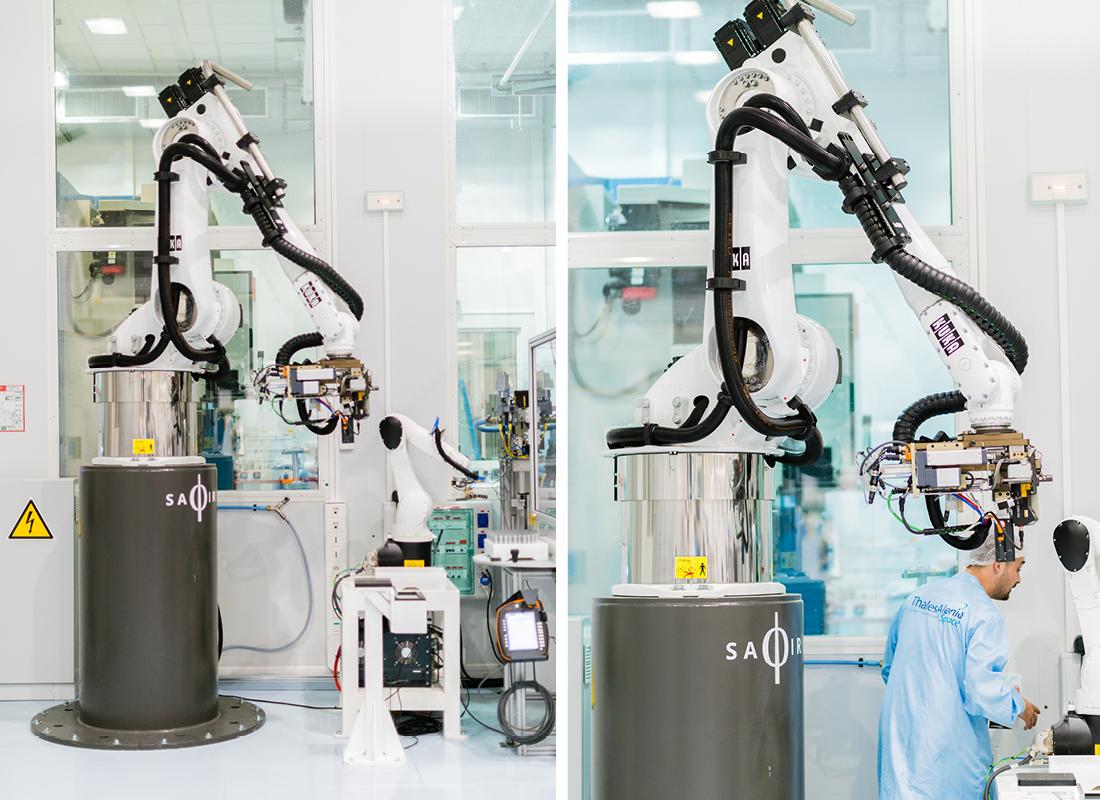 It's also worth noting that the SAPHIR system, in addition to improving reliability and reducing cycles and costs, will free operators from these repetitive tasks and allow them to focus on more complex, and higher value-added production tasks.
Spearheading the Factory of the Future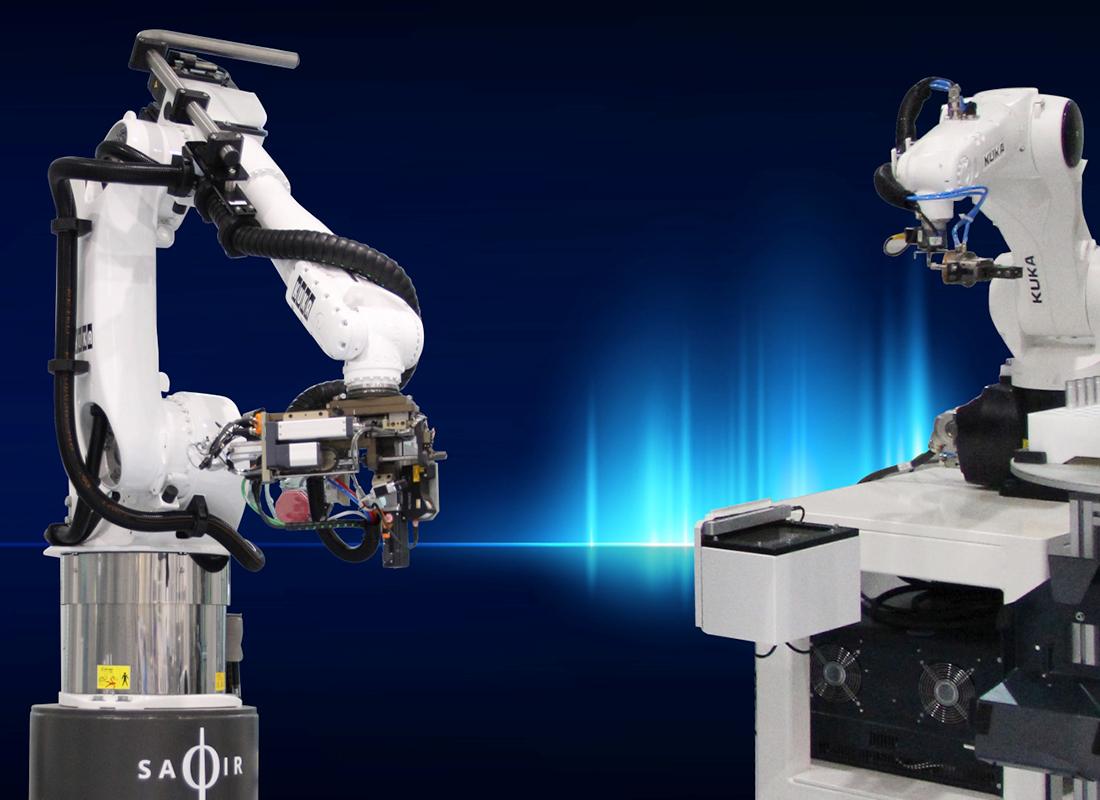 The SAPHIR project is an integral part of a comprehensive strategic initiative, the "Factory of the Future", based on innovation at all levels. In today's fiercely competitive telecom satellite market, it is imperative for companies to produce better, faster and cheaper! Automation is one solution for manufacturers to accelerate satellite production in today's fast-evolving industrial environment. The idea behind the Factory of the Future is to introduce state-of-the-art technologies into the production process.
 
There has been a host of innovations in recent years, including additive manufacturing, augmented reality, connected objects, and the introduction of robots and cobots (robots designed to operate in conjunction with humans) in assembly and integration facilities. The clean rooms at Thales Alenia Space are definitely future facing!
 
The SAPHIR system is a response to a production challenge: how can we accelerate the installation of inserts in structural panels for telecom satellite payloads? It was developed in collaboration with AKEO+ [robot integrator] and Avantis Concept [development of the new insert and its applicator], and represents a real disruptive advance. The underlying idea was not to automate a manual process, but rather to design a new insert and bonding process compatible with robotization.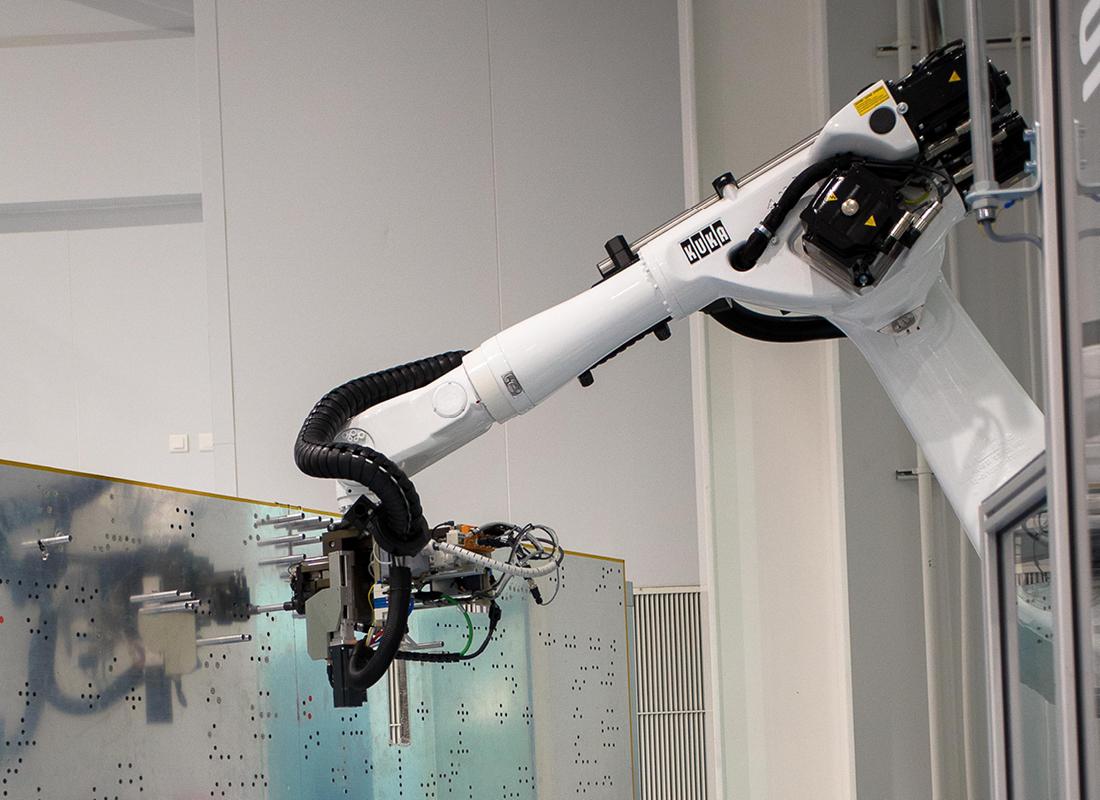 This is one of the first installations in Europe capable of carrying out this type of task for the space industry. SAPHIR's technology was qualified just a few weeks ago: Thales Alenia Space produced a flight-standard panel with automated installation of the inserts for the Bangabandhu telecom satellite.
 
SAPHIR is now up and running! But it's also worth noting that each satellite is unique. The production phases still demand a high degree of operator dexterity (not unlike turning out high fashion clothes). The introduction of a system like SAPHIR, especially in the space sector, can legitimately be considered a technological tour de force!
 
While the SAPHIR system currently focuses on installing inserts, the field of potential applications is vast indeed. A similar system will almost certainly be implemented in the near future for other applications, such as panel markings (which enables locating upcoming operations on the panels), or for applications in other areas, such as constellations or Earth observation satellites.
 
Photos Copyrights:
Artistic views, logo & last photo: © Thales Alenia Space/E.Briot - 1st photo: © Thales Alenia Space/Imag[IN]