The first telecommunications satellite for Bangladesh will be built by Thales Alenia Space
Thales Alenia Space announced, on November 11th 2015, it had signed a contract with BTRC (Bangladesh Telecommunication. Regulatory Commission) to build the telecommunications satellite, Bangabandhu, winning the contract against an international field of competitors.
 
Bangabandhu: the mission
This satellite will narrow the digital divide, as it will take broadcasting and telecommunication services to rural areas and introduce profitable services, including direct-to-home services, across the country and over the region. Built on the upgraded Spacebus 4000B2 platform, Bangabandhu will be fitted with 26 Ku-Band and 14 C-Band transponders. The satellite's coverage zone encompasses the Bangladesh and the surrounding region. This system will offer capacity in Ku-Band over Bangladesh and its territorial waters of the Bay of Bengal, India, Nepal, Bhutan, Sri Lanka, Philippines and Indonesia; it will also provide capacity in C-Band over the whole region. To be launched in 2017, the satellite will be positioned at 119.1° East longitude.
 
Thales Alenia Space's contribution
As program prime contractor of this turnkey system, Thales Alenia Space is in charge of the design, production, testing and the delivery in orbit of the satellite. Thales Alenia Space will also take charge of  the ground segment, which will benefit of the SpaceOps Thales Alenia Space tools for the mission planning and monitoring. It includes two ground facility buildings gathering Satellite Control and Network Operations Center based on the SpaceGate Thales Alenia Space global solution. Spectra Engineers Ltd., Thales partner in Bangladesh, is in charge of the civil work of the ground facilities.
 
Regarding Bangabandhu, Md Golam Razzaque, Bangabandhu Project Director of BTRC, declared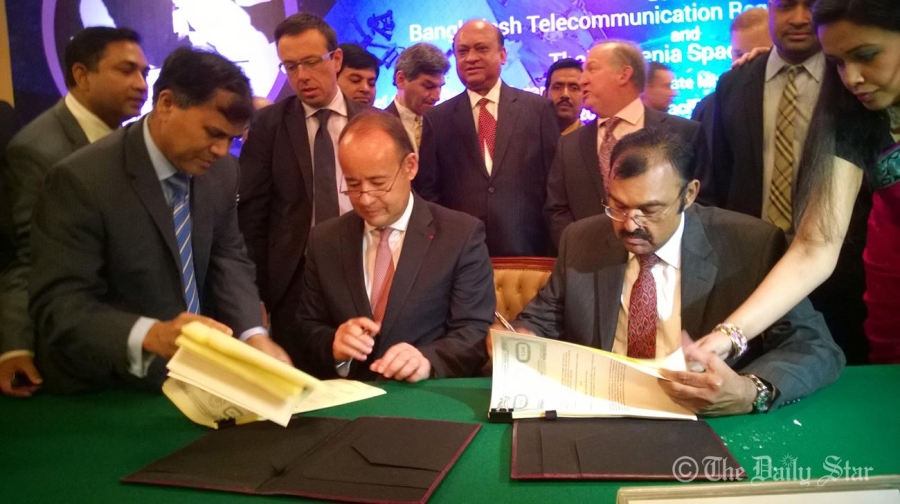 © © The Daily Star/Muhammad Zahidul Islam
"The contract for this telecommunications satellite signed with Thales Alenia Space, the key European player in space telecommunication, marks a major turning point in the history of Bangladesh, not only reducing the digital divide, but also generating business development and creating jobs," said Md Golam Razzaque, Bangabandhu Project Director of BTRC. "We hope to carry out the launch on the 46th anniversary of our country's Victory Day, which will be on December 16th , 2017 ".
More info on the press release: click here