#HelloSpace: at the heart of innovation!
On July 7 and 8 in Cannes, Thales Alenia Space is organizing an event dubbed #HelloSpace. In fact, it's a friendly in-house team competition designed to stimulate an innovation-based culture and foster initiatives, concepts and processes that speed up the development of disruptive projects within the company.
#HelloSpace: it's a contest!  
Organized for the second year in a row by the
Innovation Cluster
, this in-house competition is expecting some 80 participants, all employees at Thales Alenia Space. Divided into 14 teams, the participants will be working together over these two days to nurture new ideas that could be incorporated in current and future projects. The teams will be brainstorming on two subjects: "Transverse Technologies" and "Smart Countries".
Innovation Cluster: an innovation catalyzer and accelerator, at the heart of Thales Alenia Space's strategy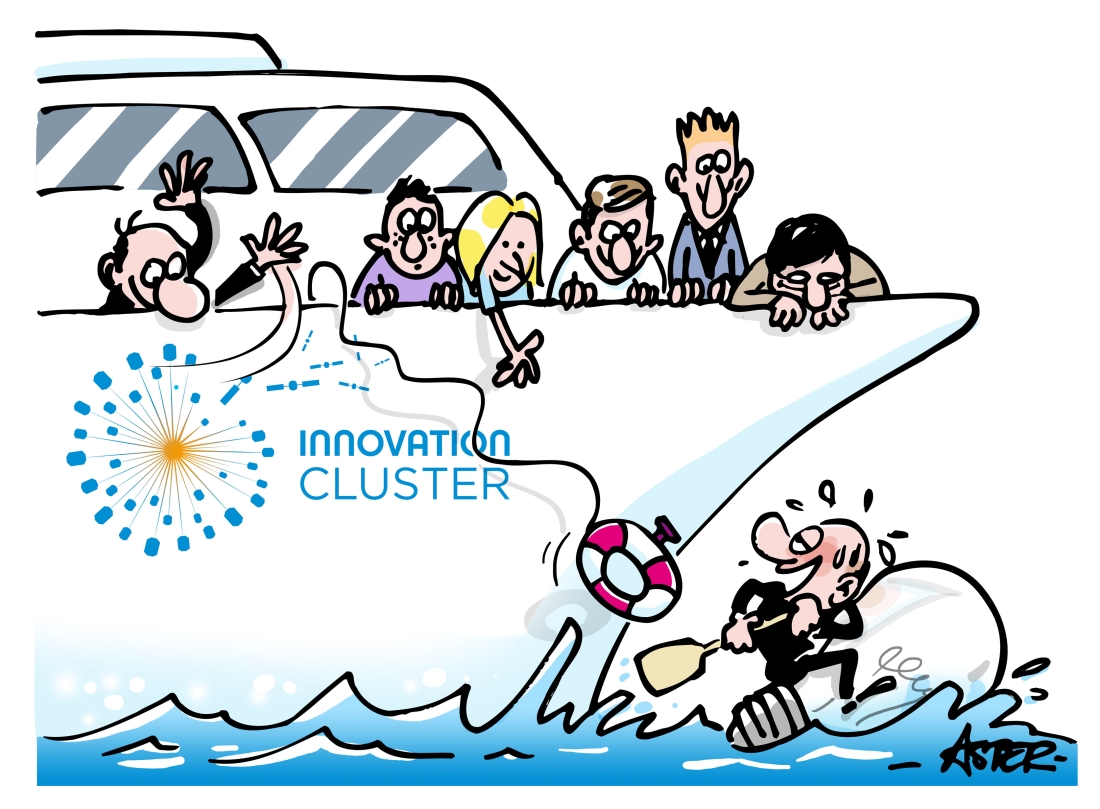 The Cluster is based on a proactive, employee-driven approach that encourages employees to unleash their creative energy, independently of who they are or where they work.
To stimulate the innovation culture, the Innovation Cluster, which just opened its first Innovation Center, is also organizing cross-disciplinary and collaborative workshops, targeting the resolution of specific problems, ideation sessions, design thinking, hackathons and more.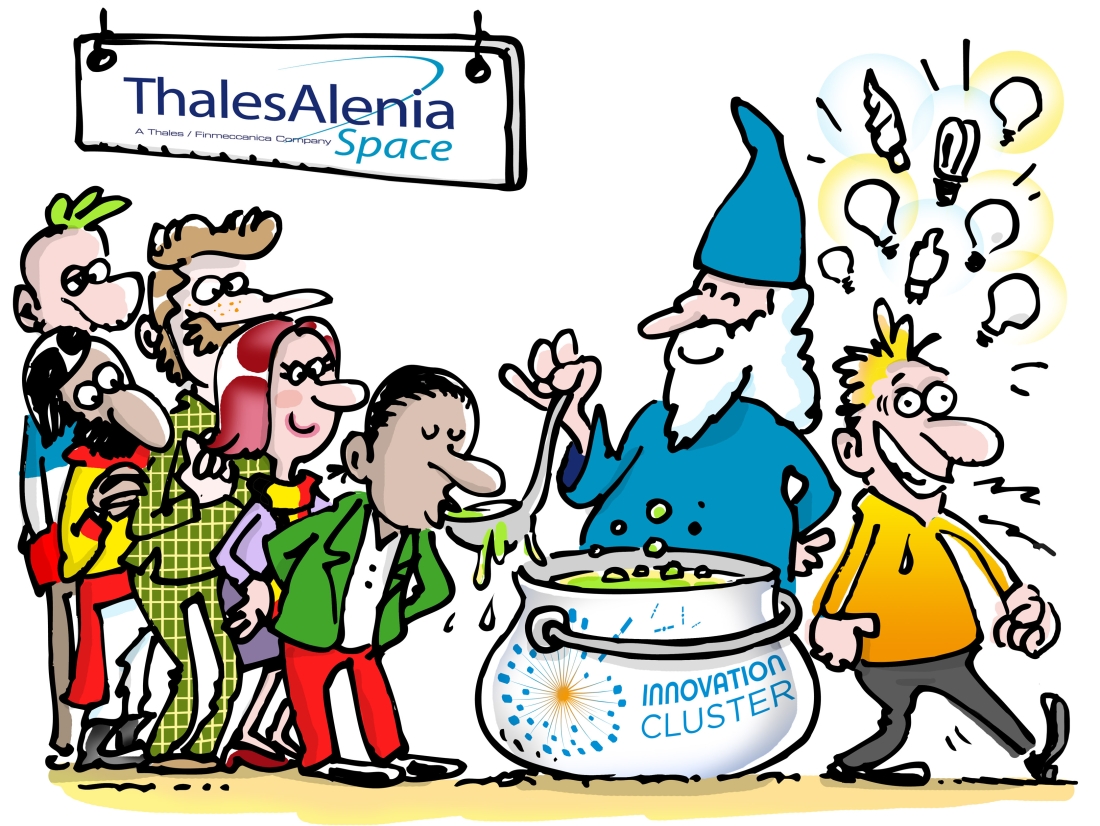 Transverse Technologies
A number of technologies already applied to the aviation and automotive sectors are beginning to emerge in the space sector.
As you may know, robotics and cobotics are infiltrating the clean rooms at Thales Alenia Space. 3D printing, also known as additive manufacturing, has already been in use for a few years to make satellite parts [more info: click here]. In 2015, a Cygnus resupply vessel ferried a portable 3D printer – built by Altran with a major contribution from Thales Alenia Space – to the International Space Station. The aim is to turn out 3D parts in situ for repairs, experiments, etc. The initial trial, a first for Europe, was an unprecedented success.
More recently, an R&D project in Europe's Horizon 2020 research program, dubbed PAMPA,  showed the possibility of using plastic components on microwave devices operating at 1 to 30 GHz. This type of technology, already proven in the auto industry (for backup radars in particular), could shortly be used in a European space program. Why plastic? The aim is to lower the manufacturing cost of microwave equipment, widely used on telecom payloads, without penalizing robustness.  click here
Stratobus has become the latest avatar of geeks in love with innovation and new technologies, enjoying broad media coverage since 2014. The program officially got off the ground in April 2016, with 17 million euros in funding from France's Investment in the Future plan. StratobusTM is a striking example of innovation, a real disruptive technology compared with the current state-of-the-art. A perfect complement to satellite systems, Stratobus™ is an autonomous multi-mission stratospheric airship. Because it doesn't need a launcher, Stratobus is an extremely cost-competitive platform for a wide range of civil and/or military regional applications: telecommunications, navigation, observation (in particular surveillance), etc. Click here for more info
An event such as #HelloSpace aims to encourage new ideas, such as the aforementioned, that can be applied to the space sector, encompassing technologies, concepts, processes and methods.
Smart Countries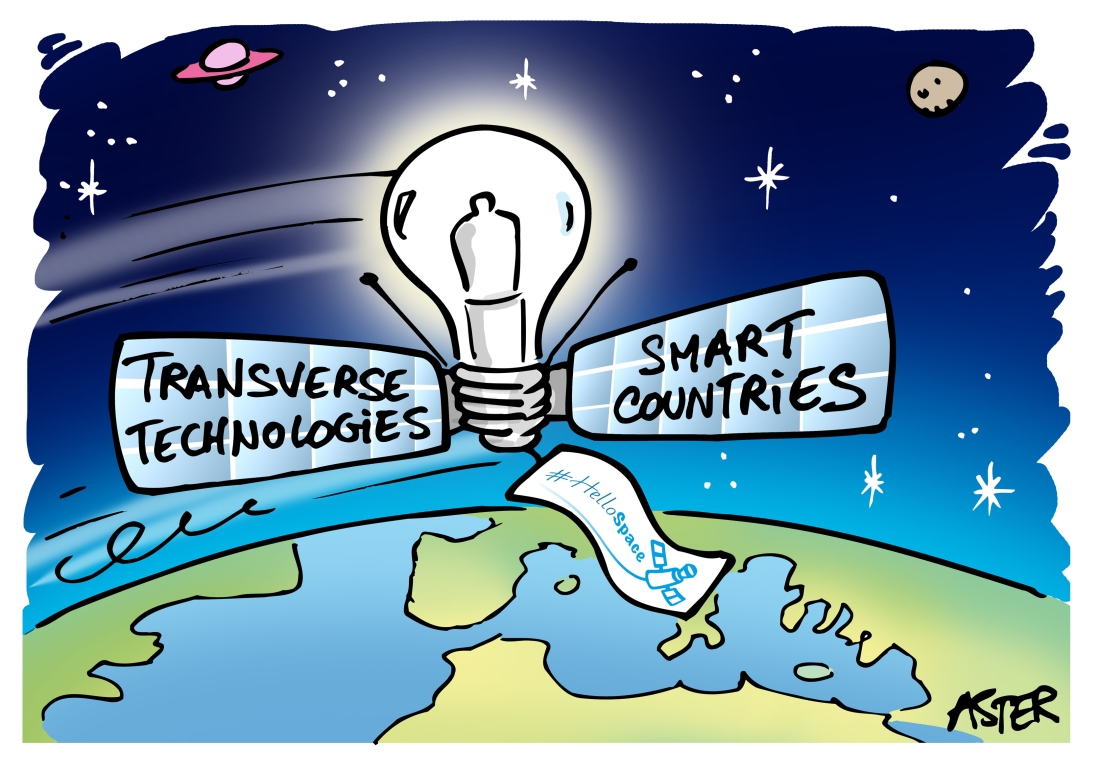 You have undoubtedly heard about the concept of Smart Cities, an exercise in imagining the city of the future. With #HelloSpace, the Innovation Cluster is aiming to take things to a higher level, by trying to imagine the country of the future – hence, Smart Countries.
How will transport, infrastructures, security systems and connectivity, to mention just a few areas, change in the coming years? While the previous theme, Transverse Technologies, was naturally focused on technology, Smart Countries mainly concerns the challenges facing society. Participants will work in teams to come up with proposals addressing a specific challenge: how can the space sector continue to improve the life of people on Earth in the near future?
"You say Goodbye and I say #HelloSpace"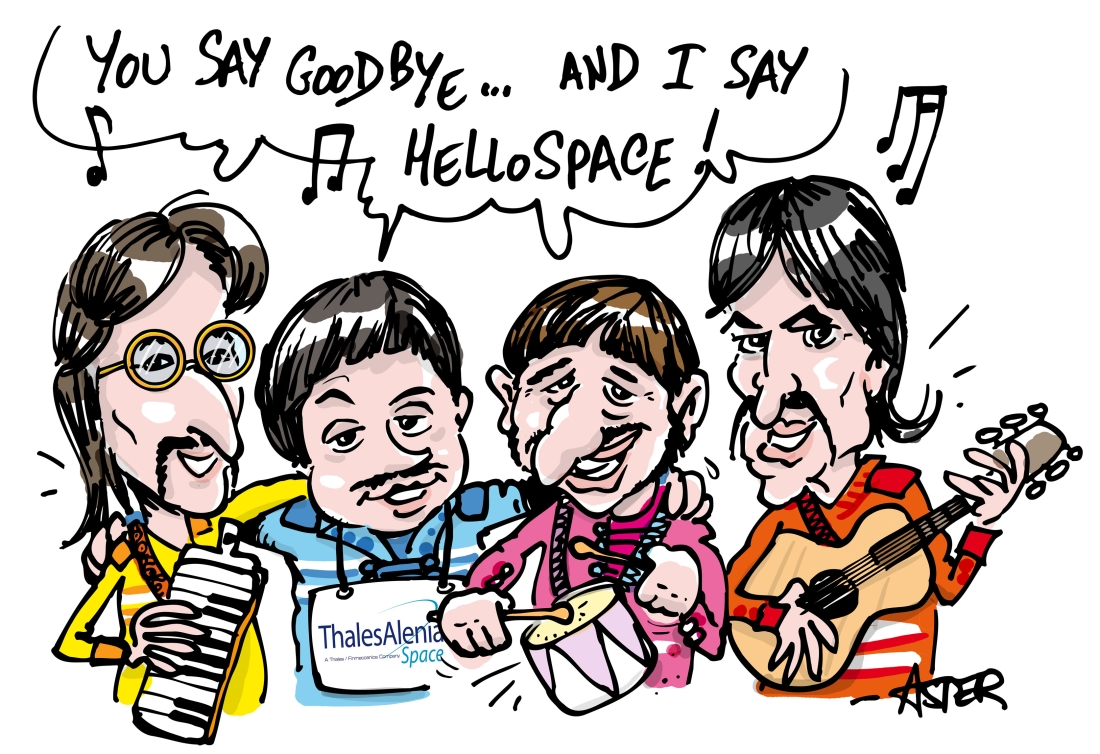 As you can see, #HelloSpace is a "competition" designed to accelerate innovation and entrepreneurship within Thales Alenia Space. It also aims to foster a real innovation culture across our company. The participants, from Italy, Spain, France, the UK and Belgium, will have a day and a half to give their creativity free rein. An initiative such as #HelloSpace offers, more than ever, extremely fertile ground to nurture tomorrow's space-based disruptive concepts.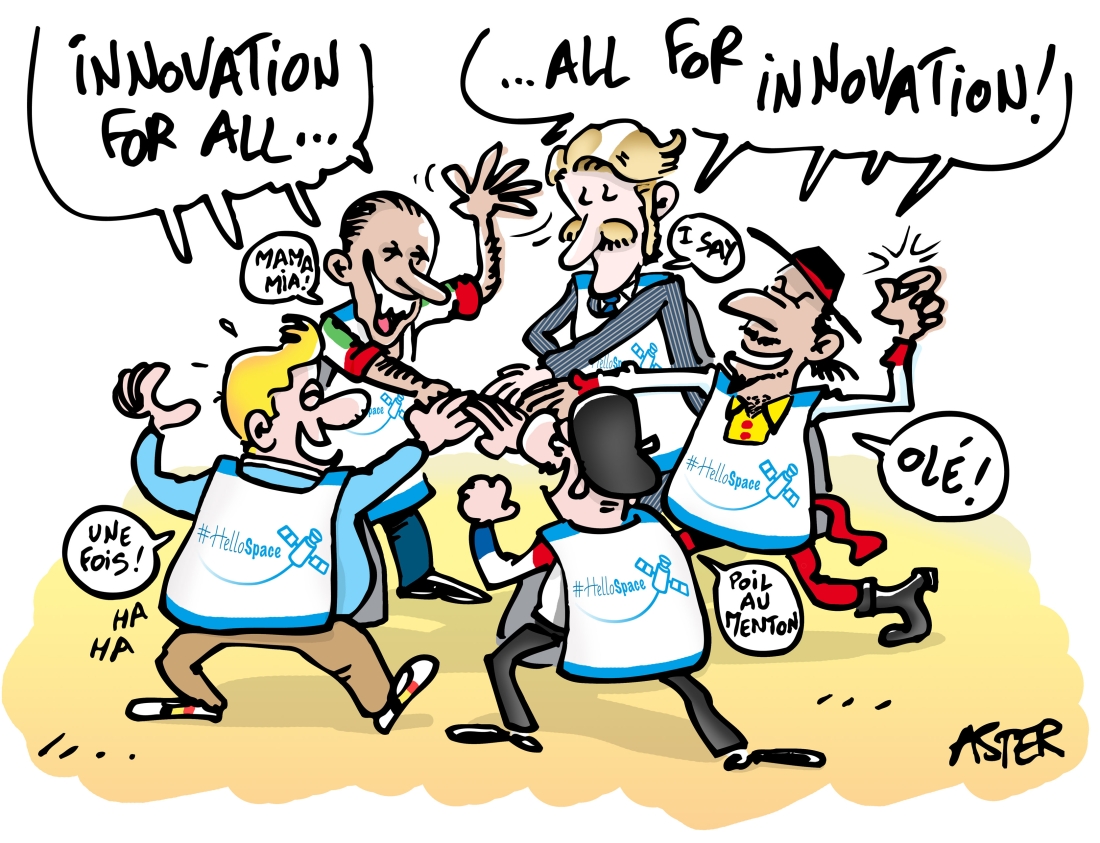 All cartoons by ASTER