How to collect extra-terrestrial samples?
Within the framework of the exploration program ExoMars, Thales Alenia Space developed an inflatable device capable of collecting extraterrestrial samples.
Mission to Mars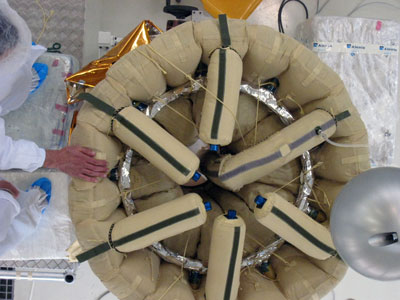 Thales Alenia Space is prime contractor on the two ExoMars exploration missions (2016 and 2018) for the European Space Agency (ESA).
The 2018 mission will fly a descent module to Mars carrying a rover designed to collect soil samples from beneath the surface at depths down to 2 metres. For this purpose, ESA has asked Thales Alenia Space's domain experts in Turin to look at developing a technology capable of recovering unique samples directly from Mars.
A swell idea!
The proposed concept is based on an inflatable capture mechanism, which is capable of capturing objects orbiting in space. The device contains several chambers which inflate in a sequential manner. As it approaches the object to capture, the external chambers which constitute the main body inflate, and then the central and radial chambers guide the object and secure it inside the device.
This concept could also be used to capture unused objects that take up place in the earth's orbit… and if you're called Sandra Bullock*, you know how dangerous that can be! (*in the multi Oscar winning film Gravity.)
The demo in video: