SAPIENT: A DISRUPTIVE APPROACH TO AIR TRAFFIC MANAGEMENT
The SAPIENT project (Satellite and terrestrial architectures improving performance, security and safety in ATM) entails innovative solutions for air traffic management/communications, navigation, surveillance (ATM/CNS), focusing on improvements to air-ground datalinks via the introduction of 4D TBO (Trajectory Based Operation). It will harmonize global trajectory information sharing, to build a single, integrated view of all flight paths that can be shared by all stakeholders, resulting in significant operational benefits for flight management.
Higher-performance digital datalinks, both satellite and terrestrial, are essential factors in this changeover, a pillar of the SESAR (Single European Sky ATM Research) road map.
The SAPIENT solution is also designed to incorporate future European Remotely Piloted Aircraft Systems (RPAS) flying in non-segregated airspace.
Boosting global ATM efficiency, capacity and performance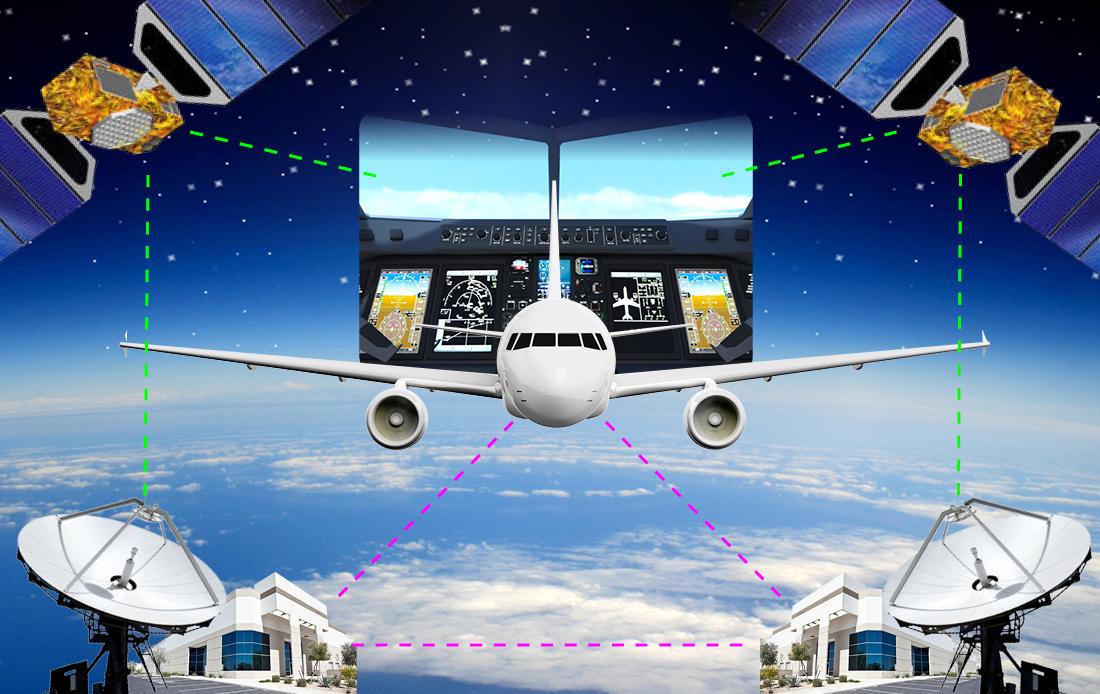 The most innovative aspect of SAPIENT is the integration of estimated 4D trajectories with the data generated by distributed and dynamic monitoring, along with reporting on the performance of air/ground datalinks for "Safety of Life" ATM communications.
The sharing of onboard 4D trajectory data by ground ATC systems, plus the datalink performance estimates during flight, will result in:
More efficient ATM services, ultimately meeting SESAR requirements.
Improved predictability of air/ground datalink performance during flights, to support the above.
Significant reduction in the need for "emergency and not routine" voice communications, to achieve above goals with no safety penalty.
Integration of civilian RPAS C2 datalinks in the Single European Sky, in line with SESAR ATM Master Plan objectives.
Project partners
The project partners are: Thales Alenia Space (in Italy) as principal coordinator, Bip (Business Integration Partner), Frequentis, SITA, University of Pisa and ViaSat.
As coordinator of the SAPIENT Consortium, Thales Alenia Space is in charge of the overall study, and acts as the technical and managerial interface with the customer, the SESAR Joint Undertaking. Thales Alenia Space has overall technical responsibility in the SAPIENT study for the solution definition, its architecture, protocol definition and assessment of results and benefits. For further information on the partners, click here
Thales Alenia Space and Horizon 2020
Thales Alenia Space is one of the leading players in the space segment of the Horizon 2020 program, which aims to foster innovation and competitiveness in Europe. The company is heavily involved in a number of H2020 projects, whether as partner or coordinator. Following GoToFly, PAMPA, ONION, and now SAPIENT, we will be introducing new TAS-led H2020 projects in the coming weeks.
This project has received funding from the SESAR Joint Undertaking under grant agreement No. 699328, within the scope of the European Union's Horizon 2020 research and innovation program.
As the technological coordinator of Europe's ambitious Single European Sky (SES) initiative, SESAR coordinates all EU ATM research and development (R&D) activities, uniting a wide spectrum of experts to develop new-generation ATM systems. Today, SESAR brings together some 3,000 experts in Europe and worldwide.