Sentinel and COSMO-SkyMed satellites support Italian relief efforts
Just hours after the recent earthquake struck Italy, the
Sentinel 1-A and 1-B
satellites from Europe's Copernicus program and the Italian government's
COSMO-SkyMed
satellite sprang into action to support disaster relief efforts by supplying maps and surveillance. The 6.2 magnitude earthquake hit at about 3:30 am on August 24, 2016, approximately 100 kilometers northeast of Rome, severely damaging several towns and killing hundreds of people. The towns of Amatrice, Accumoli, Pescara del Tronto and Arquata del Tronto were completely destroyed.
Data from these satellites, all built by Thales Alenia Space as prime contractor, are helping scientists understand precisely what happened and assess possible hazards for the future. They are used to determine changes in the Earth's surface by comparing radar images from before and after the event.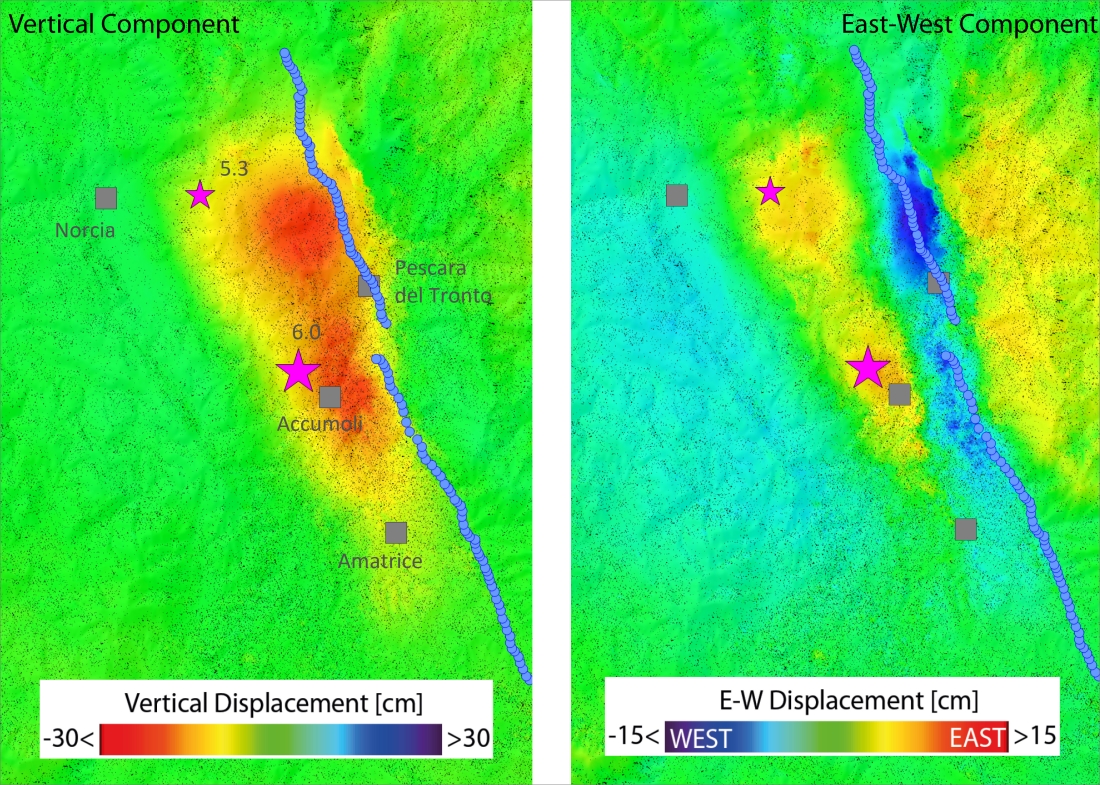 Ground displacement from Italy's earthquake - Contains modified Copernicus Sentinel data (2016)/ESA/CNR-IREA
By using scans from both Sentinel-1A and Sentinel-1B, scientists quantified the ground movement in both the vertical and east–west directions by combining the radar scans from the satellites' south to north and north to south paths. Sentinel-1 provides a 250 km-wide observation swath over land, allowing scientists to study the ground displacement caused by this earthquake and further develop their understanding of earthquakes. Once Sentinel-1B is fully operational next month, when used in conjunction with Sentinel-1A it will be possible to perform routine scans over critical areas as large as Italy every six days.
Scientists are also counting on data from the Italian space agency's COSMO-SkyMed satellites. This family of satellites now includes four satellites with SAR (Synthetic Aperture Radar) instruments, plus the ground segment, used to control the satellites, along with data processing and management of end-user services. COSMO-SkyMed is considered one of the world's most innovative Earth observation programs, clearly reflecting Italy's technological excellence in this advanced sector.
Learn more about how our satellites support natural disaster relief efforts: click here