French space agency president Philippe Baptiste visits Thales Alenia Space's Cannes plant
Innovation to drive competitiveness and digital technologies on the table
Cannes, June 9, 2021 – Philippe Baptiste, President of French space agency (CNES), accompanied by Lionel Suchet, the agency's Chief Operating Officer, today visited Thales Alenia Space's plant in Cannes, France, where they were welcomed by Hervé Derrey, President and Chief Executive Officer of Thales Alenia Space.   
In a space sector undergoing major changes, with the advent of disruptive technologies and fierce competition, France has clearly shown that it belongs among the leaders. French industry has also started its transformation under the impetus of both public agencies and commercial customers, and is now continuing along this path in close collaboration with the entire space ecosystem.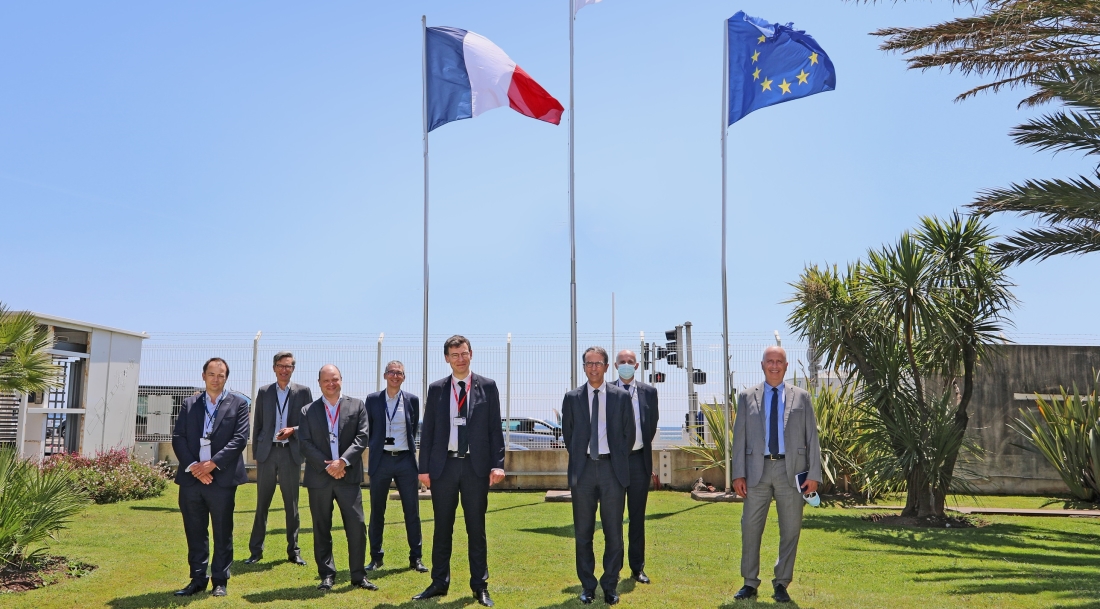 Several key factors, including the digital transformation, lower launch costs, satellite miniaturization for certain applications and fast development cycles, have spurred the entry of new players, backed by new capital and wielding new R&D and marketing models. France has risen to these new challenges and has shown its ability to adapt to new business models, in particular with the launch of Kineis, the first French nanosatellite constellation wholly dedicated to the Internet of Things.
To maintain this momentum and bolster productive collaboration between government and industry, Philippe Baptiste visited one of Thales Alenia Space's largest production plants, a center of excellence in the integration of satellites and very-high-resolution optical instruments. He enjoyed a close-up look at a facility where innovative products and working methods go hand in hand with a proven orbital legacy, new technologies to support the further development of miniaturization and digitalization, on-orbit robotics capabilities and active telescopes for even higher resolution.
"I'm very honored to welcome CNES president Philippe Baptiste to our center of excellence in Cannes, as we work together to pave the way for the French space industry's highly promising future," said Hervé Derrey, President and Chief Executive Officer of Thales Alenia Space. "CNES and Thales Alenia Space have long teamed up on world-class technology projects, such as spaceborne altimetry. I'm firmly convinced that we will meet other ambitious and pivotal challenges in the near future by working together, in conjunction with the space ecosystem. While we are already very pleased that the Angels and Kineis projects have blazed a path towards the 'new space' environment, Thales Alenia Space also plans to expand our industrial role in these and other endeavors to rise to the major challenges facing France and all of Europe in terms of sovereignty, climate monitoring, the digital transition and unleashing the value of space data."
Philippe Baptiste President of French space agency added, "I'd like to warmly thank Thales Alenia Space for this wonderful visit. I was really impressed by the assembly, integration and testing capabilities at Cannes, not to mention the hefty investments they required! We are all very proud of the French space industry's proven expertise in orbital systems and the overall excellence which has made our industry an innovation leader. During my visit, I saw some of the products that culminated may years of hard work, including the Syracuse 4A defense satellite, the SWOT scientific satellite platform, which will be mated with its payload from Jet Propulsion Laboratory in just a few weeks, and of course the Sentinel-3 satellite which will help us better understand our own planet."
ABOUT THALES ALENIA SPACE
Drawing on over 40 years of experience and a unique combination of skills, expertise and cultures, Thales Alenia Space delivers cost-effective solutions for telecommunications, navigation, Earth observation, environmental management, exploration, science and orbital infrastructures. Governments and private industry alike count on Thales Alenia Space to design satellite-based systems that provide anytime, anywhere connections and positioning, monitor our planet, enhance management of its resources, and explore our Solar System and beyond. Thales Alenia Space sees space as a new horizon, helping to build a better, more sustainable life on Earth. A joint venture between Thales (67%) and Leonardo (33%), Thales Alenia Space also teams up with Telespazio to form the parent companies' Space Alliance, which offers a complete range of services. Thales Alenia Space posted consolidated revenues of approximately 1.850 billion euros in 2020 and has around 7,700 employees in 18  sites in 11 countries across Europe and a plant in the USA. www.thalesaleniaspace.com
THALES ALENIA SPACE – PRESS CONTACTS
Sandrine Bielecki    
Tel: +33 (0)4 92 92 70 94    
sandrine.bielecki@thalesaleniaspace.com
Tarik Lahlou                 
Tel: +33(0)6 87 95 89 56    
tarik.lahlou@thalesaleniaspace.com