Masdar Institute signs MoU with Thales and MINES ParisTech to Develop Applications for Innovative Airship
Masdar Institute of Science and Technology, an independent, research-driven graduate-level university focused on advanced energy, and sustainable technologies, today signed a memorandum of understanding with French company Thales/Thales Alenia Space and French engineering university MINES ParisTech to develop applications for the Stratobus
TM
drone-satellite hybrid airship.
The collaborative agreement was signed by Dr. Behjat Al Yousuf, Interim Provost of Masdar Institute, Cathy Noguez, Director International Affairs, Thales Alenia Space, Olivier Cousergue, Key Account Manager, Air Force/ Air Defence, THALES, and Prof. Thierry Ranchin, Director of the Center Observation, Impacts, and Energy, MINES ParisTech, at the World Future Energy Summit (WFES) 2017, which is being held from 16-19 January at the Abu Dhabi National Exhibition Center (ADNEC) as part of the Abu Dhabi Sustainability Week 2017.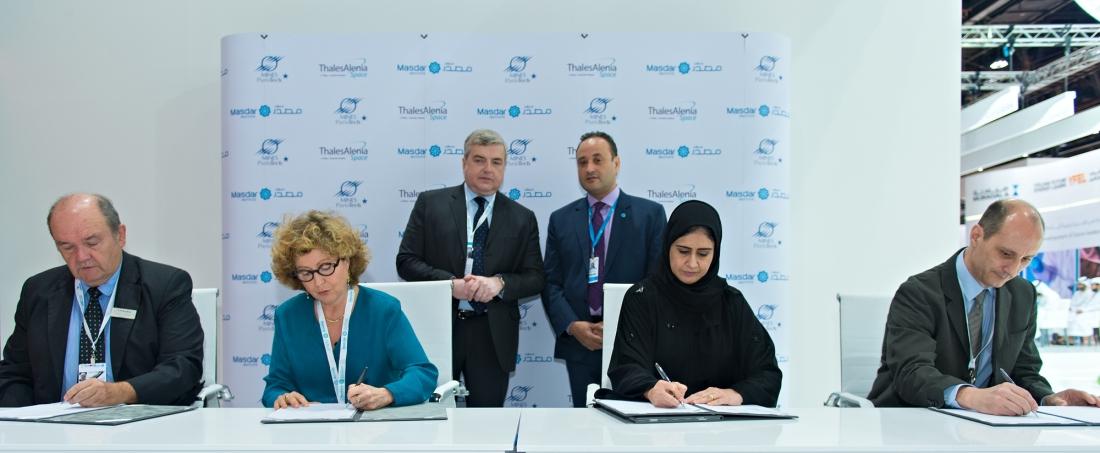 StratobusTM is a type of aircraft currently being developed by Thales Alenia Space together with French and European partners. Functioning effectively as a hybrid between a drone and a satellite, StratobusTM will be positioned at an altitude of about 20 kilometers over its theater of operations, in the lower layer of the stratosphere, where the air is sufficiently dense to lift the airship balloon and the winds are low. With its involvement in StratobusTM project, Masdar Institute will advance its role in driving cutting-edge innovation in earth observation technologies to bring sustainable benefits, locally, regionally and globally.
The innovative airship will carry technical equipment that allows it to perform surveillance of borders or land or sea sites (video surveillance of offshore platforms, etc.), environmental monitoring (aerosols, pollution, water monitoring, etc.), climate change impacts (desertification process, plantations, aerosols, pollution, water monitoring, etc.) and provide telecommunications services (Internet, 5G). To be fully autonomous, StratobusTM will incorporate innovative technologies such as high efficiency flexible solar cells supplying a strong electrical power on board. Thales Alenia Space and partners plan to launch the first qualification and certification flight in 2020.
Masdar Institute is actively engaged in several ongoing remote sensing research and development projects, and has successfully completed many others. The Institute is presently working on a diverse range of research projects with a special focus on deserts and arid climate such as urban heat island studies; monitoring oil spills, algal blooms, solar resources, and dust storms; national-level water budget; land-atmosphere interactions; modelling of hydro-meteorological variables; and climate change studies.
Behjat Al Yousuf, Interim Provost of Masdar Institute, said: "Accurate and timely environmental monitoring is key to ensuring the wellbeing of the UAE and its people. In particular, our ability to observe and measure what is happening in the Arabian Gulf is critical, as it is a major source of our water, trade, tourism and food. StratobusTM represents an innovative way to enhance the UAE's environmental monitoring ability and Masdar Institute is keen to be part of this exciting new interface of aerospace, communication, and environmental monitoring technologies."
Masdar Institute has established itself as a leading organization in the region in the field of earth observation, satellite image processing, and atmospheric modeling, and is particularly recognized for its expertise in desert and arid environments.
Thierry Ranchin, Professor and Director of the Observation Center, Impacts and Energy, MINES ParisTech said: "This high-level scientific collaborative research, combining the unique expertise of Masdar Institute, MINES ParisTech and Thales Alenia Space, will prepare the floor for the use of a major innovation for environmental monitoring in UAE and around the world and possibly support most effectively the Climate Risk and Early Warning System (CREWS) climate initiative objectives. The embedded UAE's users of StratoBus will benefit from the unique expertise of the team and will be ensured that their needs and requirements will be covered by this new Earth observation means. MINES ParisTech is proud to reinforce its productive collaboration with Masdar Institute in this exciting project."
As per the agreement Masdar Institute will work to develop the environmental applications of StratobusTM for the UAE. This first six-month phase of the project will focus on defining the needs of StratobusTM's UAE users. In the second phase, Masdar Institute will be tasked with interfacing with the various UAE users to define their environmental application needs, developing the detailed specifications and technical processes, and defining and developing the specific software algorithms to be included in the StratobusTM control centers, participating in the overall validation of the missions for the benefit of the UAE users.
Masdar Institute has unique expertise in environmental monitoring research that we believe to be of value in developing the environment applications of Stratobus TM to deliver its innovative services, which is why we are excited to work together to discover and develop locally relevant environmental applications for our technology.
We believe our partnership with Masdar Institute will result in the development of many useful applications, breakthrough technologies and new knowledge in the field of environmental monitoring
Jean-Philippe Chessel,  Stratobus TM Business Line Product manager
About Thales Alenia Space
Thales Alenia Space brings over 40 years of experience to the design, integration, testing and operation of innovative space systems for telecommunications, navigation, Earth observation, environmental management, exploration, science and orbital infrastructures. A joint venture between Thales (67%) and Leonardo-Finmeccanica (33%), Thales Alenia Space also teams up with Telespazio to form the parent companies' "Space Alliance", which offers a complete range of services and solutions. Thales Alenia Space has built up unrivaled expertise in dual (civil-military) missions, constellations, flexible high-throughput payloads, altimetry, meteorology, and high-resolution radar and optical observation, as well as space exploration. The company capitalizes on its strong legacy, while also making innovation a key to its strategy. By offering a continuous stream of new products and expanding its global footprint, Thales Alenia Space has established its leadership in today's fast-evolving space sector. Thales Alenia Space posted consolidated revenues exceeding 2.1 billion euros in 2015 and has 7,500 employees in nine countries.
www.thalesaleniaspace.com
About Thales
Thales is a global technology leader for the Aerospace, Transport, Defence and Security markets. With 62,000 employees in 56 countries, Thales reported sales of €14 billion in 2015. With over 25,000 engineers and researchers, Thales has a unique capability to design and deploy equipment, systems and services to meet the most complex security requirements. Its exceptional international footprint allows it to work closely with its customers all over the world.
About Masdar Institute
The Masdar Institute of Science and Technology (Masdar Institute) was established by the government of Abu Dhabi as a not-for-profit, private graduate university to develop indigenous R&D capacity in Abu Dhabi addressing issues of importance to the region. In collaboration with the Massachusetts Institute of Technology (MIT), Masdar Institute has developed an academic and research platform that articulates its mission and vision according to critical energy and sustainability challenges. An important characteristic of Masdar Institute is its focus on complex real-world problems that require a multidisciplinary approach for the development of solutions from an integrated technology, systems and policy perspective. This multi-interdisciplinary and integrated approach is supported by the structure of its academic programs and by the emphasis placed on engaging external partners from industry, government, and other academic institutions in collaborative activities. Serving as a key pillar of innovation and human capital, Masdar Institute remains fundamental to Masdar's core objectives of developing Abu Dhabi's knowledge economy and finding solutions to humanity's toughest challenges such as climate change. Masdar Institute integrates theory and practice to incubate a culture of innovation and entrepreneurship, working to develop the critical thinkers and leaders of tomorrow.  With its world-class faculty and top-tier students, the Institute is committed to finding solutions to the challenges of clean energy and climate change through education and research.
Masdar Institute offers degrees in:
·         MSc Engineering Systems and Management
·         MSc Computing and Information Science
·         MSc Materials Science and Engineering
·         MSc Mechanical Engineering
·         MSc Water and Environmental Engineering
·         MSc Microsystems Engineering
·         MSc Electrical Power Engineering
·         MSc Chemical Engineering
·         MSc Sustainable Critical Infrastructure
·         PhD in Interdisciplinary Engineering
About MINES ParisTech
MINES ParisTech created in 1783 by French King Louis XVI, is a most prominent and prestigious French engineering schools in France and a member of ParisTech (Paris Institute of Technology) and PSL* (Paris Sciences et Lettres). Quite naturally, the School followed the development of industry and MINES ParisTech and nowadays, studies, develops and teaches all the techniques useful for engineers, including economic and social sciences.
Thanks to its multidisciplinary teaching, the School trains non-specialized engineers, able to resolve a real complex problem, carry out an industrial project, and treat all the aspects so technical as scientific, sociological, economic or ethical. The background of the School, connected to the industry of mines, concentrating all the scientific knowledge, open all the fields of research today: transport, energy, mechanics … Ever since 1783, the School has always been able to keep ahead of a changing world by taking part in projects and launching them with future potential.
MINES ParisTech is reputed for the outstanding performance of its research centers and the quality of its international partnerships with other prestigious universities in the world, which include Massachusetts Institute of Technology (MIT), California Institute of Technology (Caltech), Shanghai Jiao Tong University, University of Hong Kong, National University of Singapore (NUS), Novosibirsk State University, Pontifical Catholic University of Chile, Tokyo Tech and Masdar Institute.
MINES ParisTech is a French « Grande Ecole » centred on its research activities. It encompasses all fields of scientific knowledge thanks to 18 innovative research centres, including the Centre Observation, Impacts, Energy, exploring five major fields.
• Earth Sciences and Environment
• Energy and Process Engineering
• Mechanical and Materials Engineering
• Mathematics and Systems
• Economics, Management, Society
With 260 research academics, 400 doctoral students and 60 post-doctoral students, MINES ParisTech ranks top among the Grandes Ecoles for the volume of contractual research.
 
Press contact Thales Alenia Space:
Sandrine Bielecki
Tel: +33 (0)4 92 92 70 94
sandrine.bielecki@thalesaleniaspace.com
Chrystelle Dugimont
Tel: +33 (0)4 92 92 74 06
chrystelle.dugimont@thalesaleniaspace.com
Masdar Institute 
Shaima Al Jarman
Director – Marketing & Communications
Public Affairs Department
+971 02 8109365
saljarman@masdar.ac.ae
Photo copyrights: artistic view © Thales Alenia Space/Master Image Programmes - photo: © Masdar Institute