COSMO SkyMed Second Generation (CSG-1), ArgosNEO on board ANGELS, CHEOPS and contribution to Soyuz launcher
Cannes, December 18, 2019 – The Soyuz rocket launched today by Arianespace from Europe's Spaceport has successfully put into orbit the first COSMO-SkyMed Second Generation (CSG-1) satellite built by Thales Alenia Space as well as ANGELS, nanosatellite from French Space Agency CNES and CHEOPS, scientific satellite from European Space Agency (ESA) with strong contributions from Thales  Alenia Space.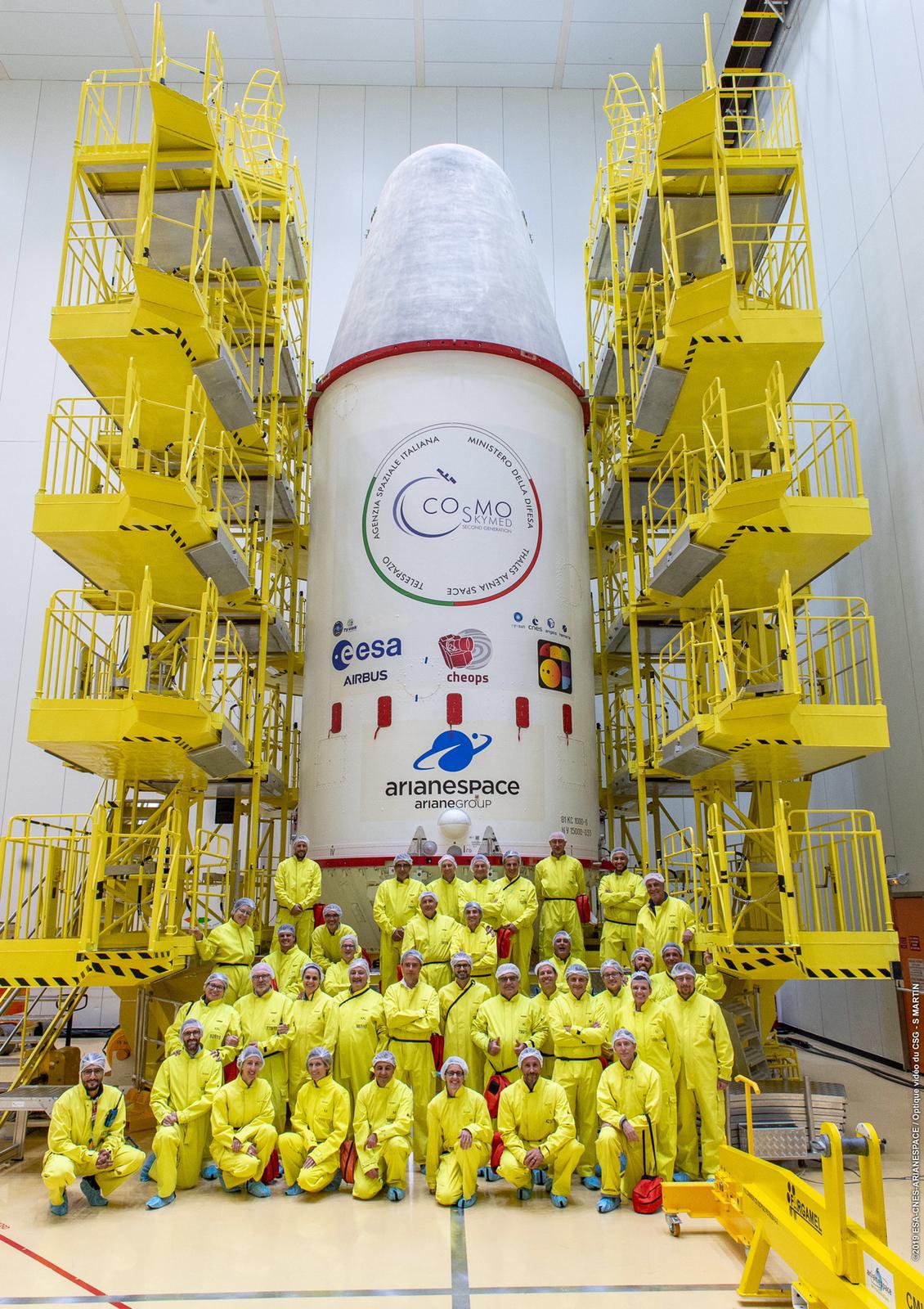 COSMO-SkyMed Second Generation radar satellite: Italy's pride
COSMO-SkyMed Second Generation constellation is a satellite system designed to ensure operational continuity for the synthetic aperture radar (SAR) observation services supplied by the satellites in the first generation of COSMO-SkyMed, in operation since 2007. Intended for use by the Italian space agency ASI and Ministry of Defense, COSMO-SkyMed is a dual-use system (civil/defense) designed to meet the requirements of commercial and institutional customers, including the scientific community.
Thales Alenia Space is responsible for the overall COSMO-SkyMed Second Generation program, including the construction two CSG satellites while Telespazio is responsible for designing and developing the CSG Ground Segment and providing the Integrated Logistics and Operations (ILS&OPS) services. Leonardo contributes to the program by supplying the Attitude Sensors (A-STR) for the orientation of the satellite, solar panels (PVA), and sophisticated Units that process and distribute electric power throughout the satellite, maximizing its power efficiency. This state-of-the-art satellite launched today features the latest technologies and engineering solutions. It will guarantee a quantum leap in terms of technology, performance and service life, consequently, strengthening Italian leadership in the Earth Observation sector on a global level. It remains the historical reference for Thales Alenia Space in term of radar satellites and has paved the way to the state of the art new radar satellite offer of the company embarked on board K425 satellites for South Korea.
​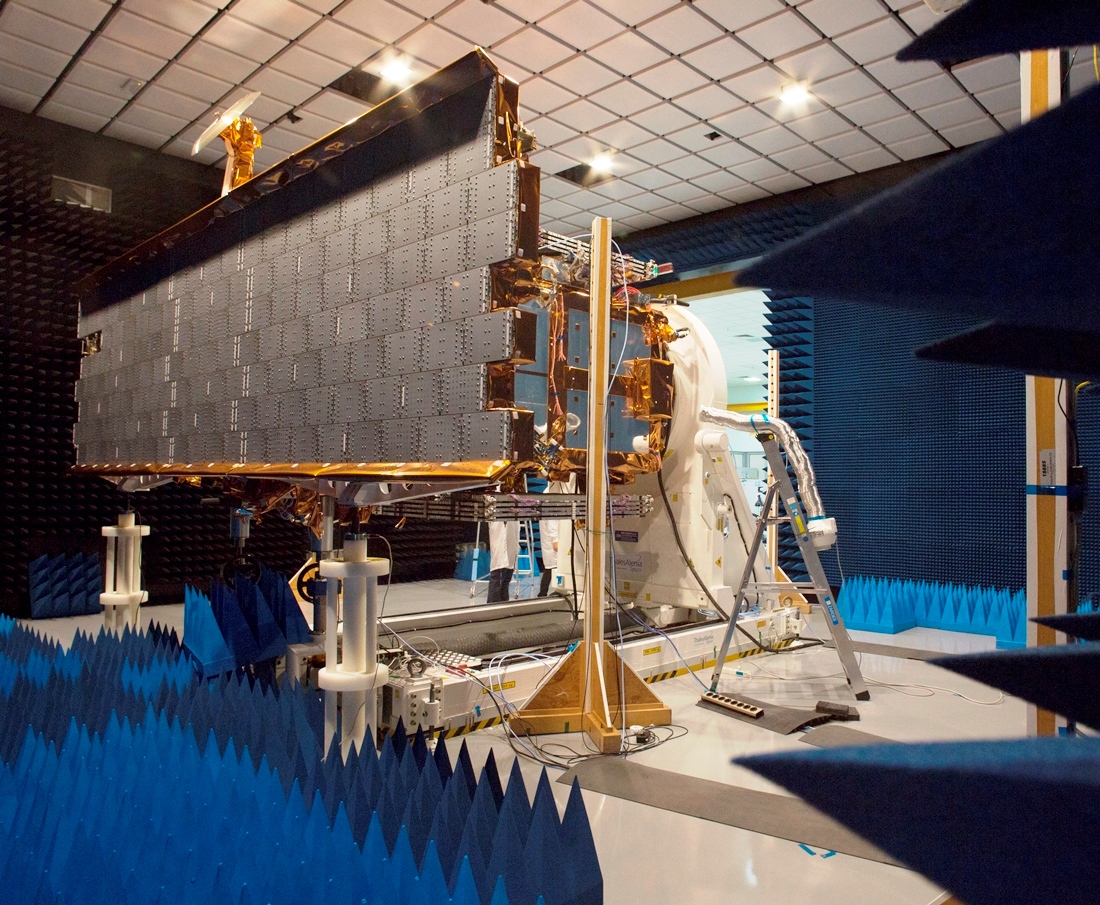 ​
ANGELS : The first nanosatellite developed entirely by French industry and paving the way to Internet of Things
ANGELS (Argos Neo on a Generic Economical and Light Satellite), is a mission by French space agency CNES, which assigned the satellite construction to Hemeria. On board, Argos NEO, a  miniaturized data collection instrument, developed by Thales Alenia Space as prime in conjunction with Syrlinks, a manufacturer of radio-communications and geo-location equipment, as lead subcontractor. The aim of Argos Neo is to demonstrate the operational capability of a complex miniaturized instrument offering high performance on a nanosat platform. Argos instruments set the global standard in helping us understand climate change, improve weather and oceanic forecasts, protect flora and fauna, monitor our water resources, manage and protect marine ecosystems and track navigators during long-distance boat races. Miniaturized ARGOS instruments, intended for nanosatellites, set the global standard in the burgeoning Internet of Things market. ANGELS heralds the upcoming Kineis constellation, for which Thales Alenia Space is system architect.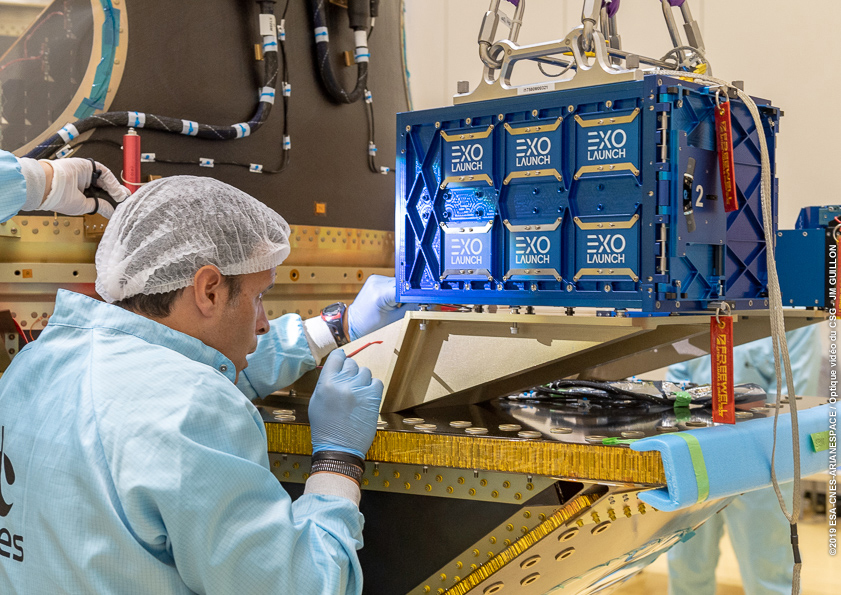 CHEOPS: characterizing exoplanets
CHEOPS is an exceptional European scientific mission, developed through a partnership between the European Space Agency (ESA) and Switzerland.  Designed to characterize exoplanets (planets outside our solar system), this satellite will observe the suns around which these planets revolve, in order to measure the slight variations in brightness induced by the passage of a planet in front of the stellar disk. Engineers at Thales Alenia Space in Switzerland played a significant role on this program, working throughout the AIT (assembly, integration, testing) phase in Spain to support Airbus Defence & Space teams.
Leonardo as well played a crucial role in the CHEOPS mission by providing the "eyes" of the satellite. Through the collaboration with INAF Padova and Catania, Leonardo designed and produced the telescope's optical system that will enable the mission to study the characteristics of extrasolar planets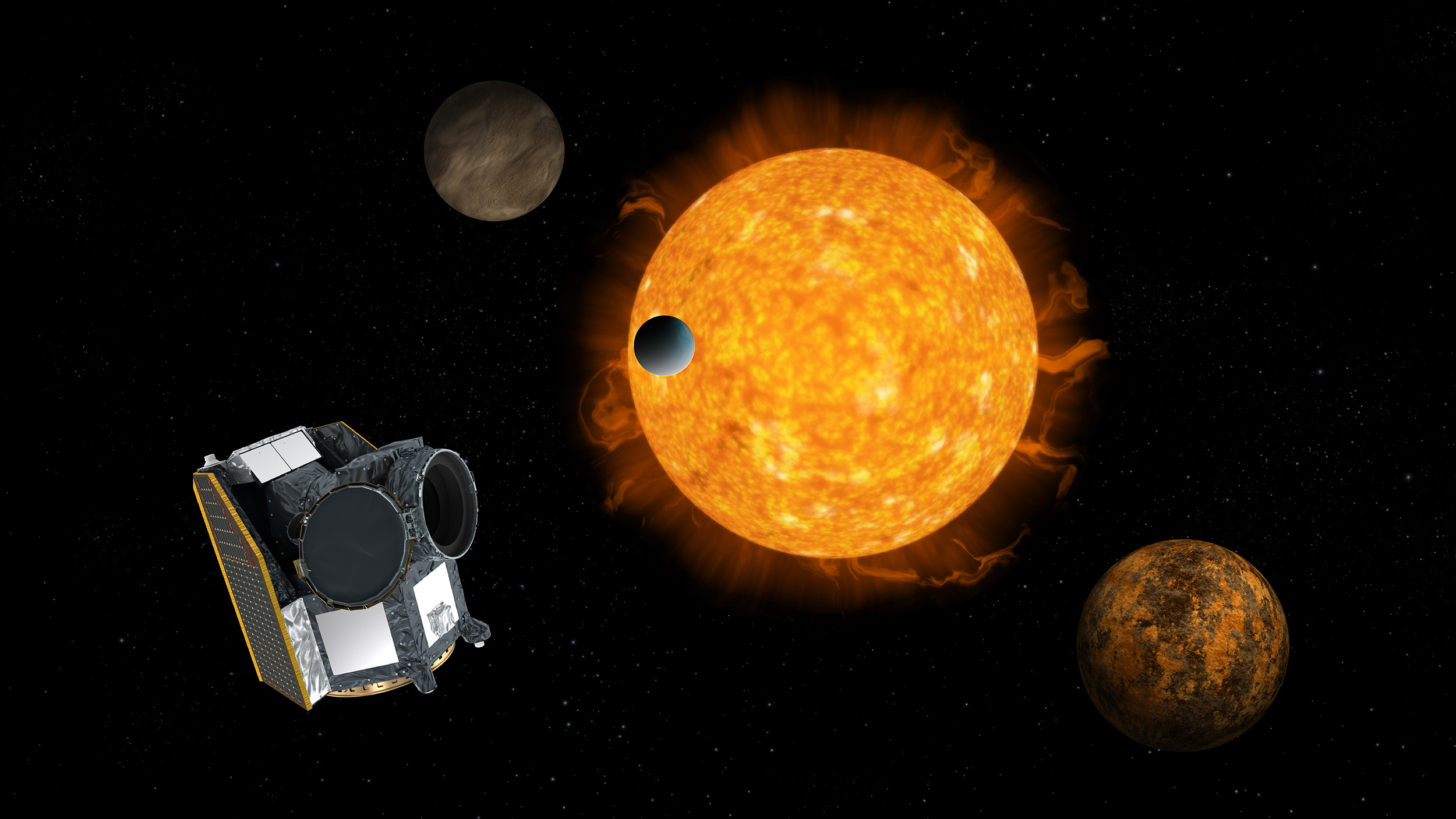 Soyouz : Thales Alenia Space, only European contributor on board Soyuz in French Guyana
Thales Alenia Space in Belgium is the exclusive supplier of the Soyuz range safety system. In addition, the company makes the subsystem allowing communications between payloads on the launcher and ground control systems prior to launch.
ABOUT THALES ALENIA SPACE
Drawing on over 40 years of experience and a unique combination of skills, expertise and cultures, Thales Alenia Space delivers cost-effective solutions for telecommunications, navigation, Earth observation, environmental management, exploration, science and orbital infrastructures. Governments and private industry alike count on Thales Alenia Space to design satellite-based systems that provide anytime, anywhere connections and positioning, monitor our planet, enhance management of its resources, and explore our Solar System and beyond. Thales Alenia Space sees space as a new horizon, helping to build a better, more sustainable life on Earth. A joint venture between Thales (67%) and Leonardo (33%), Thales Alenia Space also teams up with Telespazio to form the parent companies' Space Alliance, which offers a complete range of services. Thales Alenia Space posted consolidated revenues of 2.5 billion euros in 2018 and has 8,000 employees in nine countries.
www.thalesaleniaspace.com
THALES ALENIA SPACE – PRESS CONTACTS
Sandrine Bielecki    Tel: +33 (0)4 92 92 70 94    sandrine.bielecki@thalesaleniaspace.com
Marija Kovac        Tel: +39 06 41512685   marija.kovac-somministrato@thalesaleniaspace.com
Tarik Lahlou         Tel : +33 (0)5 34 35 35 67    tarik.lahlou@thalesaleniaspace.com