Stuttgart, the new heart of the European Rail Transport
Thales will digitize Deutsche Bahn Stuttgart signalling system to substantially improve capacity, punctuality and comfort.  
From 2025, the trains of the long distance, regional and S-Bahn traffic in the node Stuttgart will travel on a network equipped with the latest digital technology. In addition to the new main station and other stations, tracks with a scope of more than 100 kilometers are the first to be equipped with digital signalling technology, the train control system ETCS and highly automated operations. Stuttgart is thus the origin and blueprint of digitizing the entire German rail network, scheduled to be completed almost in its entirety by 2035.
For the development of the S-Bahn, the "Digital node Stuttgart" project is  an important step into the future. On the main S-Bahn route, Germany's most modern signalling system will in future control the shortest ever implemented block sections of only 30 meters in length. S-Bahn trains will therefore travel in closer succession than anywhere in Germany so far. This not only reduces and better eliminates delays but also allows many more trains to travel than today – safely and without having to build a single meter of additional tracks.
Deutsche Bahn is equipping the Stuttgart region with a digital signalling system (DSTW*), the European Train Control System (ETCS*) and Automatic Train Operations (ATO*) with driver.
The contract covers the installation of the digital signalling system, the installation of ETCS, preliminary work for the implementation of the track-side automatic operations and the Capacity & Traffic Management System (CTMS*), a modern technology and operating site, in excess of 6,000 electronic kilometre markers (balises), more than 1,300 axle counting points and approximately 650 point machines.
It includes an important innovation partnership for Thales Germany with the customer, Deutsche Bahn, concerning the development and co-design of new, leading-edge technologies for the roll-out of the "Digital Railways Germany" initiative.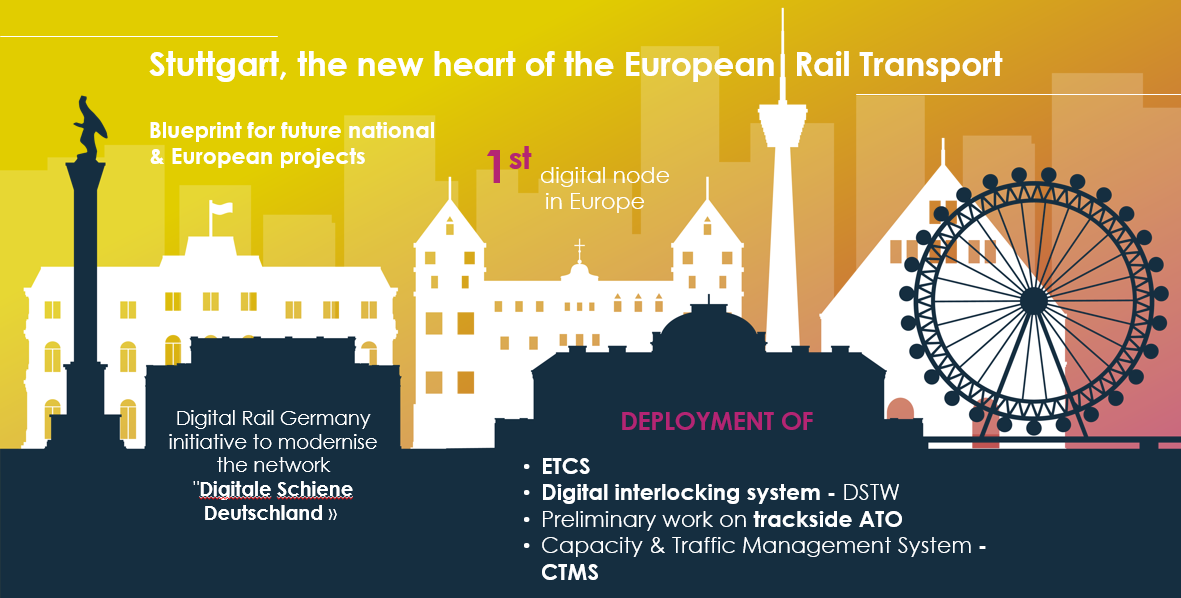 To find out more about Thales Ground Transportation References 
To know more about Main Line and Urban Rail