Get paid while learning directly from the best talent in the industry
Today, many are looking at alternative ways to shape their career and see value in getting a more hands-on learning experience, while gaining skills in the workplace. So it's no wonder that apprenticeships have grown increasingly popular. But why Thales?
We take apprenticeships seriously
We are offering a wide variety of programmes (12 in total) across all levels and regions of the UK. We certainly see apprenticeship programs as an investment in our future. As such, we are keen to move people through the ranks – evidenced by past apprentices going on to take senior positions in the company.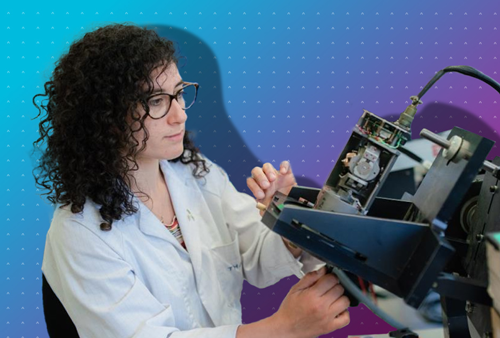 Diverse range of opportunities
Today, our apprenticeship opportunities are extremely diverse and there is something for everyone. It doesn't matter whether you are a school leaver or an experienced professional, our options range between a Level 2 to a Level 7 apprenticeship spanning many areas – from data analytics and cyber to project planning or engineering.
Financially attractive
Thales apprenticeships are an extremely attractive alternative to those thinking about entering the industry. Apprentices learn directly from industry experts while being fully employed. Our degree apprentices for example, join the business on £18,000 onto a permanent contract from day one. Progressing to £30,000 upon completion of their fully funded degree.
Hands-on experience
Our apprenticeships are all about learning on the job. They provide technical know-how, along with ample opportunities to network, pick up soft skills and get exposure to many different areas of a large, innovative business. Our schemes are a great way to try something out, and we provide support every step of the way – with the flexibility to enable individuals to change direction if desired.
An innovative, industry-leader
Apprenticeships play a key role in expanding our services into the future. This year for example, we are launching a cyber degree apprenticeship programme, with a cohort of  10 apprentices in Reading – to build talent in what is becoming an increasingly important area for the company. The four-year programme is being delivered in partnership with QA training and apprentices will work towards a BSc (Hons) Cyber Security Technical Professional Degree awarded by Northumbria University.
Lewis Sear
Graduate Engineer

Lewis Sear is a Graduate Engineer at Thales and the chair of the Early Careers Committee. He chose Thales because he believes the rotational aspect of the apprenticeship programme is unmatched.

Through Thales, Lewis got the opportunity to get involved in research with the Maritime Autonomy Centre.

During this time, he completed a Level 7 PgDip in Engineering Competence. Lewis enjoyed being given responsibility quite soon after joining and he relished the opportunity to learn and grow as a leader after becoming the chair of the Early Careers Committee. He was surprised at how quickly he felt himself transforming into a confident and vocal part of the team.

My experience with Thales so far has been really interesting. I have been put in a whole range of different projects which has got me a lot of experience that I wasn't expecting at this stage in my career, which I am really thankful for

His advice for anyone new at Thales is to grow your network. Speak to others in the coffee rooms about new projects, then find the project leads so you can be placed on the projects that you find interesting. He says this will be easy because Thales has a strong community. Lewis' hope for his future is that he can lead and inspire innovation in emerging technologies within Thales. He would also like to partake in more research going forward.
 

Annabel Douglas
Business Operations Analyst

Annabel Douglas is a Business Operations Analyst at Thales. She spends most of her time collating and analysing data to identify any areas of improvement and then recommends and rationalises potential solutions. A critical reason that Annabel decided to apply for an apprenticeship was that she could get a degree in parallel to building her practical knowledge on the job.

During her time as an apprentice, Annabel explored various business units, including Business Planning, Project Management, and Operations. This allowed her to work with experienced colleagues in several different departments, which she found extremely useful for her learning and development. She was also able to participate in several team-building and learning initiatives that Thales offers their apprentices. A particular highlight is a team-building excursion where she camped on the side of a mountain in the Lake District. She believes these helped bring her out of her comfort zone and grow her confidence.

Over the course of my four years apprenticeship, my experience at Thales has been brilliant. I have been able to develop my confidence and I have worked with colleagues in lots of different parts of the business. They taught me about their departments and about Thales as a whole

Annabel loves the variety she has had throughout her apprenticeship. She hopes to continue in the Business Operations field and expand her skills as an Analyst and in Operations in her current role. Her advice for anyone who has just started their career at Thales is "Go for it! You will learn so much and develop in more ways than you can imagine".

Hannah Cloonan
Project Controls Apprentice

Hannah Cloonan has been at Thales for four years. She has worked with a number of different teams and in a variety of areas of the business. This included; Bids, Project Management and Project Controls. She has visited several other Thales sites and taken part in a training course in Crawley, workshops in Cheadle, and networking in Bristol.

She is currently working as a Project Controls apprentice. While doing a degree she has been working day-to-day on monitoring and analysing progress and performance data on Engineering, Manufacturing, and Infrastructure projects. She has felt a great deal of support throughout her time at Thales, both from colleagues and lecturers.

She particularly enjoyed going on secondment for a marketing module during her degree. The experience became extremely helpful for writing University reports.

I've really enjoyed the past four years at Thales. I've been offered a wide range of opportunities and I've met some really great people working on a number of different project teams. These are friends I've made for life

Her advice for those just starting at Thales is all about taking advantage of the community and support on offer. She noted that colleagues are eager to help and offer guidance when needed. She says growing your network will also help to create opportunities further down the road. Hannah sees more learning and exploration in her future. She would like to understand more about risk management and ultimately lead her own projects and a team of people.

Stuart Morgan
Business Systems Analyst

Stuart Morgan, a Thales Business Systems Analyst, and graduate Engineer has been at Thales for two years. He describes his time at Thales as a "complete rollercoaster" which isn't surprising considering he has experienced five different teams and toured six different sites.

Stuart's day-to-day role consists of increasing efficiency and business change within Thales. This could be with data analysis or by recommending new processes for engineers to make their lives easier. Stuart found the rotational aspect of the apprenticeship programme extremely rewarding. The drive to learn through experiencing new parts of the business is still very much a part of him and it's what he most enjoys about his current role.

Thales is in a really unique position with its apprenticeship; you've got the ability to jump between completely different industries from Space to Rail to Defence. In most industries, you'll sit in one team, but we offer such a breadth of what you can do and the opportunities are endless

Stuart's key advice for new starters is to be "bold, open and honest". He found acting this way opened new opportunities, learning experiences and helped the business leaders tailor the programme to support his growth.

What's in Stuart's future? He believes the sky's the limit. There are so many roles at Thales he can see himself thriving in, so who knows where he could be ten years from now! However, his immediate aspirations are to become a Senior Business Systems Analyst and work for the Thales central Engineering team.