Come and visit the Thales stand (#81) at
AusRail Plus 2022

February 28 - March 2
This year, we are showcasing our Smart Mobility solutions, across three key areas:
Our experts at AusRAIL will be at your disposal for live demonstrations and to answer any questions you may have.
SelTrac G8 CBTC
The latest generation of our world-leading driverless communication based train control solution, SelTrac G8, opens up new possibilities for metro operators across the globe.
SelTrac™ G8 is autonomy ready, permanently upgradeable and includes a suite of enhanced services, to support operators to achieve maximum availability. SelTrac™ G8 also features advanced diagnostic and health monitoring tools, easing maintenance and boosting reliability. In addition to this, our customers benefit from a significant reduction in wayside equipment, so installation and maintenance costs are lower.

Data Driven Operational Control Centres
Data-driven Operational Control Centres (OCC) exploit the power of data to provide transport operators with the right information at the right time. They work by centralising applications and operational data from sensors and systems. This is achieved through a single, secure Digital Platform, using big data tools, such as machine learning and data analytics to deliver new functions, assist operators and improve system performance.
The benefits of Thales' Data Driven OCC
Unify the user experience. The data-driven OCC uses a common human-machine interface. This makes life easier for operators and reduces the need for training.
Eliminate operational silos. Different functions, such as traffic management and video surveillance, can communicate with each other on the platform. This provides new insights and allows a single operator to manage several functions at the same time.
Allow rapid reaction in a crisis. When abnormal events are detected, information is filtered, focused and prioritised, so operators don't waste time trying to figure out what's going on.
Provide decision support based on real-time data to help operators every step of the way.
Distributed Intelligent Video Analytics
Discover Thales' new and powerful Artificial Intelligence product that monitors passenger density, and provides passenger guidance.
Distributed intelligent video analytics uses the existing CCTV camera network – on platforms and trains – to measure passenger density. Passenger density is calculated in real time using video analytics and passenger guidance is provided via platform displays. This helps to manage one of the main causes of both passenger and operator dissatisfaction – crowding. Distributed intelligent video analytics also reduces dwell times, improves safety, adapts train timetables based on historical data, increases passenger comfort/satisfaction and is cost effective as it relies on existing camera infrastructure.
Passenger Journey Analytics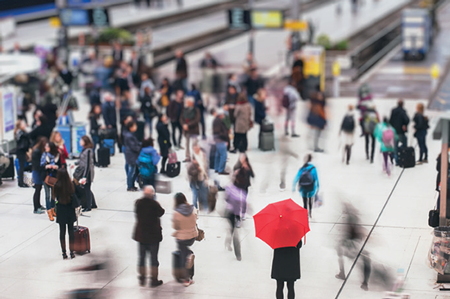 Thales' NAIA solution is a big data analytics platform, supplied as a service. NAIA is a cost-effective solution as operators are not required to buy any equipment.
By using data from ticketing machines and tap-in/tap-out barriers, the application runs a unique algorithm to recreate the journey of every single passenger on a network. The information is then used to calculate three main passenger experience performance indicators:
Waiting Time
Platform Occupancy
Train Occupancy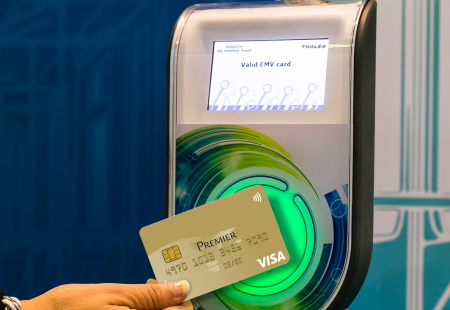 How do we make mobility about freedom and autonomy? How do we offer travellers flexibility and real time journey options? How do we create a broader mobility ecosystem which is easy for travellers, operators and authorities to navigate and encourage greater use of public transport? These are some of the questions Thales is tackling with our TRANSCITY™  technology.
The focal point of any MaaS deployment is the digital mobility platform. Transport authorities need a platform that is open, data-driven and capable of providing a level playing field for an unlimited number of players. Above all, the platform must be cyber-secure to safeguard the privacy of users.
The everyday convenience and flexibility offered by Account Based Ticketing, Open & Closed Payments/EMV and mobile tokenisation profoundly improves the customer journey experience, enabling Thales technologies to engage with and enhance the broader MaaS eco-system via smart intermodal mobility. Our TRANSCITY™ solution provides a powerful ticketing and mobility platform, enabling interoperability amongst multiple mobility players.