The Faces of Thales – Tamara Perry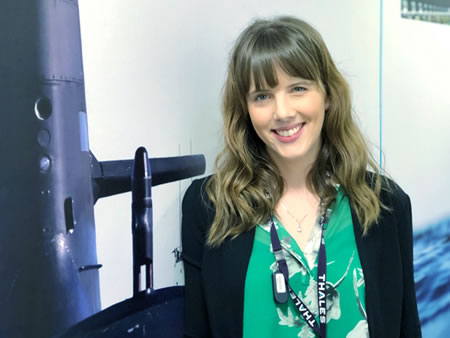 Meet Tamara Perry, Project Manager with SEA1439 Ph6, the Collins Class Submarine sonar upgrade
Tamara is the perfect demonstration of a successful graduate program. Celebrating her 10th year with Thales recently, her role and responsibilities with the company has evolved into her current position, Project Managing the Collins Class Submarine Sonar upgrade.
The early years
Tamara was born in Melbourne, although the family soon moved to Perth for her father's work. By the time she hit Year 3 at school the family had relocated again, this time to her mother's home town in regional Victoria, called Warragul.
"It's a small town about half way between Melbourne and Sale, but it's not as small as some of the others surrounding it," Tamara smiles. "I remember when we got a McDonald's a couple years after we arrived, and then we got a cinema, so that was exciting," she says with a laugh.
At the end of her high schooling years, Tamara's father was offered a government job based in Canberra, so the family packed up again and made the move.
"I'd applied for uni in Melbourne and in Canberra," she notes. "I was hoping they'd make the decision for me, but I got into both. I ended up choosing Canberra because the ANU engineering degree was really broad. You didn't have to choose a discipline until 2nd or 3rd year, and I really didn't know what type of engineering I wanted to do."
In the first year of her studies Tamara was exposed to electrical, mechanical, software and systems engineering as well as maths and physics.
"It was really good seeing it all because I really had no idea what I wanted to do," Tamara says. "Even at school I didn't know, and to be honest, I only applied into engineering because I was good at maths and science at school. I liked maths, it was fun.
"I know that sounds super nerdy. My dad did computer science and was adamant I should do engineering because that's where the really interesting work was" she chuckles.
Tamara chose to focus on Mechanical and Electrical Engineering for her majors, but eventually dropped the electrical side.
"I think it was down to the lecturer of one of the earlier courses," she says. "He was very monotone and boring, I kept falling asleep. So, I dropped it to focus more on the Mechanical side which I was really enjoying.
"I ended up majoring in Mechanical & Material Systems and Manufacturing & Management Systems."
Enter Switzerland
At the same time, Tamara also completed a Bachelor of Science, majoring in Chemistry. Because she was doing both degrees and excelling at each, ANU put Tamara's name forward for a special international program with an engineering firm called ABB. The student was given the opportunity to work in the company's research and development facility in Switzerland.
"I had one of my lecturers come up and ask if I wanted to do my honours thesis and research in Switzerland with this company as an intern. Ummmm…yes!"
And so, Tamara packed her things and moved to a small town outside of Zurich called Baden-Dättwil for six months while she completed her research.
"My thesis was on RTV – Room Temperature Vulcanising coatings," she recalls. "That is the stuff you use to coat a transformer to prevent erosion and tracking of the electrical current when it is outside. Basically, looking at ways to protect it when it is out in the weather."
Her work there consisted of plenty of trial and error samples and testing.
"It was really fun, and not just the work," she smiles. "I made some really good friends, and travelled around a lot. I mean, a lot!
"I'd spend a weekend in Prague, or a weekend in Paris, it was fantastic. All the flights were so cheap. I got return flights to London for $50. I totally took advantage of it. The people I worked with, all from Europe, couldn't understand why I was traveling all the time. I used to say to them that these places are so close, they're right there!"
In between all the site-seeing Tamara managed to write her Honours thesis, then it was time to head home again.
"Coming back to Australia was tough," she says. "I'd been eating a lot of delicious Swiss chocolate and not doing any exercise. So it was interesting coming back and readjusting back into uni life."
Tamara spent the following 12 months to complete all her studies and then began applying for various Graduate Programs.
How do you say Thales?
"I hadn't even heard of Thales to be honest," she notes. "I didn't know how to pronounce it just like everybody else. They really sold it to me at one of the Graduate Careers Fairs in Canberra. They told me about all the cool stuff that Thales works on and it all sounded really interesting.
Tamara applied with Thales and was accepted into the program.
"I did get to meet lots of different grads who worked in all different areas, so I learned about the business that way," she notes. "It was really good for understanding how Thales works.
"For most people coming in brand new, you'll only really see the area you're in. You don't get exposure to all the other cool things Thales does. But as a grad, you get that exposure and visit different sites and meet different people.
"Also, I met my fiancé through the grad program," she laughs. "He was a Graduate Chemical Engineer in Mulwala. We'd started the program together and met at the first graduate course module. By this time I'd moved to Sydney to work at Rydalmere, so we were commuting from Sydney to Mulwala and back a lot."
Tamara's first role with Thales was based in Canberra.
"Once I got there I was placed as a Systems Engineer within SIX, based in Canberra. I moved up to Sydney though because I really wanted to make use of my Mechanical Systems degree, so after talking with a few people I got the opportunity to come up here to Rydalmere. There was a role in the Mechanical team in Underwater Systems [UWS], so I moved into that spot.
"Actually, it was only meant to be a six-month secondment in that position, but seven years later and I'm still here!" she smiles.
While Tamara is still with UWS at Rydalmere, her actual role has changed significantly over the years.
"I've had five roles since I started, including the graduate positions," Tamara says. "I started as a Mechanical Engineer, then because of my chemistry background I was really interested in what they were doing in Acoustics and Ceramics, so I did a two-year secondment to the Acoustics Engineering team, and ended up staying on there too.
"After three years as an Acoustics Engineer a position opened up in the Scylla In Service Support project as an Engineering Team Leader, so I went for it and got it. It was a really good opportunity, especially because I'd always really liked the management side of things."
Tamara says that becoming a manager was an eye-opening experience, but the structure of the role helped her adjust.
"The first year my role was a Project Engineer, so I was focused on managing the engineering work packages, and then after that year I transitioned to managing the team as well. It was a great way of adjusting into it."
Her team consisted of seven engineers and an intern, so people-management is a large part of her job.
"It takes a lot more time than I'd expected," she notes. "I remember when I was an engineer, wondering why my manager would take so long to review a document or give me feedback. I couldn't understand why it would take so long. But I totally get it now. There is so much to manage. You're getting inputs and questions from all over the place, not just from within your team. There's a lot going on and that was the biggest eye-opener for me."
The pride factor
"I really like the work I do and I'm really proud of it," says Tamara confidently. "I'm really proud to say I'm an engineer and that I work on all these interesting systems. I mean I work on submarines and sonars! When people ask me what I do, I get this really good feeling when I tell them."
Another driving factor is that Tamara's work is making life easier for the Defence Force personnel who use the equipment she works on.
"It really hit home for me when I had the chance to go out on a submarine a few years ago," she says. "When I worked as an Acoustics Engineer, I did a lot of work on the redevelopment of the sonar that's on board the subs now. Redeveloping and qualifying the sonar designs for manufacture by Thales here in Australia.
"Then to actually go on a submarine and sit at the console, listening to everything the sonar is picking up outside the sub, there's no words for that. I remember it hitting me that this is the sonar that we make."
A helping hand
Tamara has one of the most recognisable faces in Thales Australia, largely because of the amount of extra work she does within the company. She is currently mentoring a Thales graduate engineer and a UTS uni student, volunteers for Kookaburra Kids, volunteers for the "Subs in Schools" program, helps organise ShipIt events at Rydalmere and is also involved in the Young Professional Innovators – a program where workers can pitch ideas to solve Thales problems or issues, or investigate emerging technology, and then pitch it directly to the ELT.
"I figure it doesn't take up too much of my time and if I can help, then why not?"
Life away from sonars
When Tamara isn't leading her team and working on sonars, she can be found on the mats at her local Brazilian Jiu-Jitsu dojo.
"It started because my fiancé did it years ago and wanted to get back into it," she says with a smile. "So, we started it together. He's injured at the moment, so it's just me going. It's been about a year now and I'm not great. Although I do notice I've improved since the start when a brand new person comes along who I can explain things to, or even beat in sparring. It makes me feel better about my skills," she laughs.