Safeguarding Australia: a strategic partnership
On 3-5 March, approximately 100 government security and policy representatives and private sector security professionals gathered virtually to participate in the Thales sponsored Safeguarding Australia Summit. Now in its 17th year, the premier national security event is the longest running of its kind in Australia and has been dubbed by the Secretary of Home Affairs, Mike Pezzullo, as "the most important security conference in the country." We spoke to Jason Brown, National Security Director at Thales Australia and Chair of the Safeguarding Australia summit, to discover the key insights and outcomes from this important meeting of the minds.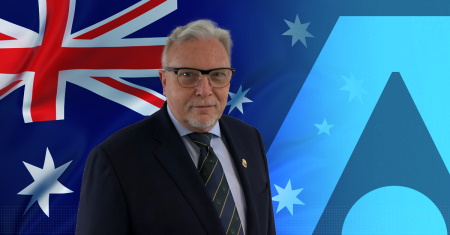 Jason has a long history of involvement in Safeguarding Australia; he's been Chair for five years and a speaker on many occasions. Although this year's conference was hosted digitally due to the COVID-19 pandemic, there was no impact on achieving the desired conference  outcomes, with significant insights and considerations arising from the two day summit. 
Most prominent was discussion around the global issue surrounding the sustainment of the international rule of law, and the ways countries work together to facilitate everything from trade to freedom of navigation. Guest speaker Rear Admiral Kevin. E. Lunday, from the United States Coast Guard, explored national sovereignty and freedom of navigation, which Jason believes is an important consideration in the Asia Pacific region. "For Thales, and being engaged with our maritime capabilities - the future directions surrounding the law of the sea and international rule of law for navigation will help shape our strategic view on where we go with capability."
Thales Australia Board Director and former Director-General of the Australian Security Intelligence Organisation, Duncan Lewis, contributed additional context by providing his insights into national security in the protection of Australia's strategic interests.  Among the significant insights was the risk to private enterprise of foreign influence and interference.
A talk delivered by Abigail Bradshaw, Head of the Australian Cyber Security Centre (ACSC), recognised the fundamental role cyber security plays across public and private sector in our national protection, and the critical partnership between government and industry to achieve this. In her speech Abigail also emphasised the importance of physical and personal security domains, as having the best cyber capabilities alone won't protect against vulnerabilities if human factors are neglected. To combat this, the Australian government plans to increase the outreach of cyber security specialists across ACSC regional retail offices, which are a joint government and business partnership.
"These initiatives by government are really about the recognition that there is no capacity to maintain a sovereign Australia without maintaining security in those industries that sustain Australia."

Jason Brown, National Security Director at Thales Australia and
Chair of Safeguarding Australia.
Thales continues to support the government in initiatives such as critical infrastructure protection resilience and enhanced ACSC outreach.  
Thales is working with the Australian Industry Group and the Department of Home Affairs to help shape the regulatory environment that will further develop critical infrastructure resilience. Such collaboration brings mutual benefit, by helping government better understand industry and in doing so avoids making regulations too arduous to abide by nor achieve the required results.  For industry, it assists in understanding what outcomes the government is seeking. 
Thales provides critical capability and with it comes immense responsibility, not only from a security perspective but from a social standpoint as well. For this reason, Thales has built a public interest component into our operations to reflect the significant effect on our society and need to work closely with government. There's also several United Nations charters, such as the UN Sustainability Goal, the UN Global Compact  and other broad goals signed up to by Thales to support its corporate social responsibility for building a society founded on sustainability, trust and respect. 
Having a global footprint also means we can leverage our international experience and bring to bear lessons learnt to help inform the Australian security landscape. "Thales is in a position to have a strong role in contributing to the understanding of security and modelling good security performance," says Jason. 
Outwardly, Thales' contribution is diverse and layered, from being actively involved in the national and international development of standards associated with physical personnel and cyber security, risk management and governance to supporting  Small to Medium Enterprise (SMEs) in cyber security best practice. 
Safeguarding Australia will release a conference paper for attendees and many of the published outcomes and considerations will be incorporated into current initiatives underway by the Department of Home Affairs. "Australia is already conducting lots of initiatives to enhance security and sovereignty so the challenge will be weaving these new ideas and perspectives into an existing framework, especially regarding what pandemics and similar disruptive events mean for security and business continuity" says Jason. 
In the interim, there is a clear action for everyone to support, and that is to continue bridging the gap between private and public security focus around people and cyberspace. "I think that's the really important focus," states Jason.