Thales and voestalpine Railway Systems sign an agreement of cooperation for the development of new digital points
Thales and voestalpine Railway Systems will combine their outstanding expertise in rail system for a fully digital next generation of points, which are key elements in the railway infrastructure.
This new digital points will enhance the railway signaling system, making rail transport more efficient and safer.
With an all-in-one approach, the digital point will become an intelligent outdoor element that allows all kind of diagnostics for highest availability and efficient predictive maintenance.
The digital switch is an essential building block on the way to fully digitalised railway operations management.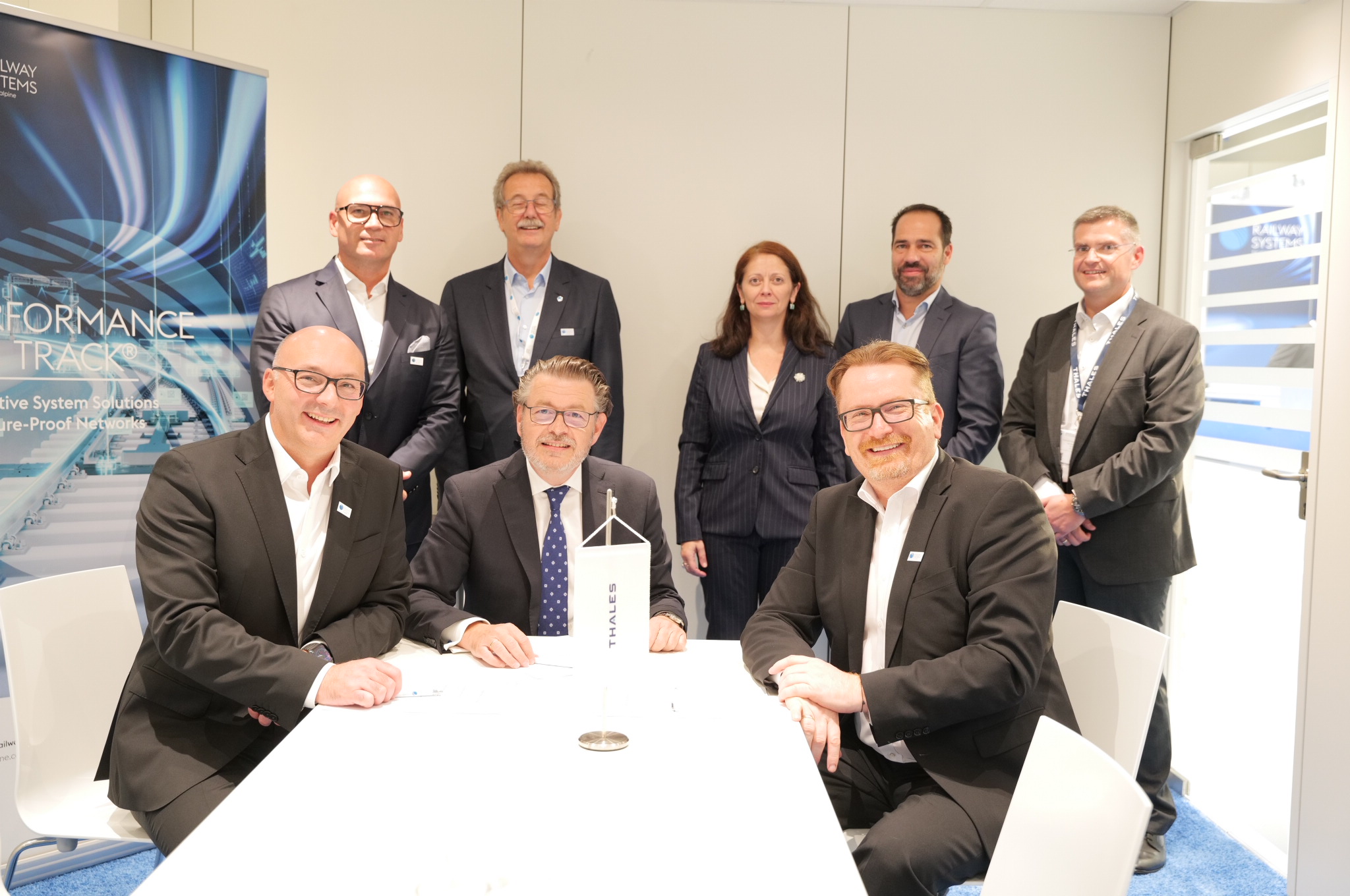 In the course of InnoTrans 2022, the world's largest trade fair focused on the rail transport industry in Berlin, voestalpine Railway Systems, world-market leader in railway systems, and Thales, a global player in the field of ground transportation systems, sign an agreement of cooperation for the joint development of the new generation of digital points.
Future mobility relies on an attractive rail transport. This results in enormous demands with regards to operational availability of the existing railway infrastructure in order to enable the desired, significant increases in capacity. Particularly this applies to the switches as a neuralgic element of the rail infrastructure.
With the Thales solution for a decentralised control unit, the switch becomes a fully digitalised, intelligent outdoor element that, among other things, provides diagnostic data directly at the point. The EULYNX-compliant interface corresponds to the standardised solution according to European standards and thus enables flexible, supplier-independent integration into modern, digital interlocking systems in the future.
Railway infrastructure operators benefit from this integrated approach as it simplifies significantly the installation and integration of the turnout systems into the signaling technology. Real-time diagnostic information ensures that unplanned maintenance activities are minimised, thereby optimising the operational availability of the rail infrastructure.
Thales massively invests in digitalisation in all business areas. Railways rely on digitalisation in order to sufficiently cope with the immense future challenges and demands. We are therefore very proud to further contribute accelerating the digitalisation process of railways through our partnership with voestalpine.

Hannes BOYER, CEO & Country Director, Thales in Austria
Digitalization, and with it the targeted application of the new digital technologies, has been and remains a cornerstone of continued value growth and technological leadership of voestalpine Railway Systems. We are glad to have Thales as cooperation partner to pursue together the great goal of digital Performance on Track.

Holger Pütz, CEO, voestalpine Signaling Sainerholz GmbH