In all its countries of operation, Thales strives to build long-term partnerships with local academic institutions, design centres and high-tech firms to imagine innovative use cases, business models and technologies.
At Thales in the UK, we partner with a wide range of academic institutions, research institutes and Catapults on many different areas of research that are crucial to the future growth and profitability of our business. Given the advanced technologies that underpin  our product and service offerings to our customers and the rapid pace of technological changes we are witnessing, this network of world class experts is a fantastic mechanism to deepen our capabilities in emerging technologies. We employ a Strategic Partnership programme to organise our work with Universities, which enables us to be more strategic with our investments; educate and inform students about our company; and provide out partners with the opportunity to get involved in research that relates directly to our relevant industries.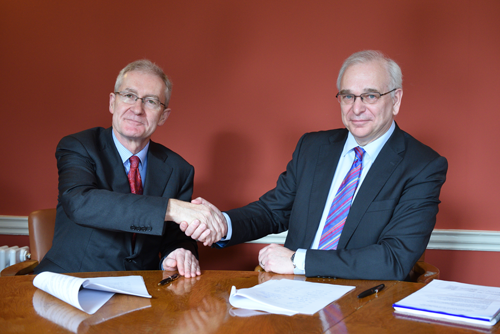 For example, the University of Bristol (UoB) and Thales Group have signed a Strategic Agreement to collaborate in research and education activity. The agreement strengthens an existing relationship, where Thales has worked with Bristol for 20 years on several joint UK and European Union based research projects, whilst supporting over 30 doctoral students.
The Strategic Agreement establishes engagement between Bristol and all levels of Thales in terms of asset sharing, IP and patents, sabbatical exchanges and embedded researchers, and opportunities for leveraging research funding, and represents an ideal platform upon which to pursue fundamental challenges that must be overcome in order for UK engineering to operate confidently within the emerging design space of modern engineering.
The primary focus areas for research collaboration are:
•    Complex and Autonomous Systems Research
•    Responsible AI
•    Information Processing
•    Space Engineering
Cooperation between Thales and the University of Bristol has included entrepreneurship support, student mentoring, discussions on curriculum development, guest lectures/talks, internships and placement opportunities.
Key Research Areas
|   | University of Bristol | University of Southampton | University of Birmingham  | Queens University Belfast | University of Manchester | Cranfield University |
| --- | --- | --- | --- | --- | --- | --- |
| Complex Systems | • |   |   |   |   |   |
| Quantum Technologies | • | • | • |   |   |   |
| Cyber Security | • |   |   | • |   | • |
| Digital Rail | • |   | • |   |   |   |
| Digital Aviation |   |   |   |   |   | • |
| Autonomous Systems | • | • |   |   |   | • |
| Acoustic Materials |   | • |   |   | • |   |
| |   |   | • |   |   | • |
Key Projects:
Thales- Bristol Partnership in Hybrid Autonomous Systems Engineering
T-B PHASE is one of the first tranche of the UK EPSRC's Prosperity Partnership programmes.  T-B PHASE addresses the Hybrid Autonomous Systems Engineering "R3 Challenge" of Robustness, Resilience, and Regulation.  It is a five year, £4.5M joint programme that forms part of the Thales-Bristol Strategic Agreement with a co-located team at the University of Bristol.
Digital Aviation Research and Technology Centre (DARTeC)
Thales is working with Cranfield University and other partners in the £67million DARTeC projects to spearhead the UK's research into digital aviation technology and provide research facilities unprecedented in Europe. The five primary research challenges that the centre will tackle when it opens in early 2020 are:
Connected systems
Unmanned traffic management
Seamless passenger experience
Distributed airport and airspace management
Conscious aircraft
The above partnerships show just some of our work taking place in the UK. Did you know, however, that Thales UK is involved with a total of £146m+ of EPSRC funded research and doctoral training centres?
You can view all of the fantastic Universities that we are collaborating with here, as well as some information on the fantastic work taking place!