In security, Thales in the UK has been delivering operational systems and services across critical national infrastructure and homeland security sectors for decades.  The ever increasing pace of security threats, coupled with the interconnectivity of everything, means that modern security capability must now be managed over entire lifecycles. This evolution has ensured the need for outcome based services rather than security delivered as discrete products or projects.
Digital Transformation in every sector is further unleashing the potential for efficiency, productivity and data driven services, creating a new world of products as a service. These benefits are built on the keystones of safety, security and the ability to Digitally Trust all components of the service enterprise.  Wherever security and safety are critical Thales delivers.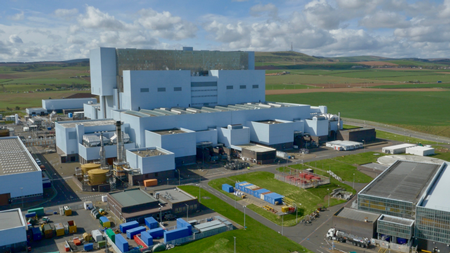 The UK is rapidly moving away from a dependency on fossil fuels. Electric cars are becoming commonplace, electric buses are already operating in London and even electric lorries are being trialled.
If all goes to plan, almost all of these zero emission vehicles will be powered by electricity created from nuclear and renewable sources by 2050. The world will be a brighter, cleaner, healthier place. And EDF Energy, with the assistance of Thales, is leading the way to a carbon-free future.
EDF is the UK's largest producer of low-carbon electricity, much of which comes from its nuclear power stations. But how do nuclear reactors work and are they safe?
A nuclear power station uses the heat created by fission (the splitting of atoms) to turn water into superheated steam, which turns turbines. The turbines are connected to generators which create electricity and feed it into the national grid. The whole process is governed by graphite control rods which are used to inhibit the nuclear reaction.
Today, a single nuclear reactor can generate more than enough clean energy to supply one million homes – an astonishing output compared to what was possible just a few decades ago.
 

Dedicated to safety
As you would expect, EDF puts safety as its number one priority. Its power stations are highly regulated in all security and safety matters and its emergency plans are rehearsed and refined at regular intervals.
Thales, which can trace its relationship with EDF Energy right back to the late 1970s, supports six of EDF's eight nuclear power stations with Data Processing and Control Systems (DPCS) of its own design. These take data from around 20,000 sensor inputs across the site, relaying operating status information and alerts to EDF staff in a central control room.
Thales replicates the DPCSs at its site in Cheadle, where it develops system updates in close collaboration with EDF, and plans obsolescent management and control board replacement. This off-site development and planning is crucial because updates and replacements can only take place when a reactor is shut down.
Every 18 months or so, each reactor (there are two at each plant, each with its own control system) is shut down for 12 weeks of maintenance, cleaning, refuelling and system upgrades. At this time, teams from multiple suppliers swing into action to take advantage of a narrow window of opportunity.
With so much going on in a short space of time it is imperative that everything works first time, every time. This is not a time for experimentation. A delay of just a day or two could cost EDF hundreds of thousands of pounds.
Thales is now in the early stages of another ten-year support and sustainment contract with EDF and everything is going to plan. Nuclear energy in the UK continues to have a superb safety record however, to ensure we can respond to anything, we need to consider the unthinkable, and we have.
 

Deployable communication and information systems
In 2014, EDF commissioned Thales to create and supply five Deployable Communication and Information Systems (DCIS) under the terms of multi-million pound contract.
In the event of a natural disaster or emergency, the containerised units can be rapidly deployed to the site, to monitor critical plant systems, relaying essential data through a resilient communications network. Ultimately, the system will provide emergency response decision makers with the information that they need to make the best possible decisions.
In reality, given the careful attention to all areas of security, safety and reliability that is paid to EDFs nuclear power plants, it is extremely unlikely that a DCIS will ever be needed in a real-life emergency. But that's not the point. The point is that no safety measure is deemed too extreme or too expensive.

Into the future
The journey to a carbon-free future will be a long one. But, together, we are taking the first steps and our direction is clear. We all rely on EDF to provide safe nuclear energy for the UK. And EDF, in turn, knows that it can rely on Thales for safety and security.
 
Security in the UK