Overview
Thales has been in South Africa for over 40 years and provides its customers with technologically advanced solutions for the aerospace, transportation, defence and security domains. Thales today employs 250 people in South Africa and is rated level 2 under the Black Economic Empowerment (BEE) scheme.
Thales' commitment towards South Africa is built through three main initiatives: the development of the local industry, the commitment to the South African government both through the employment of local talents and through corporate social responsibility initiatives.
Development of the local industry
Thales is a member of the South African Aerospace Maritime & Defence Industries Association (AMD). AMD's primary objectives are the representation of the industry in matters of mutual interest, and the promotion of a profitable, sustainable and responsible industry. The association is acknowledged as the only trade association of South Africa's defence industry (SADI) and is mandated by its members to promote and champion the collective interests of the industry. It comprises a cluster of leading companies in the South African private and public sector that supply defence materiel, products and services.
Thales works together with the South African Bureau of Standards (SABS). The SABS provides the platform for quality services and products which is the key differentiator in an increasingly competitive environment. The Thales entity in South Africa holds a qualification approval SABS ISO 9001:2008 certification.
Thales has a production facility at its Johannesburg premises. It has a complement of experienced production managers, technicians and artisans. Thales manufactures and integrates electronic, electrical and mechanical systems. The facility complies with health and safety regulations and is also ISO9001:2008 certified.
Integration of local talents
Thales' strategy of developing its footprint in South Africa mainly goes through the employment of local talents. Thales started its Black Economic Empowerment (BEE) transition in 2010 to support the growth strategy of the country to the realisation of the full economic potential of South Africa. This brought Thales South Africa (Pty Ltd) to a Black Economic Empowerment (BEE) level 2 status. This transformation illustrates Thales' commitment for a long term partnership to support growth, value creation & jobs in South Africa.
On a regular basis, Thales is proposing internships to undergraduates or students requiring hands on experience in a workplace environment.
Local social responsibility
Thales is supporting socially responsible initiatives in South Africa to support underprivileged communities. With education being the Group's primary focus, much effort is applied in this area.
The Fast Tracking Pathways to Success Project involved until 2019 with several high schools and over 6,000 students in the Western Cape area. An estimated 30 matriculants are earmarked to receive full bursaries towards furthering their education. The project includes the implementation of the School Turn Around programme geared at improving the overall school performance especially in maths & science which is supported with the provision of various teaching resources and a partnership with the Cape Town Science Centre.
Move for Life Project: A Chess initiative developed to increase interest in maths & science during the early education stages. By providing the training and studying material to the educator's effort is directed at improving strategic planning and life skills.
Learnership Programme: By combining theory and practice in the workplace, a learnership programme is offered that leads to an NQF registered qualification. In 2018, Thales recruited 21 learners to give them a professional experience.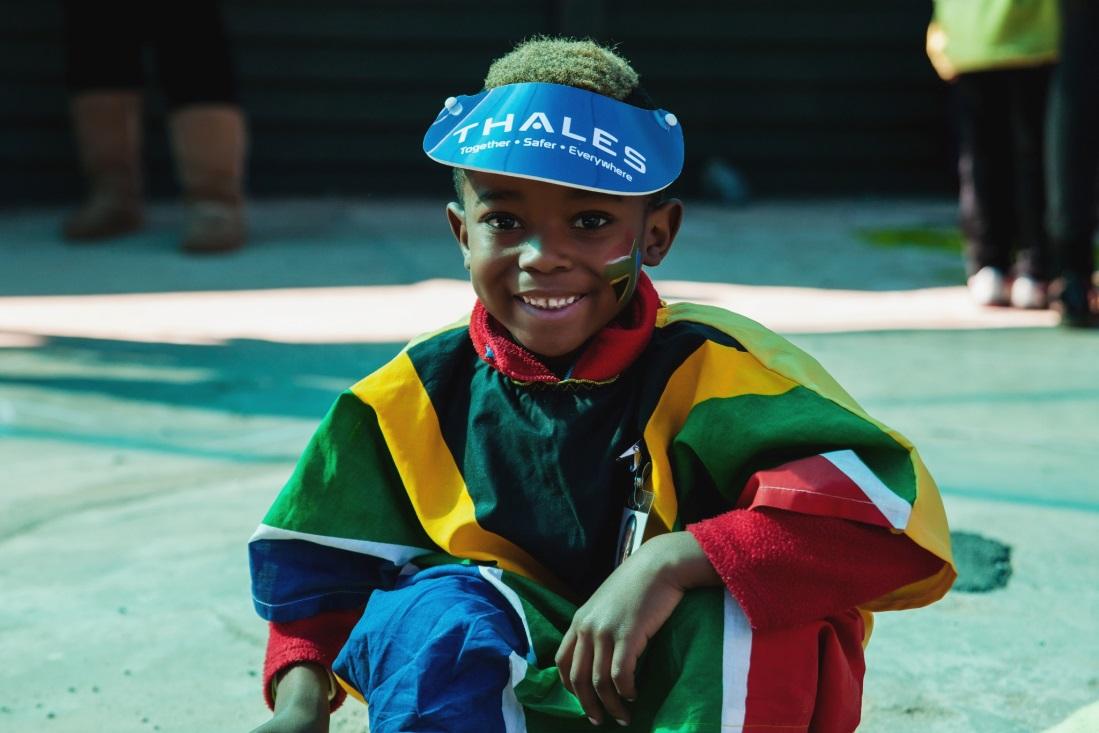 © ©Thales