How the IoT can help in the cold chain logistics and the fight against COVID-19
Estimated reading time: 10 minutes
IoT technology is increasingly important in the healthcare sector where solutions including connected medical equipment, wearables, remote patient monitoring, and smart pill boxes are improving patient outcomes. 
But have you ever wondered how IoT technology can help in the fight against the global COVID-19 pandemic? 
 
In an interview with Thales customer Dyzle, we learn how the company's innovative connected cold chain monitoring solutions are used by food, pharma and medical companies to ensure product safety and integrity during global distribution. This is especially important for temperature sensitive materials like the COVID-19 vaccine that must remain in the deep freeze until it's ready for clinical use.  
Read this interesting Q&A with Sander Hulsbergen, Product Development Manager at Dyzle:
Thales: Can you tell our readers a bit about Dyzle and your solutions and products?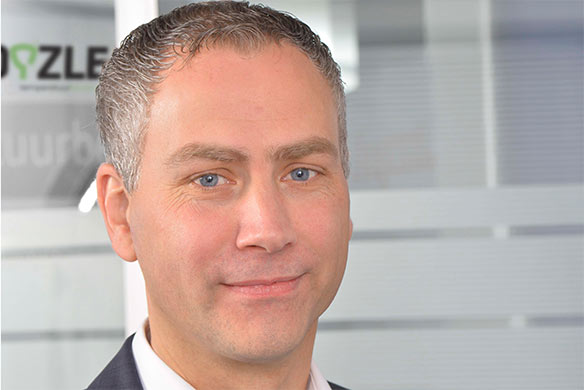 Dyzle:When the Dyzle organization started in 2004, we were the first independent and real time energy consumption monitoring company. At the main meter level, we measured energy consumption of large companies and showed real time data in an online environment (SaaS). This was quite revolutionary at the time, nowadays everyone is talking about IoT. Our innovative customers increasingly asked us to include other live parameters in the Dyzle portal.
In 2012, we sold the energy metering business unit and we have fully focused on temperature monitoring and GPS tracking. We also measure parameters like door statuses, relative humidity, CO2, pressure, PT-100 and thermocouple. Everything we supply is developed and produced in-house. This is very unique in our industry; most parties only supply the hardware or the software. Our business model gives us a lot of control over our products and functionalities. We not only have an eye for the technology, but also for important matters such as validation of our system.
Thales: Who are your target customers and where are they in the world?
Dyzle: Our target customers and end users are mostly pharmaceutical companies, research and development labs, producers and wholesalers. We also work with hospitals, pharmacies, bio tech firms, logistics service providers and transport companies. Our high-end pharmaceutical solutions also make us interesting for companies active in the food industry. In that sector, we mainly help large organizations that want to get a grip on food safety. We are talking about gas station groups, supermarket chains, fast food chains and wholesalers.
We're proud to say, "from farm to fork and from pill to patient, we can measure everything, everywhere." For now, Dyzle operates mainly in The Netherlands, Belgium, Germany and Singapore but our goal is expand outside this area in the near future.
Thales: How is your technology involved in the fight against COVID-19? 
Dyzle: Temperature monitoring is used by companies that are required by regulations to monitor the temperatures of their products or by companies that demonstrably want to guarantee the quality of their products. Companies that work with medicines must all guarantee the storage conditions of the medicines. Temperature is one of the most important parameters of this. After all, you don't want your medicines to lose their effect because they have been stored at the wrong temperatures. So, wherever medicines are stored, the use of temperature monitoring is mandatory. 
When an important vaccine needs to be transported or stored, most companies in the Netherlands use our temperature monitoring system. This is not only because our technology is so innovative and reliable, but also because we are one of the few suppliers that can demonstrably comply with GDP guidelines, the regulatory guidelines governing the wholesale distribution of medicinal products.
Thales: How does your product help customer solve pain points or challenges?
Dyzle: The biggest challenge our customers face is that most suppliers sell sensors but not solutions. This means customers can only purchase and sell sensors that they must track on their own. We try to solve this problem by delivering complete solutions that follow industry guidelines and regulations. In the world of quality control of medicines or medical devices, this goes much further than simply measuring a temperature.
In addition to a reliable and accurate sensor network, Dyzle offers an innovative online platform along with all the services that a pharmaceutical company needs for quality assurance. Our revenue model has nothing to do with selling as many sensors or calibrations as possible and this makes us unique in the marketplace.
Thales: How did your customers manage their business before they started using Dyzle products? In other words, what technology, processes or procedures does your solution replace?
Dyzle: They often used outdated wired systems. These systems are not very flexible, which is especially challenging now, as medical and distribution companies need to act quickly to scale up temperature controlled storage for the COVID-19 vaccine. These systems often run locally on a dedicated computer and that is of course very outdated. Customers want and need to be able to see important information where it suits them best. Our hardware makes that possible thanks to the Thales Cinterion IoT Modules, which provide reliable and secure cellular connectivity. 
Thales: What does Dyzle do differently than others in the marketplace? 
Dyzle: Our products and company are very unique in our industry because we develop and produce everything in house. This gives us an unprecedented amount of control over the quality and functionality of our products and services. As a result, we deliver a high quality standard generically, but we can also switch immediately if customization helps to solve customer challenges.
All our services and products are individually designed by us and are constantly improved based on feedback from our customers. We have only one goal in mind: to help our customers comply with laws and regulations in a smart and simple way.
We are proud to be distinguished as one of the first companies to market a combination IoT and SaaS solutions for the medical products marketplace. Together with a number of our pharmaceutical customers, we were the first to successfully implement validation as a service, enabling our customers to quickly comply with the new GDP guidelines.
Thales: Which Thales modules are you using and why
Dyzle: We are currently using two variants of Thales's Cinterion PHS8-P IoT Module featuring efficient HSPA+. We are now planning to migrate products to the Cinterion PLS63-W LTE Cat.1 Module, which provides a cost-optimized global approach to IoT connectivity. The continuous coverage through roaming across various cellular networks is critical for our solutions, which are used around the world to track successful global distribution. 
These products offer highest quality along with the best value we could find. We also trust Thales to provide expert product and engineering support and deliver products on time as needed.
Thales: What are the biggest challenges you faced in integration or bringing your products to market? Did Thales or MCS (your Thales distributor) help solve those challenges in any manner? 
Dyzle: The biggest challenge we are facing in integration and/or bringing products to market is providing worldwide coverage. Connectivity seems self-evident in today's world. But if you look at the technical, financial and reliability side of that story, it can still be quite complex. Fortunately, our partners at MCS and Thales are helping us develop strategies and select products that address the challenge of global connectivity and easy and agile service provisioning so that our products work reliably anywhere in the world. 
"We trust MCS and Thales to deliver highest quality IoT Modules to keep
our cold chain monitoring and management solutions connected 24/7 from anywhere in the world" says Sander Hulsbergen, Product Development Manager at Dyzle. "MCS help us to achieve our objectives by always thinking ahead, offering innovative solutions to business challenges and providing expert support whenever we need it."
Thales: What is the most important thing you want people to know about Dyzle solutions?
Dyzle: If you choose Dyzle's solutions, you get a partner and not a supplier. We help you with the implementation set up and manage your temperature monitoring. Because we've been in business for over 15 years, we have a lot of experience in this area and we are happy to share our expertise. Dyzle's business model is not focused on selling as many sensors and/or calibrations as possible. We get satisfaction from solving challenges our customers face.
Our solutions help you to gain real-time insight into the temperature conditions of your warehouse, vehicles, cooling units and shops, among other things. In addition, no complicated IT implementation or infrastructure is required to work with Dyzle. Our solutions work all over the world and are up and running within one day.
You can rely on Dyzle solutions, support and expertise. We help you implement the best solutions for your organization. In addition, you can always contact our own support department if you have any questions. We also offer an online knowledge base that is packed with explanations and tips to help you get the most out of your temperature monitoring and real-time data while helping you monitor the quality of your products. 
 
Thales: How would you describe your work relationship with Thales and their cellular connectivity distribution partner MCS? How does it help you achieve your objectives? 
Dyzle: We trust MCS and Thales to deliver highest quality IoT Modules to keep our cold chain monitoring and management solutions connected 24/7 from anywhere in the world. 
Our collaboration with MCS started about 10 years ago. They help us to achieve our objectives by always thinking ahead and by offering innovative solutions to business challenges.
MCS provides expert support whenever we need it. They offer regular updates and recommendations about mobile network developments along with relevant cellular module roadmaps. For example, as LPWAN technologies matured over the last several years, MCS kept us apprised of emerging ´last-mile´ plug-and-play solutions that are ideal for use in cold storage monitoring for pharmacies and retailers.
Thales: Which technological innovations do you foresee will take place in the cold chain management industry (eg. use of delivery by drones)?
Dyzle: For the future, we see that last-mile delivery, or urban pharma logistics, can really use an IoT boost to improve temperature monitoring. As small scale pharmaceutical transport in urban areas becomes more cost effective, the solutions to guarantee quality must also be adapted to ensure uncompromising functionality, connectivity and compliance with regulations.
Furthermore, we expect to see further integration of data, whereby it should be remembered that "Big Data" is only meaningful if you can access the right piece of data quickly and at the right time. The biggest challenge in this is to convert the data into an answer, so you can skip interpretation and immediately take action.
 
Related content: Remote patient monitoring and telehealth go beyond just a pandemic trend