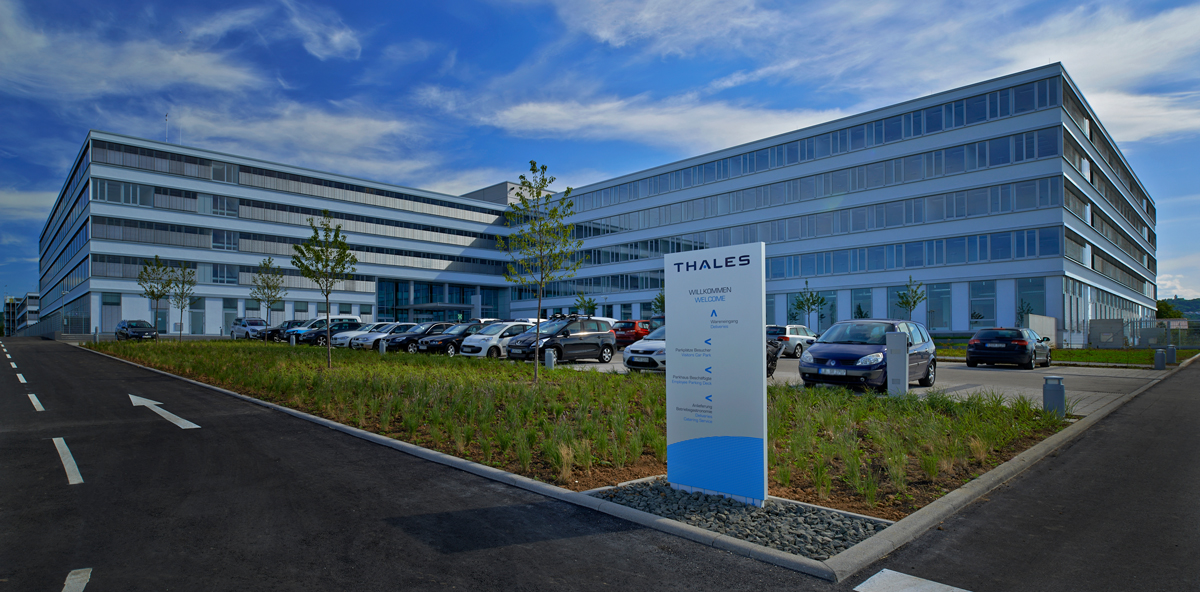 Expertise in Transportation
Our expertise
At our German headquarters in Ditzingen, we develop control-command and signalling systems for local and long-distance rail transport. The location includes the Hardware and Embedded Middleware Competence Centre (HEM CC). Additionally, the portfolio includes support functions and building blocks.
We have comprehensive technological expertise in train and track protection systems, operating centres, axle counters, point machines and signals as well as in their digitalisation. Thus, we are able to offer complex and networked comprehensive solutions from a single source. This applies equally to global railway standards such as the European Train Control System (ETCS), which is now used worldwide, and to local but pioneering solutions such as the Digital Node Stuttgart (DKS). The latter is part of the largest modernisation programme of Deutsche Bahn and the Federal Government to date, namely the Digital Rail for Germany (DSD).
Our high quality standards made us a Q1 supplier to Deutsche Bahn, among others.
Certified apprenticing company
GTS Germany offers various opportunities at its Ditzingen site, both in the form of vocational training programmes for skilled workers and in the form of various dual courses of study as joint training programmes with Thales Germany and in cooperation with the DHBW Stuttgart.
Our vocational training programme and its graduates are regularly awarded prizes, for example in 2022 by the Chamber of Industry and Commerce for "outstanding vocational training performance".
Transportation in Germany
Expertise in Satellite Systems
Thales Alenia Space is one of the leading companies in European space travel. First-class satellite systems for the areas of telecommunications, terrestrial observation, navigation and security and defence meet the needs of institutional and commercial customers around the world.
In Germany Thales Alenia Space specialises in integrating, verifying and qualifying large, complex ground segments, as is the case with the European navigation satellite system Galileo, for example.
It also designs and develops solutions for small satellites that enable novel applications that include space-based air traffic monitoring, the Internet of things and machine-to-machine communication.
Space in Germany
Expertise in Air Traffic
Thales plays an important role in improving the safety, reliability and efficiency of air traffic around the globe. Thales is one of few providers in the world that is able to equip air traffic control facilities with the entire spectrum of en route and landing systems, as well as airfield and airspace monitoring systems that are not radar bound.
Thales Deutschland has more than 70 years of expertise that has been put to the test in instances such as the implementation of the wide-area multilateral system in Greater Frankfurt, one of the most complicated airspaces in the world. Thales designs terrestrial and satellite-assisted navigation systems for national and international flight control organisations, airport operators, the air force and NATO in Ditzingen. They include descent, landing and route navigation systems, radar systems for air traffic management and airports, airport and tower systems, complete solutions for communication, navigation, air traffic control and airport automation, as well as satellite-assisted navigation systems. Customers receive both comprehensive solutions and individual products from a single source.
Aerospace in Germany
Expertise in Secure Communication and Information Systems
Secure communication is one of the basic requirements and challenges of our times. Thales security solutions are tailored to protect cities, critical infrastructures, global financial markets and sensitive data.
In Ditzingen, Thales bundles its expertise in security solutions for monitoring and safeguarding green borders and border controls, protection of civil and military properties and tactical communication. Tactical radio devices for networked operation guidance during military deployment have been developed and manufactured here for decades.
The cryptography experts are also located in Ditzingen. Encryption components, hardware security modules and electronic key management systems (EKMS) are developed and produced here amongst other things.
Expertise in Radar Technology
At the location in Ditzigen in Baden-Wuerttemberg, tried-and-tested and highly mobile radars for ground and coastal surveillance are developed and manufactured; armed forces and security forces around the world use them for stationary or mobile protection of complicated environments.
Radars from Thales protect the airspace, our coasts and, depending on the level of threat, events like summit meetings or critical infrastructure when deployed in mobile form. The portfolio consists of radar devices with short, medium and long ranges and a highly intuitive human-machine interface that customers can use to identify and track persons, vehicles, boats and drones. Partners make it possible to develop specialised solutions for towers and vehicle integration.
Expertise in Vision Systems
Night vision goggles and multi-functional thermal imaging devices from Thales guarantee soldiers and police unites can successfully complete their reconnaissance and surveillance tasks when visibility is bad, at night or during unfavourable weather conditions. They therefore guarantee every single user's survivability while providing sovereignty of information.
Ditzingen is also where Thales performs all after sales support for devices, from maintenance, technical/logistics supervision and replacement parts supply to product improvements.
We also provide system solutions for vision systems for bullet-proof military vehicles. High-performance sensor combinations featuring thermal imaging, daylight vision systems and laser systems with high stabilisation properties and ranges make it possible to achieve great advantages for deploying the weapon systems.