How the in-flight experience is set to get even better for passengers
How do airlines make sure that the exponential growth in passenger traffic doesn't result in a decline in passenger satisfaction, but rather creates a unique and engaging travel experience?
The answer is Thales's next-generation inflight entertainment (IFE) solutions designed to enhance passenger satisfaction by providing the most engaging options for spending their flight time – from enjoying their favourite entertainment and shopping to booking shows and tours at their destination.
Thales IFE solutions are all powered by the InFlyt360 digital platform, incorporating the latest Big Data technologies, such as machine learning and matching algorithms, to continuously enhance passenger engagement, personalization and monetization building a more intimate relationship with passengers throughout their journey.
"Passengers are used to an environment at home in which multiple technologies – phones, laptops, tablets – all work seamlessly together," says Victoria Bock, Product Family Director for In-Cabin Solutions at Thales. "They expect the same experience in-flight."
Thales has long been a leader in IFE with its high-performance AVANT IFE System. Used by 33 world-class airlines, AVANT is distinguished by its advanced technology, wide selection of features and applications, and its power to deliver a great experience.
To serve diverse market needs, Thales has introduced two new inflight entertainment systems to complement its existing portfolio: CORE and PRESTIGE
These high-performing solutions help airlines build their brands in new ways, maximizing passenger satisfaction, loyalty and airline revenue; while showcasing the brand image reflective of the airlines' culture. Cutting edge technology is combined with world class design and software to create an environment where each passenger is unique.
"In today's competitive air travel market, airlines need to have a strong brand identity," says Bock. "Thales's IFE solutions can be part of an overall marketing strategy, so that the aircraft itself becomes "an extension of their brand experience."
The streamlined CORE IFE solution is for airlines seeking the best value and most competitive cost of ownership, while the high-end PRESTIGE solution targets luxury market leaders with a multi-dimensional, personalized solution featuring ultra HD displays and custom user interfaces.
Both offer user experiences that encourage exploration and interaction - behaviours that are far removed from the passive sit-back-and-watch-a-movie situations of the past. Passengers can watch, listen, play, shop, browse, and communicate, through intuitive interfaces that make everything easily accessible.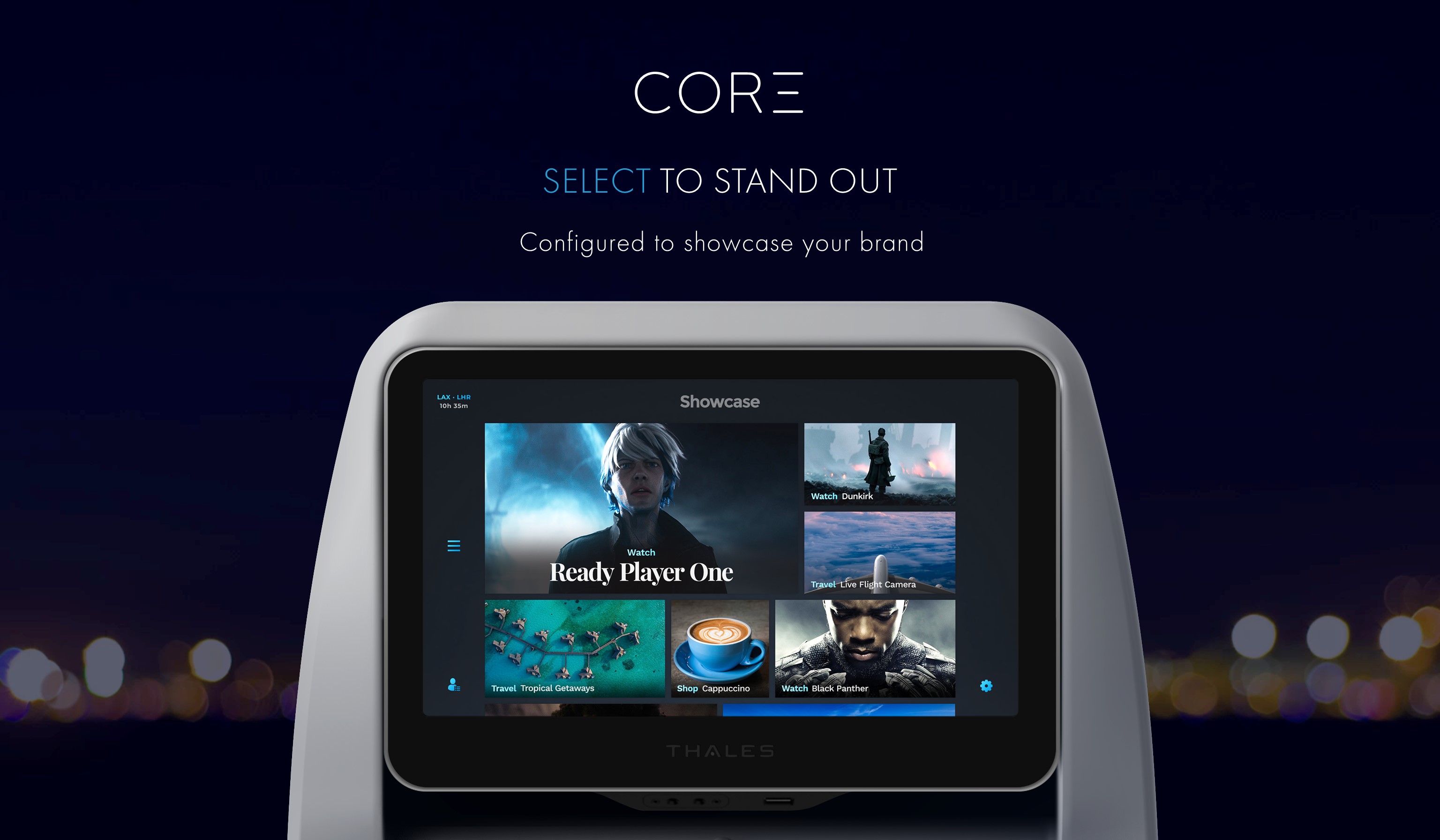 Whether it's used by a world traveller, business executive or fashionista, InFlyt360's passenger-based content ecosystem predicts interests and anticipates needs creating an immersive inflight experience that is unique to each passenger through tailored entertainment options, targeted advertising, shopping experiences and destination offers. 
And all systems are cyber secured by Thales.
As air travel continues to grow, more and more airline passengers are set to enjoy not only the most advanced entertainment available but also an unprecedented level of personalization in their inflight experience.
Learn more about our solutions in