AVANT Up is Thales's latest evolution of industry leading inflight entertainment (IFE) solutions. The system features a line of 4K HDR displays, dynamic power supply solutions, personalization and airline revenue generation capabilities.
Optiq by Thales is the industry's first line of intelligent 4K high dynamic range (HDR) displays enhanced with Samsung QLED proprietary technology. The new in-seat and cabin displays have a sleek passenger centric design focused on ergonomics and fits seamlessly into the modern cabin environment. Optiq provides passengers with the best experience in the air, with an unrivaled picture quality featuring more than one billion colors. Two Bluetooth connections and built-in Wi-Fi allows passengers to pair multiple devices simultaneously to the system.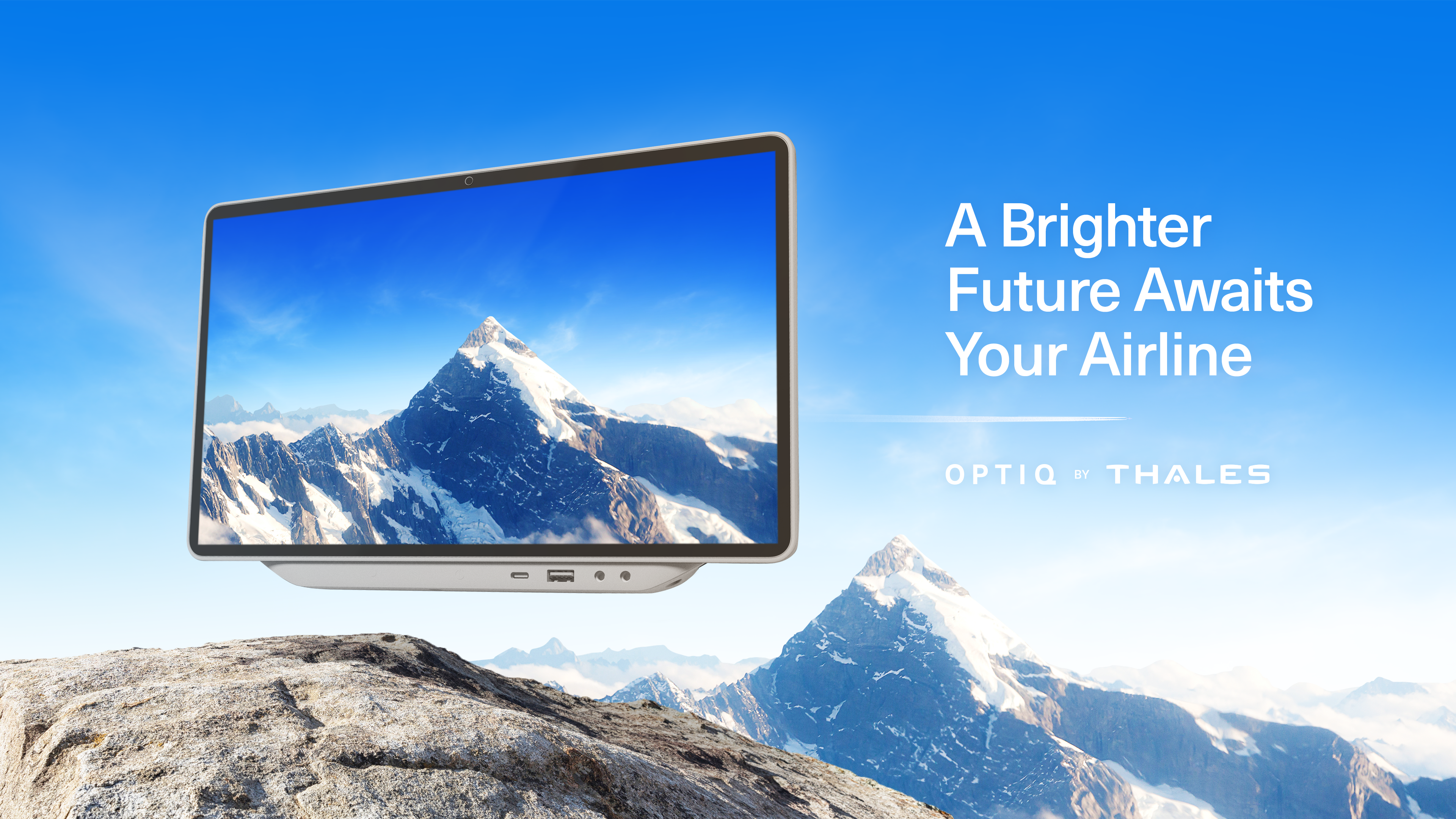 Thales's Pulse power solutions are designed to meet the specific power needs of passengers, now and in the future, as PED devices increasingly migrate to the USB Power Delivery standard, Pulse is a modular system built with smart power management that dynamically allocates power where the passengers need it. While being compact in size, the ability to install Pulse between the seat beams gives legroom back to the passenger and Pulse's high efficiency lowers heat dissipation within seat-backs. With more power, improved seat integration, and reduced acquisition and operational cost, Pulse provides substantial benefits to the passenger and the airline.
Thales offers a full line of handsets, from simple front row control units, to options with a complete keyboard, to a handset with a full 5" touchscreen which can be used to enable a true second screen experience. The latest server on the platform can store up to 20TB of data, has Ultra High Definition encryption keys to ensure security of content, and can support over 185 simultaneous 4K streams. AVANT Up features a variety of additional powerful hardware options that will be sure to enhance the passenger experience.
AVANT Up's Android based Operating System provides enormous potential for integrating a vast selection of games and applications from the Android development community. Passengers can enjoy a wide range of single player and multi-player games ranging from racing, sports, puzzles, action, real-time strategy and kid-friendly games, as well as the latest applications.
AVANT's open platform allows Thales to work with an extensive network of partners to develop and deploy new applications for airlines, offering passengers the latest features and a broad range of interactive entertainment options. Thales's digital product portfolio features e-commerce capabilities, a multifaceted approach for delivering personalization, and an industry leading advertising platform.  Thales digital technologies provide airlines fresh opportunities to maximize passenger satisfaction, loyalty and revenue.