How a search and rescue technology saves hundreds of lives each year
How can a breakthrough technology in satellite search and rescue contribute to saving hundreds of lives a year?
Here's one reason.
On July 2nd, 2017, at 6:30 am, a 12-metre sailboat 70 kilometres off the Sardinian coast broke its rudder and suffered engine failure in heavy seas and a 40-knot wind.
The three people aboard realised that they were too far for their VHF radio to reach a receiver. So, they triggered a distress call on their beacon from the global search and rescue service Cospas-Sarsat, an international organisation made up of 43 countries worldwide.
A helicopter airlifted the crew to safety within a few hours, saving all three lives, thanks to accurate information on the boat's position and the ability to dectect a distress signal in under a minute, even from hundreds of kilometres away.
Cospas-Sarsat infrastructure has evolved over recent years, with a large number of Medium Orbit satellites, in addition to former low-altitude or geostationary satellite-based services. Galileo satellites represent more than 90% of the operational space segment. This new infrastructure called MEOSAR provides instantaneous global coverage, immediate location from the first distress burst and unprecedented accuracy, including for moving beacons such as an aircraft in distress. To leverage this increased constellation coverage, the ground infrastructure needs to be able to track as many satellites as possible. That's where the Meolut NEXT solution, developed by Thales Alenia Space, comes in, thanks to its phased-array antenna.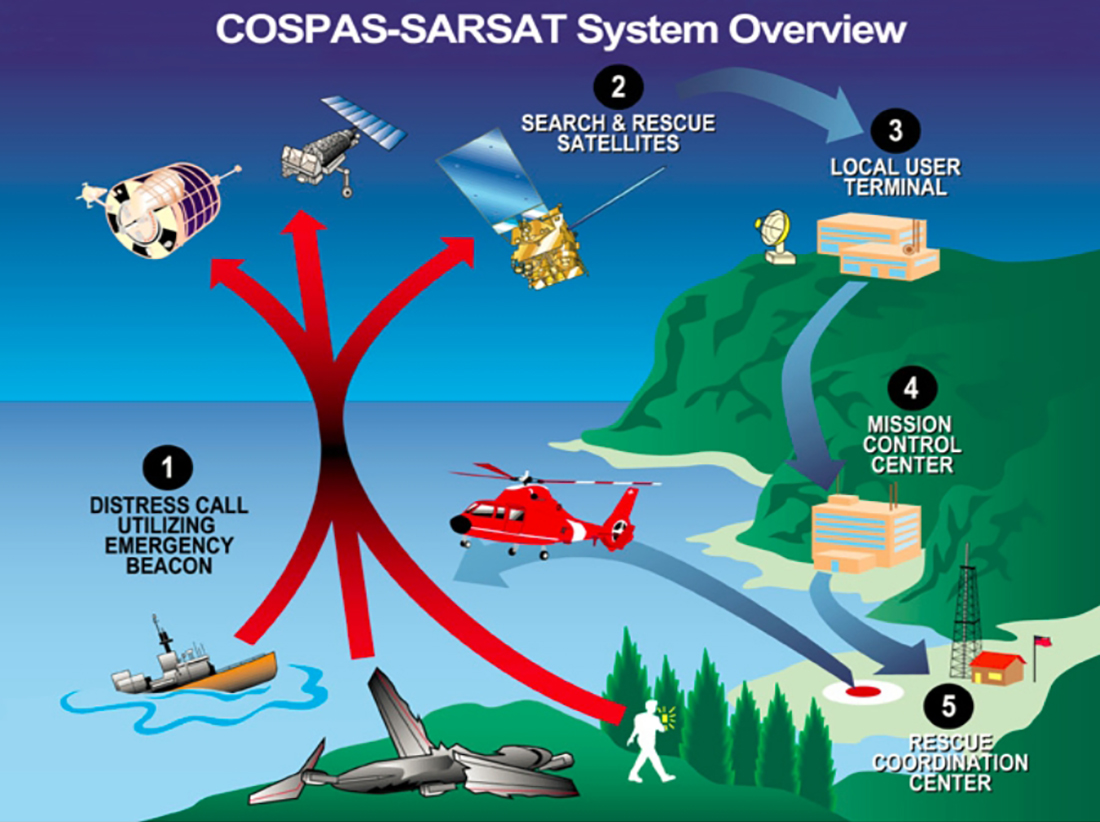 With this technology applied to the MEOSAR system, the coverage, availability, accuracy and latency are improving for all Cospas-Sarsat beacon users worldwide, paving the way for new system capabilities. In the case of the boat, we can definitely say that this technology helped save lives.
"Our system based in France has, for exemple, been able to detect and localise distress signals from a test beacon in Miami, over 5,000 kilometres away!" says Thibaud Calmettes, Meolut NEXT Design Authority.
Hardware and software breakthroughs
These improvements are the result of the leading hardware and software capabilities integrated into the latest generation of ground stations. They process the signals from satellites that have picked up distress signals. They then calculate the position of the beacon and send it to Mission Control Centre to determine the best rescue resources to be mobilised.
The hardware innovation from Thales Alenia Space consists in miniaturising compact phased-array antennas. These are fitted with a high-performance radio frequency unit for upstream digitising of the signal. 
The software boost comes from the highly-innovative algorithmic beamforming processing method that streamlines the functioning of the ground station.
Before the arrival of Thales Alenia Space's Meolut NEXT systems, conventional solutions, each fitted with six large parabolic antennas in an area about the size of a football field, were capable of receiving signals from six satellites, or one per antenna.
"Thanks to Meolut NEXT technology, instead of having a field of up to 30 dish antennas, you get the same tracking performance with a 4-square-metre flat array antenna," says Thibaud Calmettes. "Since there are no mechanical components in these antennas, hardware maintenance costs are the lowest on the market."
Unprecedented performance to save more lives
Thales Alenia Space is now supplying turnkey ground stations to numerous countries (France, Canada, USA, Togo, La Réunion) aiming to boost their search and rescue capabilities
Leveraging the Meolut NEXT and MEOSAR Galileo systems, Thales Alenia Space is preparing the future, together with the GSA, the ESA and the European Commission , to offer new capabilities to improve the global system. Thales Alenia Space engineers are leading the development of in-flight triggered beacons on board commercial airplanes and general aviation, and is supporting the introduction of Galileo features, notably remote beacon activation.
Thibaud Calmettes adds: "When you know that the number of distress beacons worn by individuals alone has risen 100 per cent in a decade, you understand the contribution being made to saving lives."
Learn more about our solutions in