Thanks to ESET Thales reinforces its cyber threat intelligence capabilities.
Thales, European leader in cybersecurity, and world leader in data protection, and ESET leading European secure software solutions developer, announce a partnership to integrate the flow of ESET's cyber information in the Thales cyber threat intelligence center. This will allow all raw data on malicious software collected by ESET to be treated and analyzed by Thales.
This new flow of information will complement the over 120 other sources utilized by the Thales cyber threat intelligence center. It will help Thales analysts to plot cyber threats more rapidly and more precisely, in real time thanks to data collected by ESET, coming from the entire world.
This renewed understanding of attackers will in turn generate better protections: Thales attack detection tools will be enhanced by about 500 new detection rules, issued by the centre. These rules, injected in the detection platforms at the Thales Cybersecurity Operation Center, and in particular in the CybelsSensor probe, which has recently been vetted by the French National Systems Security Agency (ANSSI), allow for a 50% reduction in the time it takes to identify and qualify an incident.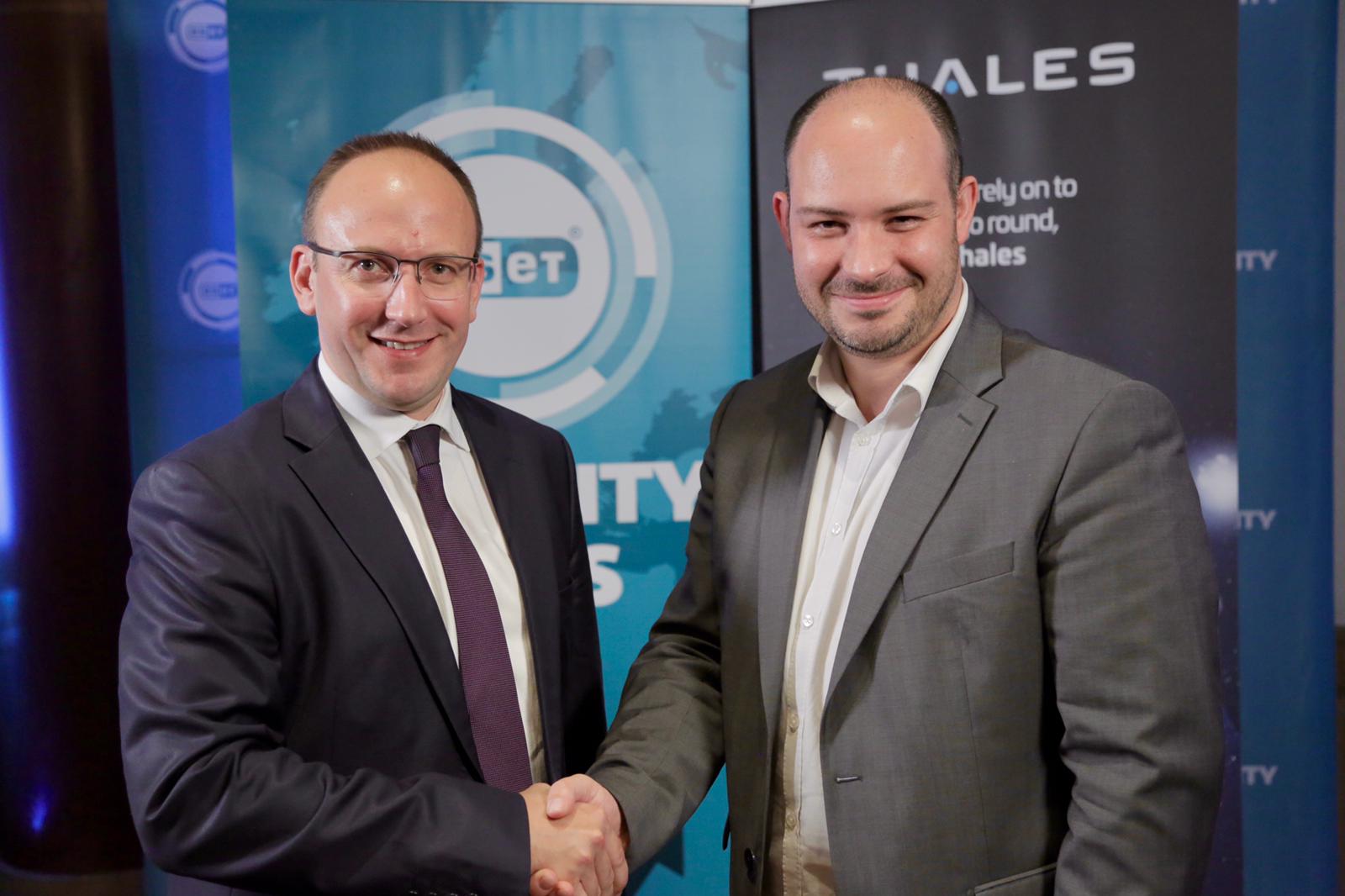 From left to right : Julien JEAN, CEO - ESET  and Ivan FONTARENSKI, Cyberdefense & Threat Intelligence Technical Manager - Thales
About ESET
For 30 years, ESET® has been developing industry-leading IT security software and services for businesses and consumers worldwide. With solutions ranging from endpoint and mobile security to encryption and two-factor authentication, ESET's high-performing, easy-to-use products give consumers and businesses the peace of mind to enjoy the full potential of their technology. ESET unobtrusively protects and monitors 24/7, updating defenses in real time to keep users safe and businesses running without interruption. Evolving threats require an evolving IT security company. Backed by R&D centers worldwide, ESET has become the first IT security company to earn 100 Virus Bulletin VB100 awards, identifying every single "in-the-wild" malware without interruption since 2003.
About Thales
The people we all rely on to make the world go round – they rely on Thales. Our customers come to us with big ambitions: to make life better, to keep us safer. Combining a unique diversity of expertise, talents and cultures, our architects design and deliver extraordinary high technology solutions. Solutions that make tomorrow possible, today.  From the bottom of the oceans to the depth of space and cyberspace, we help our customers think smarter and act faster - mastering ever greater complexity and every decisive moment along the way. With 80,000 employees in 68 countries, Thales reported sales of €19 billion in 2018 on a pro forma basis including Gemalto.