Payment Technology behind Black Friday (infographic)
​Last updated: November 2021. Average reading time: 5 minutes
Since 2005, Black Friday (the day after Thanksgiving) has consistently been the busiest shopping day of the year in the United States.
Around the same time, retailers noticed that many consumers were too busy to shop over the Thanksgiving weekend and shopped for bargains online the following Monday from home or work.
Cyber Monday was born, and by 2018 the US saw US$7.9bn of online sales just that day!
In recent years, the Black Friday and Cyber Monday phenomenon has spread to retailers worldwide, who offer massive discounts to encourage shoppers to spend money in store and, now more than ever, online.
In 2021, Black Friday falls on November 26, but most significant price drops will occur at the start of Thanksgiving week.
Once again, it is predicted that more people will  buy goods and services online this year, and retail reporters have forecast big numbers for this year's Black Friday and Cyber Monday.
Black Friday in the US and UK
But it's about more than just finding those bargains.
A lot is taking place behind the scenes of every purchase, both in-store and online, which means security measures must be in place to protect the data that is shared between networks during each transaction.
These are even more necessary at this time of year, as online fraud is most prevalent in the run-up to Christmas, with the Black Friday and Cyber Monday' weekend' facing the most online fraud, according to data from ACI Worldwide.
Payment technology behind black Friday
There are multiple behind-the-scenes steps required for the authorization of in-store and online payments – all of which take place in a matter of seconds.
We cover this multi-layered process in our payment infographic, which you can download by clicking here.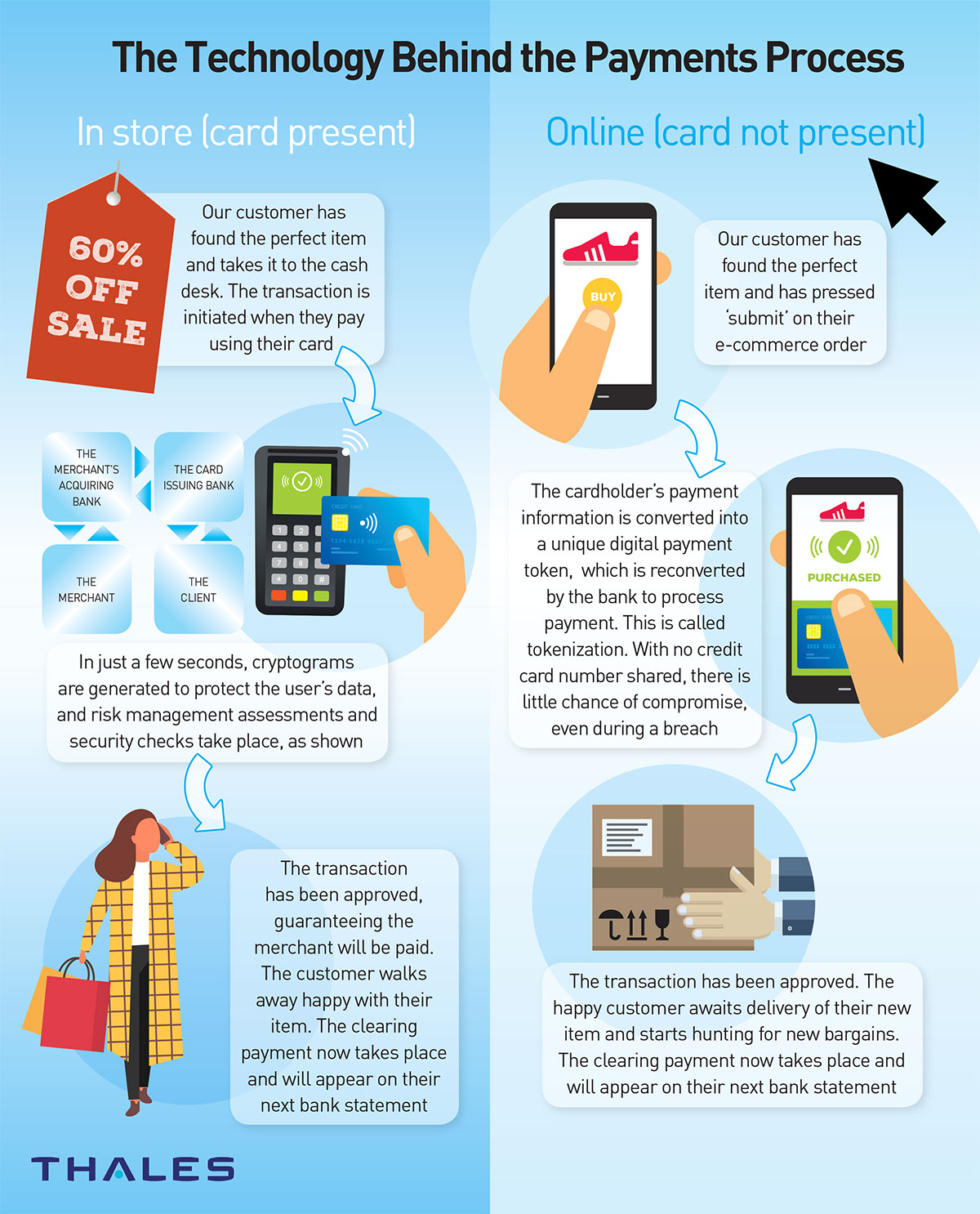 These include the processing by a merchant's POS system or payment gateway, the back and forth checks between card issuer,  bank, credit card network, and, for online payments, tokenization.
This is when the cardholder's sensitive details are converted into a unique digital token, which is then reconverted by the bank to process payment; with no sensitive information passed between the payment gateway and e-commerce site, the individual's data remains protected, even in the event of a data breach of the retailer's website.
So remember, when you're grabbing those Black Friday bargains, a lot is happening behind the scenes.
Related: