People own many digital identities most of which consist of an email address and a password to access different online services. But, these are not verified and, therefore, not trusted. It is critical that user identity is trusted when it comes to sensitive services such as government, MNOs (Mobile Network Operators) and financial services.
In this white paper from Juniper Research, we look at the digital transformation of Businesses and Governments, which has been accelerated by the pandemic. 
Given the complexity of the digital identity space, it is critical that solutions can effectively orchestrate all the different verification methods and data sources. And, once the trusted identity has been created and issued it can be used for authentication every time a user needs to prove their identity to access their online bank account, mobile operator portal or eGov services for instance. It's not just about security though, as trusted digital identity can be a major creator of value for Businesses and Governments.
Inside the whitepaper around orchestrating digital identity deployments, you will learn about:
Digital service on-boarding
Digital Identity as a driver for digital transformation
Fighting fraud with trusted identities
Analysing the customer journey
Effective Digital Identity strategies for:
a.    Government
b.    Financial Services
c.    Mobile Network Operators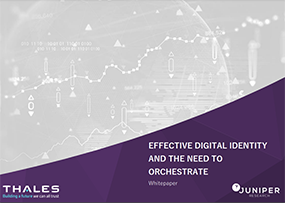 Download our free report