The mobile industry has changed the face of the world over the last 30 years. 5G will do as well in a proportion never before.
Since the very start of GSM –and now with the advent of 5G, we've been bringing trust to the mobile ecosystem by connecting and authenticating users and devices to mobile networks. We help mobile operators move to a 100% customer digital relationship even before service sign-up. And address the IoT challenges too.
Building a 5G world we can all trust
5G networks are exponentially expanding, connecting people, and things. With this move, comes the need to protect them from cyber-attacks and predict events for more efficiency and profitability.
Connect, Protect, Predict
Thales has a mission to build a 5G world we can all trust.
We do this through a range of products and services for the benefits of Carrier Service Providers (CSP).
 
eSIM among the 9 techno to watch for devices 
Discover Gartner's recommendations about emerging technologies and trends to adopt for device OEM makers
Thales Trusted Digital Journey
Enabling Communications Service Providers to deliver a 100% digital customer experience 
Introduction to 5G
What is (and what is​​n't) 5G, and what is the difference between 4G / LTE and 5G? Learn how it differs from today's 4G LTE, what are the new IoT uses cases and how will MNOs benefit from it.
Building a 5G world we can all trust
How Thales is helping telcos maximise revenues and minimize risk in the 5G era
Download the whitepaper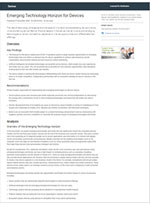 The eSIM is among the 9 technologies to watch for consumer & IoT devices
Discover Gartner's recommendations about emerging technologies and trends to adopt for device OEM makers
Download the Gartner reseach