The mobile industry has changed the face of the world over the last 30 years and Thales has been an active player throughout this transformation. 
Since the very start of GSM – and now with the advent of 5G - we've been bringing trust to the mobile ecosystem by connecting and authenticating users and devices to mobile networks.
And, now we're helping mobile network operators deliver a 100% customer digital relationship even before service sign-up as well as addressing the challenge of connecting millions of IoT devices.
A huge opportunity ahead for telecom operators
The arrival of 5G has created new opportunities to enrich the customer experience, speed up digital transformation for enterprises and advance interactions in our society.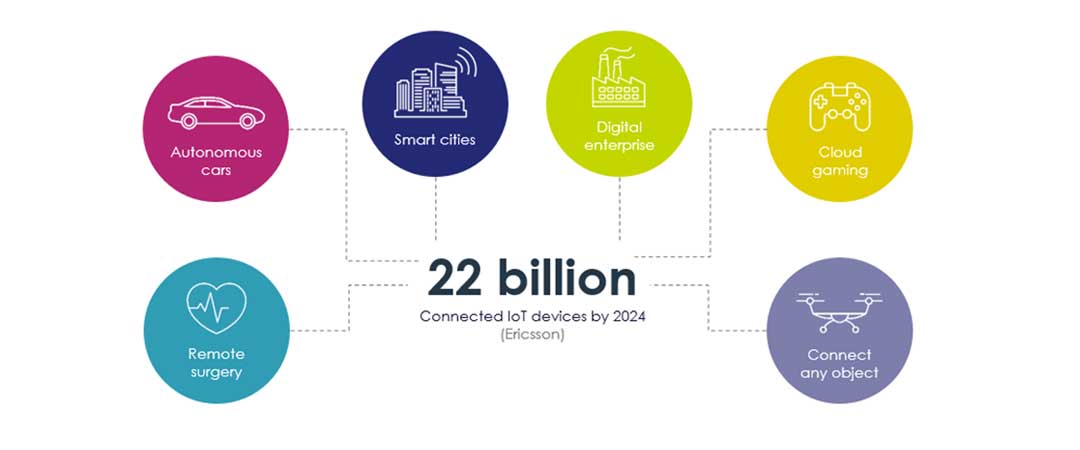 Ericsson predicts 22 billion connected devices by 2024 which will power self-driving cars, remote surgery or make our cities truly smart. 5G will be the foundation for innovation industry processes such as smart manufacturing. 
This shift brings a huge opportunity for telecom operators in this hyper-connected world. However, this potential comes with new challenges.  This means that you need to be ready to provide your customers with the security and services they expect. 
Thales can help operators and CSPs bring trust to their 5G services.
We do this with cellular solutions connecting people and things as well as satellite connectivity to reach the unconnected. We protect data, devices and networks through strong identification, secure access management and data encryption. And, we help telcos analyze big data and predict network and subscriber behaviour. 
We bring trust in 3 key areas: 
Connect. Protect. Predict 
Solutions for MNOs to Connect, Protect, Predict
Thales has a mission to build a 5G world we can all trust.
We do this through a range of products and services for the benefit of Carrier Service Providers (CSP).
 
Placing Analytics & Data at the Heart of Your 5G Innovation Model
Check out the new ABI Research report on '5G Network Analytics & NWDAF' that features Guavus as a leader.
Keep Customers First with Device Trends & Compatibility Intelligence
Deploying trusted digital identities
As technology transforms our lives, secure proof of identity and authentication for people and things become ever more important.
Building a 5G world we can all trust
5G networks are exponentially expanding, connecting people, and things. With this move, comes the need to protect them from cyber-attacks and predict events for more efficiency and profitability.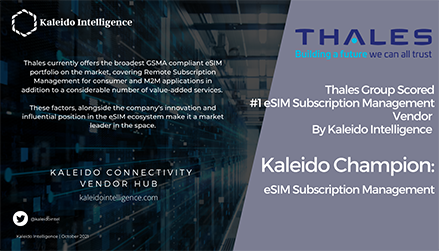 Thales has just been ranked as # 1 Champion Vendor for eSIM Management by Kaleido Intelligence
According to them,  Thales leads eSIM Subscription Management with the broadest GSMA-compliant eSIM portfolio on the market, along with a wealth of value-added services
Thales DIS has been awarded Platinum Winner of the eSIM Innovation of the Year Award by Juniper Research for our Smart Profile Matcher
Find out about our smart approach for maximising the successful download of profiles for all eSIM capable devices on the market, from the moment they are launched.
Read more on Thales Smart Profile Matcher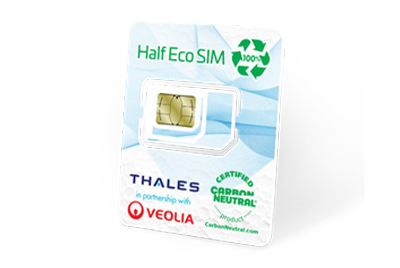 Eco SIM, card body and packaging solutions
A green offer for SIM Cards to protect our environment.
Smart Profile Matcher
To better serve our customer, Thales "Smart Profile Matcher" adapts profiles in real-time to maximize the success of eSIM subscriptions download on most of eSIM-capable devices.
It also puts the Mobile Network Operators in full control of their subscription profiles, which can be updated at any time.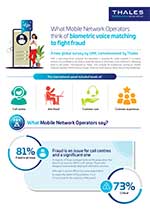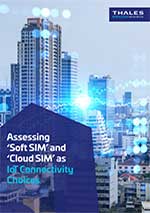 Weighing 'Soft SIM' and 'Cloud SIM' as IoT Connectivity Choices
Understand how to gauge their suitability based on 6 key criteria
Read our whitepaper
Press Releases