Smart Gateway for Edge Computing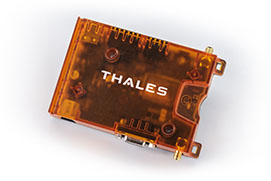 The Cinterion® Smart Gateway builds on Thales' proven IoT gateway solution EGX81 and adds a GPIO connector for applications requiring sensor interfacing, actuator control, data processing or protocol translation at the edge. Thales' smart IoT gateway SGX31 features out-of-the-box worldwide Cat-M or NB-IoT connectivity with 2G fallback for a flexible, cost-effective platform to connect industrial assets using the latest LPWA technology. The smart gateway adds support for USB, a dedicated GNSS antenna and embedded processing via the Cinterion SDK ThreadX. The 20-pin GPIO connector (GPIOs, SPI, I2C, PWM) enables a wider range of applications making SGX31 ideal for industrial monitoring, industrial sensors, asset tracking, security and agriculture applications.
Thales' gateway connects sensors, IoT modules, and smart devices to the cloud and gives devices access to the Internet with edge-computing. The plug-n-play SGX31 offers reliable and efficient worldwide coverage and is ideal for low-power applications.
Flexible, Affordable LTE Smart Gateway for industrial monitoring, sensors and more
The Cinterion SGX31 provides affordable LTE connectivity with data speeds up to 300 kbps for applications requiring cost effective, efficient data speeds. Designed to operate in extended temperatures of -30° - +75° C for industrial applications, the next-generation gateway features integrated GNSS (GPS/GLONASS/Beidou/Galileo), a USB2.0 interface, Driver for Windows® 10/11 and Linux distributions; as well as trusted identity for AWS and Azure and an optional eSIM. SGX31 reduces time to market with simplified integration, manufacturing and logistics for a wide range of applications. Remote management through the Cinterion IoT Suite helps keep your fleet secure and up-to-date.
Documents & Resources