Infographic: mobile subscriptions overtake population figures
Estimated reading time: 10 minutes
Mobile phones have changed everything, from how people negotiate personal relationships to how the world learns, shops and participates in political debates. They are also associated with higher economic growth, especially where there is little infrastructure and mobile-driven services fill some very important gaps.
 
The mobile market in numbers
Right now, we are in the company of an estimated 4.9 billion people who also use the Internet, according to latest estimates in the 2021 edition of Measuring Digital Development: Facts and figures.*
Some growth in Internet usage reflects the fact that it has long been valued for facilitating both work and leisure.
But with the Covid-19 pandemic, the Internet became vital – working, learning and accessing services has depended heavily on access over the last two years.
Today, 63 percent of the world's population is online, a 17 percent increase since 2019. In Africa, Asia, the Pacific, and the least developed countries (LDCs), the increase was even higher, at 20 percent.  
And it is increasingly mobile devices that are providing access. The growth in this market is testament to that.
In 2017, the mobile market grew past the global population for the first time, and it didn't stop there. 'Kanny', the Finnish nickname for a mobile phone that means 'extension of the hand', reflects the reality that today mobile phones are part of the digital fabric of our lives.
There are 8.3 billion mobile subscriptions for 7.9 billion people. Penetration rates for mobile subscriptions in developed nations today are above 100 percent, and in developing nations it's between 75 and 79 percent.
Overall, 80 percent of the world's population owns a smart phone.
Mobile broadband subscriptions have reached 83 per 100 inhabitants worldwide, with growth in the last two years varying between 6.7 percent (Africa) and 10.5 percent (Asia-Pacific region).
The figures for fixed broadband subscriptions show the digital divide between rich and poor most starkly, with 1.4 subscriptions per 100 people in LDC countries versus a global average of 17 subscriptions per 100 people.
These numbers have been higher than those for fixed telephony since 2017. 
Download our Global 2021 Mobile Market pdf .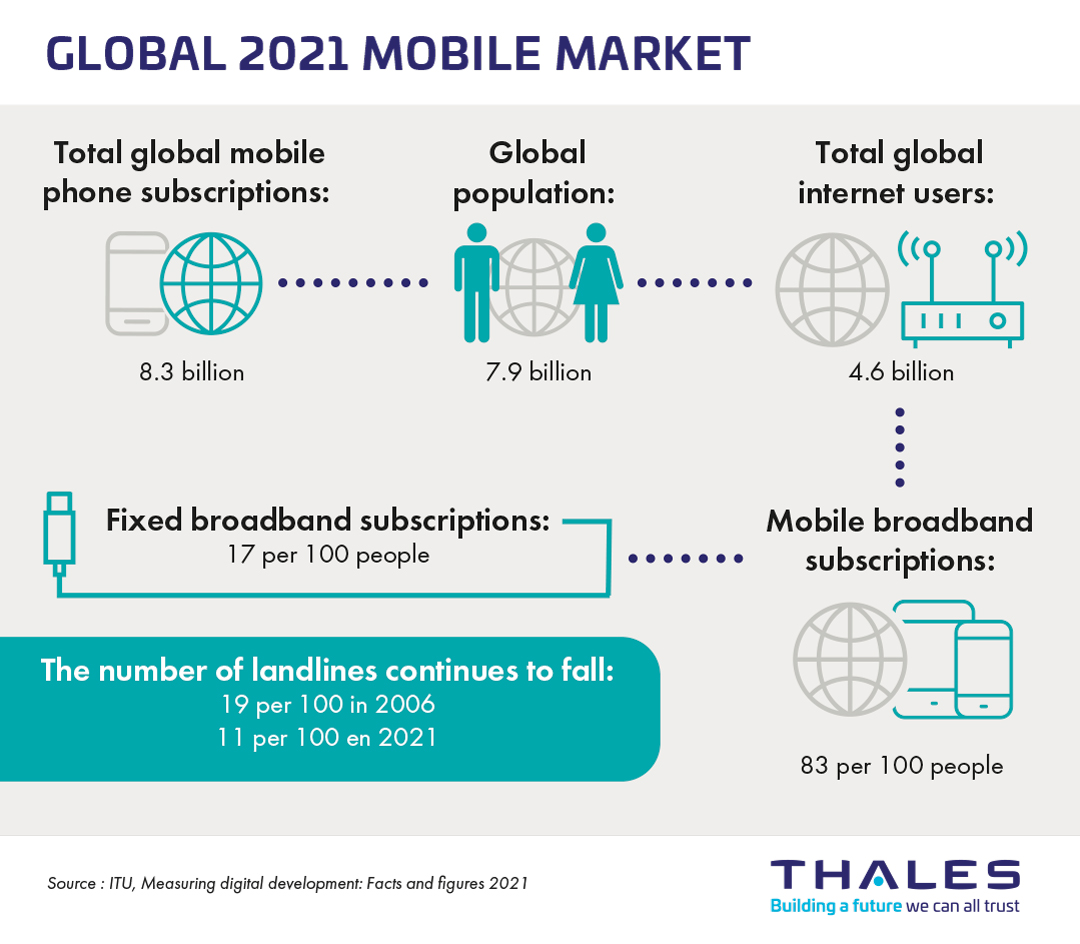 The mobile economy
The impact of mobiles is felt across business communications and collaboration, the app economy, digital retail activity, and more, with a particularly positive impact in developing countries as access to mobile technology and smartphones bring economic opportunities for business across the globe. 
A study by the Cologne Institute for Economic Research found that business innovation is built on the networked infrastructure provided by mobile technologies and that connected devices drive innovation.
Mobile phones, it found, have become a platform for innovators, allowing people with little programming knowledge to develop products and services. The effect of the increase of mobile phone subscriptions on GDP growth between 2010 and 2020, in the ten countries chosen for the study, range between an estimated 1.8% in the UK and 24% in Egypt. The effect in developing countries is markedly larger, where mobiles often fill an infrastructure gap and mobile penetration is rapidly growing. Here, mobile phones are used to create economic institutions such as mobile banking systems. M-Pesa in Kenya, for example, provides accessible economic services to about 16 million people.
All sizes of businesses are diving into mobile application use and development, which are playing an important role in improving sales and brand awareness and in direct marketing. Deloitte found that more than half of mobile phone users use their mobiles to make online purchases and to order food and other products. About 18 per cent of these started doing so in the last two years. 
The future is expected to bring faster and smaller chips, display technologies, and wireless communications that consume only tiny amounts of electric power from ever more advanced batteries.
And with 5G services being rolled out over the next few years, the low latency and speed will bring performance increases for mobiles, along with mini-computer-like functionality. Beyond this, 5G is expected to have a wide impact. A range of products, services and industries could be revolutionised by 5G, which brings the ability to monitor and control robots, drones and entire factories in real time. It's being trialled with artificial intelligence and holographic technologies and, on the entertainment side, may transform live coverage at festivals and sporting events. The transport industry is expected to see developments in autonomous transport and connected cars. 5G-enabled smart factories promise cost savings and improved safety and efficiency.
Remote, real-time monitoring in healthcare will be enabled too.
This is just a glimpse at the possibilities, but it is clear that mobile phones will play a large part as edge devices in a more powerful IoT network. 
Mobiles' social impact
Through mobiles, a rapidly expanding number of people – billions across the globe – now have more access to relatively cheap communication, and to information and vital services around education, health, society and the economy.
Even though digital divides persist, a recent study published in PNAS showed that mobile phones could be leveraged to attain sustainable development. Expansion of mobile phone networks was associated with lower gender inequality, higher contraceptive use, and lower maternal and child mortality. 
Similarly, the Cologne Institute study found that mobile phones are not only economic growth drivers, but also contribute to higher rates of democracy and gender equality and facilitate better education opportunities. It also showed that more mobile phone subscriptions correlate with more democratic participation, less gender inequality and more time in education, a possibility recognized ten years ago by Professor of New Media at New York University, Clay Shirky: 'As the communication landscape gets denser, more complex, and more participatory, the networked population is gaining greater access to information, more opportunities to engage in public speech, and an enhanced ability to undertake collective action.'
Today, most people can participate in political and social discourse through their mobile phones.
Telemedicine and mobile phones have played a key role during restrictions on face-to-face consultations in the Covid-19 pandemic and the challenges faced by health care systems in delivering patient care.
Millions access information they need (as well as misinformation) about the virus, and mobiles help to maintain social contact and psychological health during periods of physical distancing. 
Women and girls, especially in developing countries, are able to access and communicate with the world in ways that their traditionally assigned gender roles did not formerly allow. Mobile phones directly widen access to education for both adults and children, with education via Internet content or SMS texts and mobile applications. They also contribute indirectly, by helping people to coordinate their lives and free up time and resources for education. 
Secure and reliable connection
Along with the rise and growth in the mobile industry is a growing cybersecurity concern.
Experts are there to ensure that security is in place as more and more people use mobile to pay bills, shop online, email and manage bank accounts. Thales has been involved in the transformation of the world through mobile technology over the last 30 years, since the start of the Global System for Mobile Communications (GSM).
Now, with the advent of 5G, Thales continues to make sure the mobile ecosystem is trustworthy, connecting devices and users to mobile networks and authenticating them. Thales helps mobile operators deliver a complete customer digital relationship, even before service sign-up, as well as addressing the challenge of connecting millions of IoT devices.
*2021 figures from ITU's Measuring digital development: Facts and figures 2021
 
Related content: