Thales's recruitment drive continues apace
In 2019, Europe's largest technology company is focusing on digital security to help invent the world of tomorrow - a world of autonomous systems and smart interconnected sensors. Thales will be recruiting all around the world,  focusing mainly in Europe (Portugal, France, United Kingdom, Germany, Netherlands), Australia, Southeast Asia, India, the United States and Canada.
About 70% of new hires will be engineers and managers to work in R&D, manufacturing, customer service and bid and project management. Thales is especially keen to attract experts in the four key digital technologies, with 400 jobs in cybersecurity and 200 in artificial intelligence.
In terms of backgrounds and profiles, Thales places great emphasis on diversity and inclusion, which we believe is an important driver of creativity. The company is also keen to employ  junior and newly graduated profiles, projecting the sustained growth of the structure in the various business areas.
In Portugal, the priority is the integration of technological profiles for Transport, Defense, Security, Cybersecurity and Space areas, as well as the reinforcement of financial business support services.
In the list of Top 500 Employers 2019 published this month by French magazine Capital.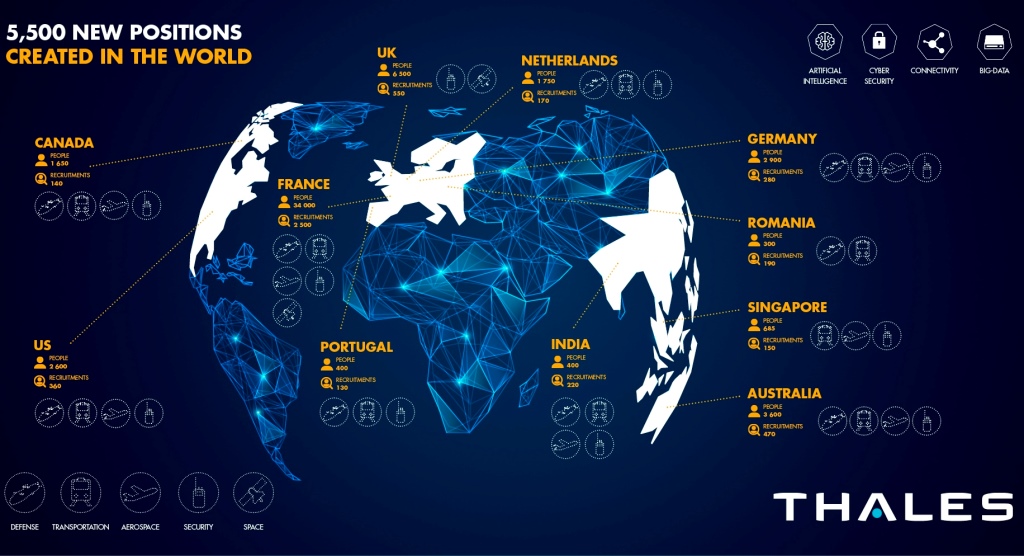 Thales in Portugal
Thales in Portugal is a Competence Centre of Thales Group, its mission is to integrate and develop solutions & products for projects in both domestic and export markets. It currently has about 400 specialized employees and a solid ability to design, develop and implement effective systems and services in different technological areas,  targeting the Transport and Security market (Critical Information Systems, Critical Infrastructure and Banking). The Defence and Space activities, are develop by EDISOFT. Thanks to EDISOFT, Thales has taken part in various programs for the modernization of the Portuguese Navy, being now responsible for the development of Thales Top Sky Tower, an important component of Thales Air Traffic Management solutions. Thales exports its know-how on complex rail projects around the world, currently having a successful presence in over 20 countries.
---
About Thales
The people we all rely on to make the world go round - they rely on thales. Our customers come to us with big ambitions: to make life better, to keep us safer. Combining a unique diversity of expertise, talents and cultures, our architects design and deliver extraordinary high technology solutions. Solutions that make tomorrow possible, today. From the bottom of the oceans to the depths of space and cyberspace, we help our customers think smartes and act faster - mastering ever greater complexity and every decisive moment along the way. With 65,000 employees in 56 countries, Thales reported sales of €15.8 billion in 2017.