The Application of Autonomous Technology to Benefit Defence
Thales has delivered a keynote speech at a prestigious global Defence and Security exhibition on applying maritime autonomy to real world operations. 
Held every two years, Defence and Security Equipment International (DSEI) is expected to attract more than 35,000 global visitors and 1600 exhibitors to ExCeL London between September 10 and 13. They represent national security and defence forces, manufacturers and industry thought leaders from around the world.
Maritime Capability Conference at DSEI
Thales was the main sponsor for the Maritime Capability Conference held on Day Zero, Monday 9th September, 2019, before the main exhibition started. The industry speaker's slot was taken by Sam McBriar, Head of Strategy and Marketing Maritime at Thales in the UK.
Sam talked to an audience of thought leaders, industrialists, academics and Defence customers about the progress being made, and challenges surrounding, maritime autonomous technology, cyber security, artificial intelligence and machine learning.
"It's a really exciting time to be talking about this topic given how much we've learned over the last two to three years,"
said Sam. "Customers are right now looking at pulling industry into innovative accelerator programmes, such as the Royal Navy's NavyX, and we want people to see that Thales is open and sharing in our experiences and working to build teams around some of the challenges we face."
She added: "We acknowledge we don't have all the answers, but we have a lot experience and we need a range of different capabilities, companies and organisations to work together to solve some of the very real challenges to be overcome."
Sam talked about the progress being made, and lessons learned, by Thales and partners on a number of current projects in the operational application of maritime autonomy. She will also drew on experiences from challenges overcome in other technology sectors
MMCM: maritime autonomy in mine warfare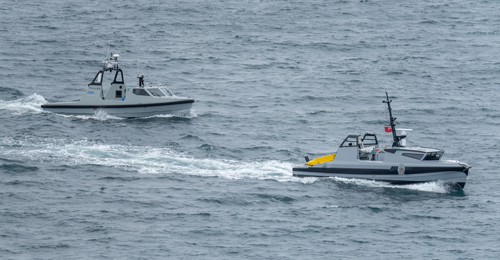 One area in which the use of maritime autonomy is maturing rapidly is mine warfare and Thales is playing a leading role. Thales is the prime contractor in the Anglo-French Maritime Mine Countermeasures (MMCM) programme, which aims to keep sailors out of the minefield. MMCM is built around an unmanned surface platform supporting variety of underwater autonomous systems, controlled from a remote portable operations centre (POC).
Trials and assessments for MMCM are being carried out in France and at Turnchapel Wharf, Thales's maritime autonomy test centre established last year on Plymouth's waterfront. Not only does Thales intend Turnchapel Wharf to become a UK centre of excellence for maritime autonomy but a focus for the formation of a southwest ecosystem of industry, academia and customers, building on the area's maritime heritage in Britain's Ocean City.
Anti-submarine warfare
Another area in which maritime autonomy could deliver results is in anti-submarine warfare (ASW). Work on ASW operations needs to be progressed more quickly to catch up with mine warfare but Thales hopes to make a significant announcement in this field later this year.
More questions faced by maritime autonomy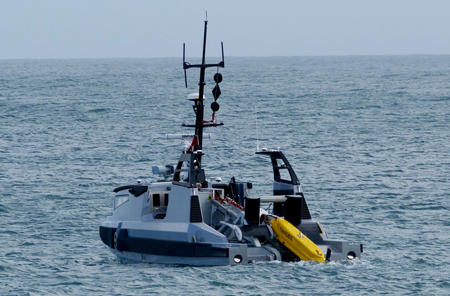 Thales is working to answer other questions being raised not only in Defence but in the commercial sector: how to protect high value unmanned vessels likely to be carrying sensitive data and payloads; developing concepts of operations, ensuring the right skills and training are available; building trust in autonomy by transitioning through lean-manned vessels and manned/unmanned hybrid collaboration.
And as more numerous fleets of unmanned vessels operate above, on and below surface, how will they communicate? How can we use digital tools such as artificial intelligence and machine learning to control them and process the increasing amounts of data they gather? And how will that data be visualized to allow a commander to make decisions based upon it?
What is not in doubt is the global interest in maritime autonomy in Defence as well as the wider market.  Thales is leading the way in answering these questions and developing the regulatory framework in which unmanned and truly autonomous vessels can operate.
Visit Thales at DSEI
Interested parties at DSEI can follow up on Sam's talk by visiting the Thales stand at S6-100 and see some of the digital tools being showcased, and by exploring a POC on board the Royal Navy patrol vessel HMS Medway, which will be moored nearby.
"Come and talk to us about our research, what we've learned from the programmes we're delivering, Turnchapel Wharf or about joining the maritime autonomy ecosystem," said Sam.