Inside the future world of AI, robotics and machine-led missions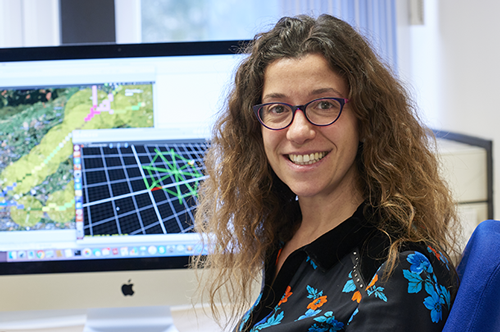 If you want to know what the real future holds for artificial intelligence (AI) and the world of autonomous robots and platforms, you would do well to listen to Professor Sara Bernardini.
A former NASA space mission operations research scientist, Sara is Professor of Artificial Intelligence in the Department of Computer Science at Royal Holloway, University of London and is a frequent voice in both the media and academic channels on the topical subject of AI.
Prof Bernardini's specialist area of expertise is the development of AI and robotics in extreme environments and is currently co-principal investigator for three Innovate UK projects that are taking these concepts into reality.
Thales is currently working with Sara on two of the projects and we asked her to take time out to reflect on her remarkable career to date.
The first project is MIMRee (Multi-Platform Inspection, Maintenance & Repair in Extreme Environments) which is building the world's first fully autonomous multi-robotic platform for offshore windfarm inspection and repair.
The second is Prometheus which is focussing on building an intelligent, reconfigurable drone for the exploration of confined spaces such as underground mines or tunnels.
Speaking of her involvement, Sara said: "One of the things that I've tried to stay close to in my career so far is applying my ideas to real-life problems.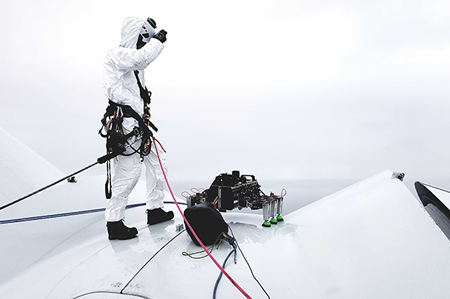 "In all these projects, I am responsible for the design and implementation of the robots' autonomy architecture, which makes them capable of undertaking sophisticated tasks without close human supervision.
"Extreme environments interest me because by their very nature they are so challenging, it's not a calm, benign space. You are asking a robotic platform to be risk aware, to do its job in a difficult scenario.
"For example, with MIMRee, the Thales autonomous boat is taking out a team of robot bugs and drones to sea to a place where humans operate in dangerous conditions. The drones have to airlift the robot bugs onto the blades so they can crawl around – all three have to co-operate to be successful and to land.
"There are strong similarities with space where NASA has to put humans and sensitive technology in demanding conditions a long way from home and safety."
Sara's road to NASA is a story in itself. After gaining a BSc and MSc in Computer Science and Engineering at the University of Rome, she received her PhD in AI from the University of Trento.
She said: "At high school in Rome, I initially took classical studies – ancient Greek and Latin etc, but I was lucky to be selected for a high achievers school in Rome. I was more and more drawn to thinking about how does the mind work and what is intelligence?
"At university – where I'll admit I didn't exactly enjoy every subject – it was my third year that I really began to study AI. It was also a time where I developed a love of astronomy and thinking what life or intelligence was out there beyond Earth?
"So I applied for an internship at NASA. Looking back, I don't think foreign students were even eligible. But I got it and it led to a contract as a research scientist and it was one of the most amazing periods in my life. These were the days of the Mars Spirit and Opportunity missions.
"Everyone was so friendly and yet so committed. Here were people that could easily earn fortunes working for the big internet giants but had a sense of mission – to explore space for the benefit of humanity. It was inspiring and humbling at the same time.
"Now, my research focuses on designing and engineering intelligent and autonomous systems for complex, real-world applications that sit at the crossing points of AI, advanced robotics and mathematical optimisation. 
"That's why these projects are so interesting and bring together academia and industry.
"My ultimate goal is to create machines that can seamlessly support humans in undertaking sophisticated tasks that – going beyond perception and pattern matching – require deliberation at the reasoning level.
"It's been an interesting journey from Rome to my current role, but one that I've enjoyed. Royal Holloway suits me on a number of levels. Firstly, I love the intellectual stimulation of teaching both undergraduates and those studying for their masters. It is also such a peaceful place and is one of the most beautiful campuses in the UK.
"I'm also an equality and diversity champion at Royal Holloway and I like to pass on my experiences where I can.
"I say to young people, if you have a passion, follow it. Focus on what you want to do and don't be too circumspect. In my career I've found that if you're in a room and what you are saying makes sense or resonates, people just don't see you as a woman anymore – I hope your knowledge comes through."
Dr Matt Ball, Chief Scientist for Thales in the UK, said: "Working collaboratively with brilliant scientists and engineers is a key strategy for Thales as we work to develop the next generation of technologies for our future systems. 
"The breadth and depth of Sara's knowledge and experience in the field of AI and robotics is fantastic and it has been a hugely beneficial experience to work with her on these projects. 
"Both MIMRee and Prometheus are great examples of the power of combining the unique perspectives that industry and academia bring to advance the art of the possible and explore new market opportunities."
Find out more about how MIMRee is building the world's first fully autonomous multi-robotic platform here and more about how Prometheus is helping with the exploration of confined spaces here.