Lightweight Multirole Missile proves performance in any domain
Thales's Lightweight Multirole Missile (LMM) system, has been proving its potential on land sea and air throughout 2019 against agile, asymmetrical surface and air threats.
Due to go into service with UK Armed Forces LMM provides an enhanced level of protection as well as a transformational surface attack capability.
Ready for active service
Built in Belfast, LMM has already been proven its capability as a high-accuracy precision weapon against small, fast-moving targets when fired from a tripod launcher (LMLNG), a mobile wheeled vehicle (RAPIDRanger) and the Stormer tracked vehicle. LMM enters service with the British Army this year.
Under the name Martlet, LMM is also being supplied to the Royal Navy, under the Future Anti Surface Guided Weapon (Light), or FASGW(L), programme, fitted to the Navy's Wildcat Helicopter. An integration programme is due to be completed in 2020.
The system also demonstrated its versatility live firings involving a range of platforms, conditions and targets and in three domains.
On land
Over 100 LMM firings have been conducted from land platforms including 90 firings by the Ground Based Air Defence troops from the Royal Marines and Royal Artillery as part of their conversion training for LMM coming into service.
These firings verified the excellent lethality of LMM against UAVs, helicopters and even fixed wing aircraft in a point defence deployment, by successfully engaging with the Banshee aerial target.
In the air
The Future Anti Surface Guided Weapon (Light) programme Martlet completed a successful series of ground based firing trial at Royal Artillery Range Manorbier to validate the Wildcat Fire Control solution including the 5 Missile Pannier and the Laser Guidance Unit integrated in the L3 MX15 Electro Optic Turret. Up to 20 Martlet Missiles can be integrated on the Wildcat helicopter to provide robust defence against swarm threats, and this capability is due in service with the Royal Navy in 2020.
At sea
LMM offers unique capability to defeat asymmetrical and terrorist threats in the littoral environment, such as Fast Inshore Attack Craft (FIAC), RIBs or even jet skis. The precision laser beam riding guidance concept of LMM and the accurate launcher stabilisation has been demonstrated for the first time in a UK MoD Sponsored TDP with several firings from a T23 Frigate off the Pembrokeshire coast at an operationally representative remote controlled FIAC target.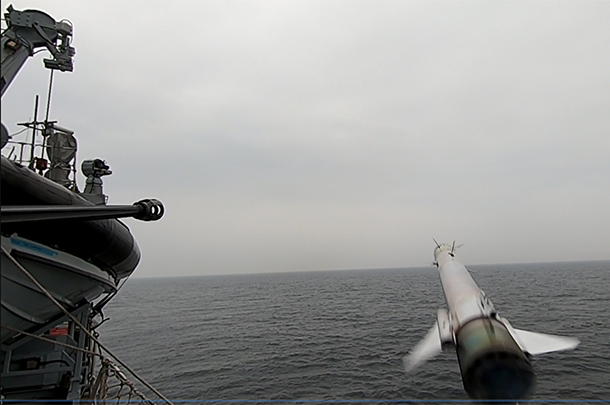 Commander Tom Weaver, HMS Sutherland's Commanding Officer, said: "The impressive result of this trial was achieved through the hard work and cooperation of a wide array of industry and defence partners and it was rewarding for Sutherland to have played such a key role in its success."
As risk reduction prior to the "at sea" demonstration LMM scored seven out of seven hits in a successful firing trial from a launcher mounted on a 6-Degrees-of-Freedom motion platform to simulate Sea States two to four for ships and patrol boats. The target representing a FIAC, was a 5m boat approaching head-on at 20 knots, was successfully engaged at a range of 6km.
This successful trials showed the precision strike capability of LMM against small targets in difficult environments.  LMMs stabilising system, guidance and precision strike capability, make it ideal for a 'cluttered' naval environment. It ensures accurate target tracking and allows operators to guide the missile onto its target regardless of sea spray or platform motion.
LMM facts
LMM is designed to provide a rapid reaction to a wide range of surface threats as well as surface-to-air capability against UAVs and helicopters.
It offers highly accurate precision strike using laser beam riding guidance technology with no known countermeasure to minimise collateral damage.
LMM is lightweight, at 13kg, travels at Mach 1.5, has a range exceeding 6km and an immediate launch capability.
Learn more about the Lightweight Multirole Missile here.