As the Royal Air Force (RAF) celebrates its centenary, it would be remiss of us to ignore the associated cadet forces organisations; the Air Training Corps, and air sections of the Combined Cadet Force known collectively as the RAF Air Cadets (RAFAC) have seeded young people with a practical interest in aviation, adventure training, sports, citizenship, personal development, and the RAF across the UK for the last 77 years, and proudly provides many of its parent RAF service much needed current and future talent.
With over 40000 air cadets (aged between 12 and 20) spread across the UK in more than 1,000 squadrons, the RAFAC relies heavily on adult volunteers to give up their spare time to deliver high quality training in various aviation subjects through to drill, discipline and leadership – gratefully we know that many Thales employees are members of RAFAC and contribute much of their spare time to this worthwhile organisation.
David Head, Head of Customer Marketing, AVS and Keith Rennles, Key Account Manager, AVS have been playing an integral role in the wider RAF100 success story by serving as volunteer RAFAC officers on 1408 (Dorking) Squadron ATC for many years.
David says: "I've always had an interest in the RAF, I joined as a cadet in 1982 and like a lot of people my dream was to become a fighter pilot. Sadly, that didn't happen and at the time joined what was to become Thales working on exciting RAF projects like Tornado GR4 training and A400M which sustained my passion for aviation.  I remained as a member of RAFAC and went on to serve as an adult Non-Commissioned Officer, and ultimately a Commissioned Officer in the rank of Flight Lieutenant. During that time I qualified as an RAF gliding instructor and so in a way I fulfilled my ambition to fly an RAF aircraft.
"Being a RAFAC officer is a big commitment and thankfully both my family and Thales are supportive that. You train cadets up to two evenings of the working week, and weekends are often full of camping, adventure training, flying, parades and sports events amongst others.
"But what makes it worthwhile is being part of the transformation that you see with cadets turning into remarkable young adults. Kids who when they first walked through the squadron door didn't know what they wanted out of life, but go on to thrive  on the cadet values, and spirit. Through the complimentary nature of being a RAFAC officer and my Thales day-job, seeing a cadet fly solo in a glider on their sixteenth birthday, and go on to be a front line RAF Tornado pilot is something I and Thales can be a genuinely proud."
Keith Rennles says: "In my role in Thales I am a regular visitor to RAF bases, and have worked on a number of RAF programmes, including the Hawk, Voyager and Chinook. I was a commercial pilot on European routes and was interested in joining the RAF. Unfortunately, that didn't happen but I wanted to be give something back and the cadets seemed a good way to do that.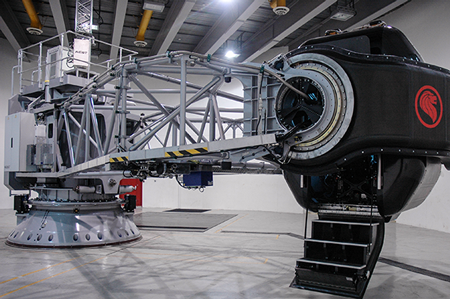 "I started as a civilian instructor, then following selection went to RAF College Cranwell for officer training, although we must admit that as RAFAC officers we only do a mere fraction of the training that regular serving officers do there. However, we must also remain current in all our qualifications, safety regulations, and policies which is an additional commitment in our spare time. After eight years in, I'm now serving in the rank of Flying Officer.
"The thing I've enjoyed most is training cadets who have had no experience of flying, maybe those who've been abroad but have only travelled by ferry.  To see them take control of a Grob Viking glider or Tutor and then eventually go solo is great, we have had many  cadets go on to become commercial pilots and one or two flying for the RAF.
"It's not just flying though; it's the cadet's personal development and confidence. It can be really hard work, particularly at the end of a long week at work, rather than heading to the sofa, having to clean and put on your uniform ready to instruct. However, to play a small part in the cadet's development is very satisfying for both David and I. Of course we do have fun on the way, and the camaraderie within the staff is excellent."
Overall both David and Keith feel the training and experience they receive in the RAFAC is highly transferable into their roles at Thales, and helps them share the same ethos as many of our customers. Add to that they are helping to create the next generation of future leaders whether it is in civilian or military fields – then it's a win-win for everyone.