Thales makes a donation to Scottish Mountain Rescue
The mountains of Scotland offer an opportunity for explorers to see some of the most dramatic scenery anywhere in the UK. However, sometimes things can go badly wrong in the mountains; be it through bad weather, bad planning or just plain bad luck. When this happens, it inevitably results in the deployment of the highly skilled and dedicated members of the Scottish Mountain Rescue. To aid them with their efforts, Thales has donated three hand-held Sophie UF2 thermal imaging cameras.
Two of the Sophies were handed over to Scottish Mountain Rescue at Aviemore during their annual conference in November 2018 and the third one was handed directly to Arran Mountain Rescue in April 2019.
The Sophie UF2 is a long wave, soldier carried, thermal imaging target locator; a version currently in use with the British Army. The infrared sensor in the Sophie UF2 will help Scottish Mountain Rescue locate a missing person, day or night, by sensing their heat signature. The in-built GPS, digital compass and laser rangefinder will assist in providing accurate location information in a compact, lightweight, battery-operated, hand-held configuration.
"We are very grateful to Thales for this kind donation of equipment that will assist mountain rescue volunteers searching for missing persons in the wild places of Scotland. They will be especially useful in the winter months, when searches frequently take place in the hours of darkness. These outstanding pieces of equipment are a leap forward in the technology available to our teams."
Damon Powell, Chairman of Scottish Mountain Rescue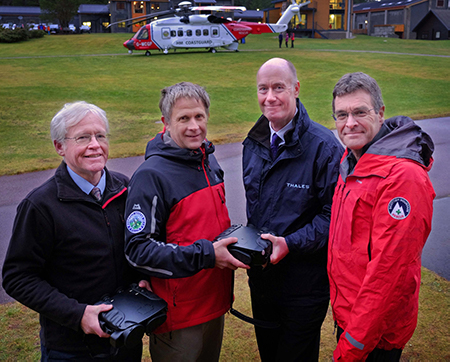 Scottish Mountain Rescue is a registered charity which represents 24 of the 28 mountain rescue teams across Scotland.
All of their team members are volunteers who never pause for a moment's thought when called in to action, day or night, good weather or bad. Often working alongside the police and Maritime & Coastguard Agency, mountain rescue volunteers have helped to save lives.
 
For more information on Scottish Mountain Rescue, visit their website.  
For more information about Arran Mountain Rescue, visit their website.