Thales plays part in protecting city during global sporting showpiece event
 How do you help protect a city hosting the world's biggest sporting event and being watched live by an audience of 200 million people?
Thales in supporting role at 2017 UEFA Champions League Final
Thales faced that challenge when it supported South Wales Police in their security effort when Cardiff was host city to the 2017 UEFA Champions League Final – just one week after the tragic events at the pop concert at the Manchester Arena.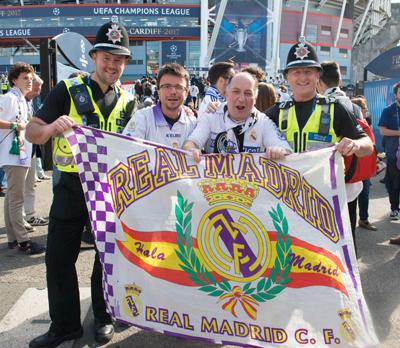 The final - bringing together two of the world's most iconic football teams in Real Madrid and Juventus – also brought the police the immense challenge of maintaining public order and calm against the threat of potential terrorist activity and criminal acts.
Cardiff is the smallest city ever to host the final – which in reality, was a significant number of events focussed around the capital and city centre, full of national and regional officials, supporters, revellers, media and shoppers.  It was an immense challenge for all involved.

Security e
xpertise 
As part of our global security expertise, our systems, capabilities and knowledge can coordinate data to provide state agencies with a common operational picture and to facilitate response procedures. 
In the countdown leading up to the event, Thales used its capabilities and processes to support South Wales Police.  

Tailore
d da
ta analysis
Thales deployed an integrated toolset that collects all available open source data (including social media), conducts a significant degree of processing and analysis of that data – including tailoring that analysis against user-defined criteria – to generate routine reports and specific alerts to Police Commanders and key staff.      
The support proved helpful to the Police's huge challenge, and we are proud to have – in a very modest way – contributed to keeping the City safe and ensuring a successful event.
Gareth Williams, VP of our Security business in the UK, said: "Modern national security challenges are diverse, and tough to counter. We develop the systems customers need to identify, to assess and to neutralise threats – in this case, providing commanders with a new view of their external environment and providing another flow of information to support decision making.  
"We are delighted to have been able to deploy state-of-the-art tools to support South Wales Police's mission to safeguard the Champions League Final."