What's it like being part of CSG: We spoke to Andy Hodge to find out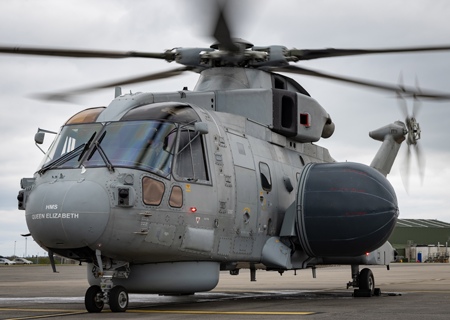 The HMS Queen Elizabeth – the jewel in the UK's Carrier Strike Group – has now deployed. But just before it set sail from Portsmouth, we caught up with Thales Field Service Representative, Andy Hodge, who specialises in the Crowsnest AW Radar. How had he come to be on board the Royal Navy's flagship? What does his typical day look like? And what will he miss most, while at sea?
Our Thales people and capabilities play a key role in the Carrier Strike Group 21 [CSG21] deployment. Our technology features on many of the platforms that make up the Carrier Strike Group from submarines to surface ships to Helicopters and the aircraft carrier itself.  
Andy, how would you sum up what it's like being part of the Carrier Strike Group and on board the QEC?
I have the same feeling aboard the QEC as I had serving Queen and Country back in my Navy days. As I like to say, if you cut me down the middle, half of me is Royal Navy and the other half is Thales, so I feel really privileged and proud to be flying the company flag. Everyone on board – and their families, I might add – have made big sacrifices to be here. And knowing how incredibly hard the Thales team has worked to get the aircraft on here, and me on here too, is just very humbling. It's a massive honour.
Can you tell us a bit about yourself. How has your Thales journey led you to this point?
I joined the Royal Navy when I was 16 and served in the Fleet Air Arm for 24 years. I was deployed to the Falklands as a 19-year-old and saw the devastating impact of not having an Airborne early-warning (AEW) radar capability. Later on, when I saw the first helicopter-mounted AEW radar I said, "I want to be part of that". And four years later, I was. 
Then when I left the Royal Navy in 2002, Thales approached me to work on a new replacement AEW radar helicopter called the  Sea King Mk7 ASaC (airborne surveillance and control) radar and subsequently other projects including managing the ASaC simulator and now as a Field Service Representative (FSR) supporting Thales' Crowsnest radars on the Merlin helicopters aboard the QEC.
Tell us, what does a typical day look like for you on board?
It's a cliché to say, but no two days are quite the same. Though having been on exercises in the north of Scotland for three-and-a-half weeks, I've established a bit of a routine. Up at 05:45 to do a 30-minute PT circuit from 06:15-06:45 to get my CV system going and my heart rate up. Then its shower, change and breakfast at 07:00 and at work at 07:30. A lot of the kit is new to the engineering team supporting the air crew, so there are lots of equipment and processes to work on. 
I'll break for lunch at 12:30 (the food is pretty good by the way) then it's more of the same in the afternoon, prepping for sorties, briefing the air crews, solving any issues. Then it's an hour for evening meal at 18:30 then more briefing or debriefing crews. Most days, I'll finish about 22:00, but I'm expecting to finish a bit earlier once we've bedded in the systems and procedures. And that's seven days a week, because like all the armed forces, the Navy doesn't take weekends off. It's a 24/7 operation.
After such a long day, how do you unwind?
It's difficult being on a ship. It's not like you can switch from work-mode to home-mode, and if there's still a problem to solve at work I find it hard to switch off anyway. But generally, I'll listen to music, watch a film on my iPad, read a book (currently reading Man Up, which my daughter gave me), or do some puzzles. And if there's time, I'll do a spin class to get some more exercise in. It's about trying to do things that take my mind off work for a while, but you can never really switch off. No-one can, because we all have jobs to do and everyone is relying on everyone else.
What other personal possessions have you got with you and what are you going to miss most?
I have a few framed photos of my grandchildren. There's limited space onboard, so you can't bring a lot with you. I'm definitely going to miss my family, and based on my previous deployments, I'll miss the simple things. Like exercising my dogs or going on coastal walks – I live in a fishing village in Cornwall. When the aircraft are flying all day, you can't get out much, so when they do open the flight deck there's a scramble to put on your sports gear and get outdoors and exercise in that fresh sea air.
As a Crowsnest specialist, what excites you most about the area you work in and what are some of the more challenging aspects of the job?
I'm so excited to have the opportunity to work closely with the American and the British F-35B Lightning jets. It's a challenge as it's an evolving system on a new platform, which happens to be one of the world's most modern and advanced aircraft carriers. It doesn't get much more exciting than that.
When we're carrying out some exercises, we have to go comms silent, which means you have to do everything on your own without the support or back-up of others. It forces you to adapt and think on your feet to solve problems. It can be quite challenging, but also very rewarding when the solution you come up with works. We also have a very high sortie generation-rate, so aircraft have to be turned-around and ready to fly really quickly, so there's always a lot of time pressure.
FOR MORE INFORMATION
If you want to know more about both the QEC and the Prince of Wales aircraft carriers, and indeed more on the Carrier Strike Group 21 which set sail recently, please click on the internal news stories below which include photos and video.
HMS Queen Elizabeth, Thales and Me: a 20-year relationship
UK Carrier Strike Group sets sail led by the HMS Queen Elizabeth
Flagship Day For British Engineering
Images © OGL