Contactless payments: adoption, innovation and a window into how they work
Estimated reading time: 5 minutes
According to Ernest Hemingway change happens gradually, then suddenly. This is certainly true of contactless payments. Tap to pay NFC technology was added to cards in the 2000s, but it was mostly ignored by users until the COVID pandemic. From the early months of 2020, adoption soared.
How drastic was this uptick? Mastercard's data shows that in the year from Q1 2020 to Q1 2021, in-person contactless payments grow by at least 50 percent in more than 100 markets – equal to one billion more transactions.
Tap to pay is here to stay. Indeed it is now commonplace to find retailers that will not accept cash at all. They have good reasons to implement this policy: card payments are easier to manage, more hygienic and less prone to embezzlement/theft than notes and coins.
Experts now believe the rise of contactless has just begun and that rates of adoption will soar in the decade. For example, a report by Contrive Datum Insights projects that the value of total contactless payments will hit $5,424 billion by 2030, up from $1,168 billion in 2022.
Improvements in the contactless experience will drive this growth. Stakeholders have introduced many significant innovations. For example, there is now a card with LED lights that blink when in range of a contactless reader. There's also voice tech that 'speaks' the total to the user. These innovations help the visually impaired and those unable to read.
Another breakthrough is the biometric card. In 2021 the first card was launched with a fingerprint sensor on the body. It means a user can securely authenticate a payment without a PIN or any contactless limit. 
And perhaps the most significant innovation of all could be in relation to smartphone-based contactless payments. This breakthrough is the SoftPOS – short for 'Software Point of Sale'. SoftPOS turns smartphone itself into a card reader, which makes it possible for millions more retailers (and individuals) to accept contactless transactions.
All of these improvements look set to embed contactless payments in everyday life for billions of people. But how do these transactions actually work? What is happening in the background in the split second between tapping the reader and the transaction being accepted?  
In this infographic, we will reveal the complex web of actions: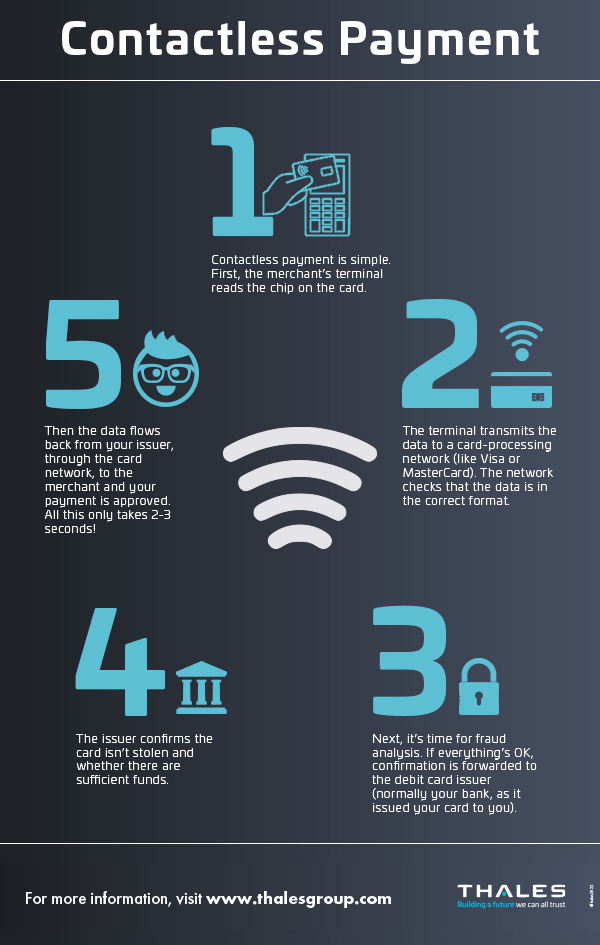 Related content:
On the money? Seven key banking and fintech trends for 2023
A history of payment cards - from clay tablets to EMV cards...
7 benefits of biometric payment systems