First Spacebus Neo all-electric platform from Thales Alenia Space passes key milestone
Eutelsat's KONNECT satellite successfully mated
Cannes, March 1, 2019 – Thales Alenia Space, a Joint Venture between Thales (67 %) and Leonardo (33 %) announced today that the platform and payload of Eutelsat's KONNECT communications satellite have been successfully mated. KONNECT is the first satellite to use the new Spacebus Neo all-electric platform.
The Spacebus Neo platform features a number of major innovations:
Highly innovative thermal control and high-performance power subsystem
Flexible and modular design
Payloads tailored to each customer's requirements, including digital solutions and Very High-Throughput Satellites (VHTS).
The Spacebus Neo product line is jointly supported by the European Space Agency, through its ARTES program for Advanced Research in Telecommunication Systems, and the French space agency CNES.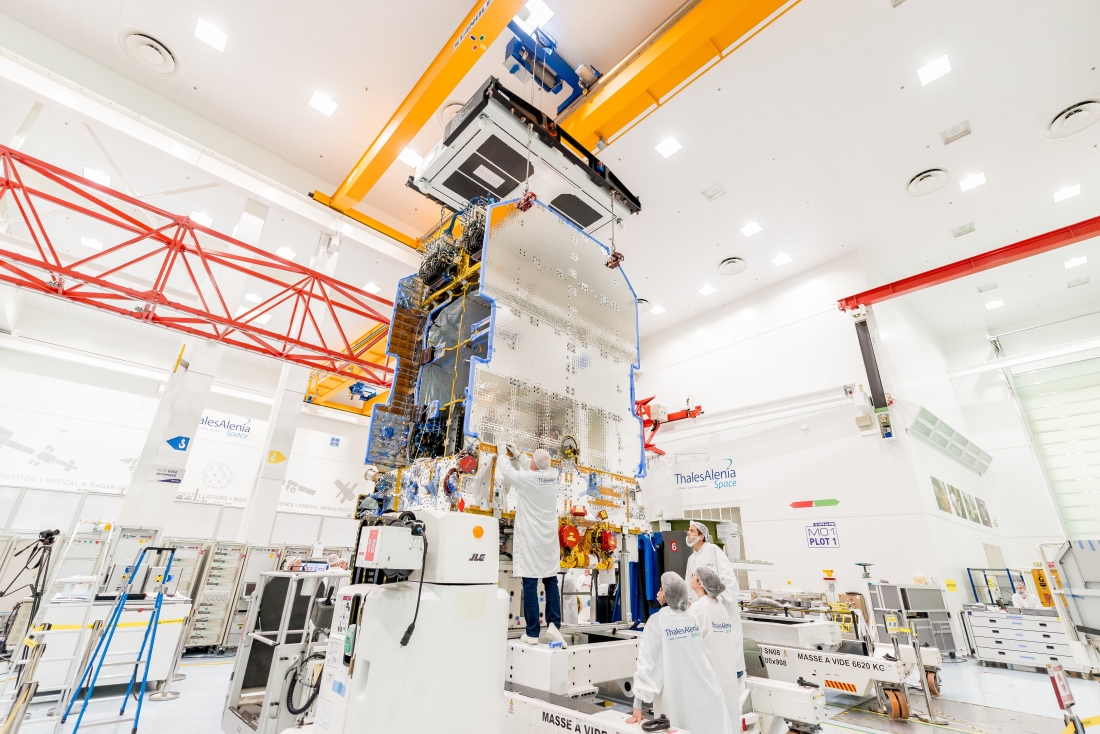 "We're pleased to announce that we have reached this key milestone on our new platform for its first commercial application, with our long-standing customer Eutelsat," said Rémy Le Thuc, Vice President for Telecommunication Projects at Thales Alenia Space. "Our Spacebus Neo product line reflects the strong commitment of all industry and institutional teams involved in this program. More robust, more modular, more powerful, more innovative and more flexible, the Spacebus Neo platform is precisely tailored to user expectations in the fast-changing telecommunications market. As a result, Eutelsat's KONNECT satellite will offer unprecedented operational flexibility."
Photos copyrights: © Thales Alenia Space/Master Image Programmes & © Thales Alenia Space/Imag[IN]
About Thales Alenia Space
Drawing on over 40 years of experience and a unique combination of skills, expertise and cultures, Thales Alenia Space delivers cost-effective solutions for telecommunications, navigation, Earth observation, environmental management, exploration, science and orbital infrastructures. Governments and private industry alike count on Thales Alenia Space to design satellite-based systems that provide anytime, anywhere connections and positioning, monitor our planet, enhance management of its resources, and explore our Solar System and beyond. Thales Alenia Space sees space as a new horizon, helping to build a better, more sustainable life on Earth. A joint venture between Thales (67%) and Leonardo (33%), Thales Alenia Space also teams up with Telespazio to form the parent companies' Space Alliance, which offers a complete range of services. Thales Alenia Space posted consolidated revenues of 2.6 billion euros in 2017 and has 7,980 employees in nine countries. www.thalesaleniaspace.com
Thales Alenia Space – Press Contacts:
Sandrine Bielecki
Tel: +33 (0)492 927 094
sandrine.bielecki@thalesaleniaspace.com
Chrystelle Dugimont
Tel: +33 (0)492 927 406
chrystelle.dugimont@thalesaleniaspace.com
Cinzia Marcanio
Tel: +39 (0)641 512 685   
cinzia.marcanio@thalesaleniaspace.com