Thales Graduates deliver creative solutions to address diversity and safety
Each year as part of the Thales Australia Graduate Program, we set our graduates a team project challenge. In previous years, the challenge has focused on innovating a product, service, business solution or process improvement for Thales Australia, however this year saw a shift in focus toward positively influencing diversity, inclusion and safety at Thales. Our 2022 Graduate Cohort presented their team challenge solutions, a culmination of six months of dedication to their projects, to a panel of judges at Sydney Olympic Park, leaving those in attendance impressed by their innovation and creativity.
Thales offers graduates careers in engineering, cybersecurity, business, software engineering and information technology.This year's project provided our recent graduates with an opportunity to positively contribute to our culture, demonstrate Thales leadership behaviors and develop their  creativity, collaboration and problem-solving skills. Graduates worked in teams to define a problem and then create a solution that addressed that problem, using a Design Thinking approach. 
Problems and solutions were to focus on supporting, raising awareness of, educating or increasing engagement in the areas supporting our Diversity & Inclusion program (Respect@Thales) or Safety, and produce realistic and practical solutions.
The Graduates tackled each problem head-on, working across five teams to come up with creative and impactful solutions. Here's what they presented on the day:
Gender Equality Project: Recognising the value of gender diversity in not only our organisation, but our community-at-large, the team launched a Women's Social Club, providing a welcoming space for Thales Australia's female employees to connect, network and support one another.
Veteran's Project: To honour and recognise veterans in our company, the team created a powerful poster series to raise awareness about our Veteran's Committee, programs and support available to veterans throughout the company.
Diversity and Inclusion Project: The team developed a fun and interactive card game to encourage deeper connection and an understanding of the diversity that makes our organisation unique.
Safety Project: The team designed engaging safety quizzes to help employees stay safe at work.
Mental Health and Wellbeing Project: The team looked at increasing awareness of resources available to employees, helping to reduce stigma and encourage support.
The presentations were a chance for Graduates to show off their impressive work and receive feedback on how to take their ideas to the next level. The level of creativity and collaboration demonstrated through the projects left the audience thoroughly impressed, and many of the Graduates cited the project as the highlight of their Graduate Program so-far.
Patrick O'Callaghan, HSE Training Manager was a mentor for two of the project teams and remarked "I was encouraged by their enthusiasm, innovation and team-based approach to 'solving the problem'. The presentations were succinct, credible and demonstrated novel and sustainable solutions in areas of Mental Health and Wellbeing as well as Site Safety."
Phillip Swadling, Technical Director, Avionics, was also in attendance and said, "I was very impressed by the enthusiasm the grads displayed for the projects they had selected. The projects were all related to strengthening company culture and the outcomes displayed a great depth of understanding of the issues. Most importantly, the outcomes of each project were all practical and able to be readily implemented, and in fact had already been implemented. I was really inspired by the group as a whole - the future of Thales is in great hands!!"
Overall, this year's projects have been a huge success and we're excited to see how these solutions can be implemented to improve diversity and inclusion, and safety at Thales. The future looks bright with this talented group of Graduates leading the way!
About the Thales Australia Graduate Program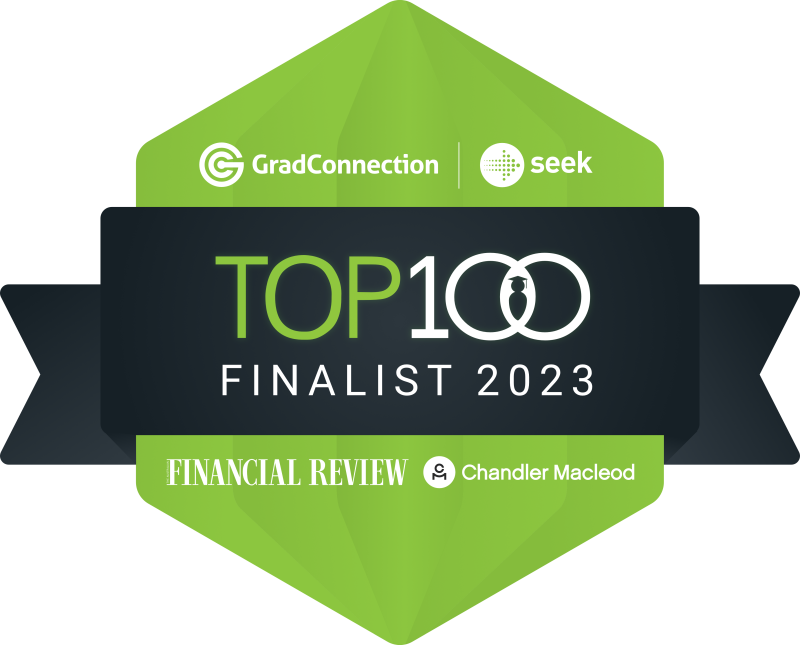 Thales is one of Australia's leading engineering and technology companies and offers graduate careers in engineering, cybersecurity, business, software engineering and information technology.
The Thales Graduate program continues to grow, in 2023 we brought on board over 50 graduates, one of our largest intakes ever, and we're currently recruiting for the 2024 intake.
Thales has been recognised as one of the Top 100 Graduate Employers in Australia, and nominated for the Top 10 Most Popular Engineering Award as part of the GradConnection program.