Milestone for greater reliability and punctuality on Germany's rail lines
With the commissioning of five new, electric interlockings between Wörth, Germersheim and Speyer in Rhineland-Palatinate, all of Deutsche Bahn's passenger and freight traffic will now benefit from even greater reliability and adherence to schedules on one of Germany's most important routes.
This commissioning marks a key milestone for Deutsche Bahn on its way to becoming Germany's most important means of mass transportation and thus also for Germany's necessary transport turnaround toward sustainability.
This rapid modernization in around two years was made possible by the so-called Fast Track Program (SLP) initiated by the German government, Deutsche Bahn and industry as part of Digital Rail Germany (DSD).
With today's commissioning, Germany's overall rail network is once again becoming a bit more robust. The modernization not only reduces maintenance costs, but also enables construction work to be carried out with fewer operational restrictions for passengers and freight customers than before.
High-speed program accelerates digitization of the railroads and thus the traffic turnaround
The Wörth-Germersheim-Speyer digitization project is one of a total of seven SLP projects throughout Germany in which new procedures and standards are being tested and whose project and operational analyses form the foundation for the nationwide implementation of the "Digital Rail Germany" (DSD) program in the coming years, which has also already begun.
The digitization of all rail traffic is the basic technological prerequisite for a sustainable and climate-friendly transport turnaround in Germany. More trains per route, increased punctuality and comfort gains will bring more traffic onto the railways and thus make a decisive contribution to Germany achieving its climate protection and CO2 reduction targets.
The commissioning ceremony will take place this morning in Wörth in the presence of, among others, Dr. Richard Lutz, Chairman of the Board of Management of Deutsche Bahn AG, Federal Minister of Transport Volker Wissing and Markus Fritz, Vice President Main Line Signalling Thales Germany.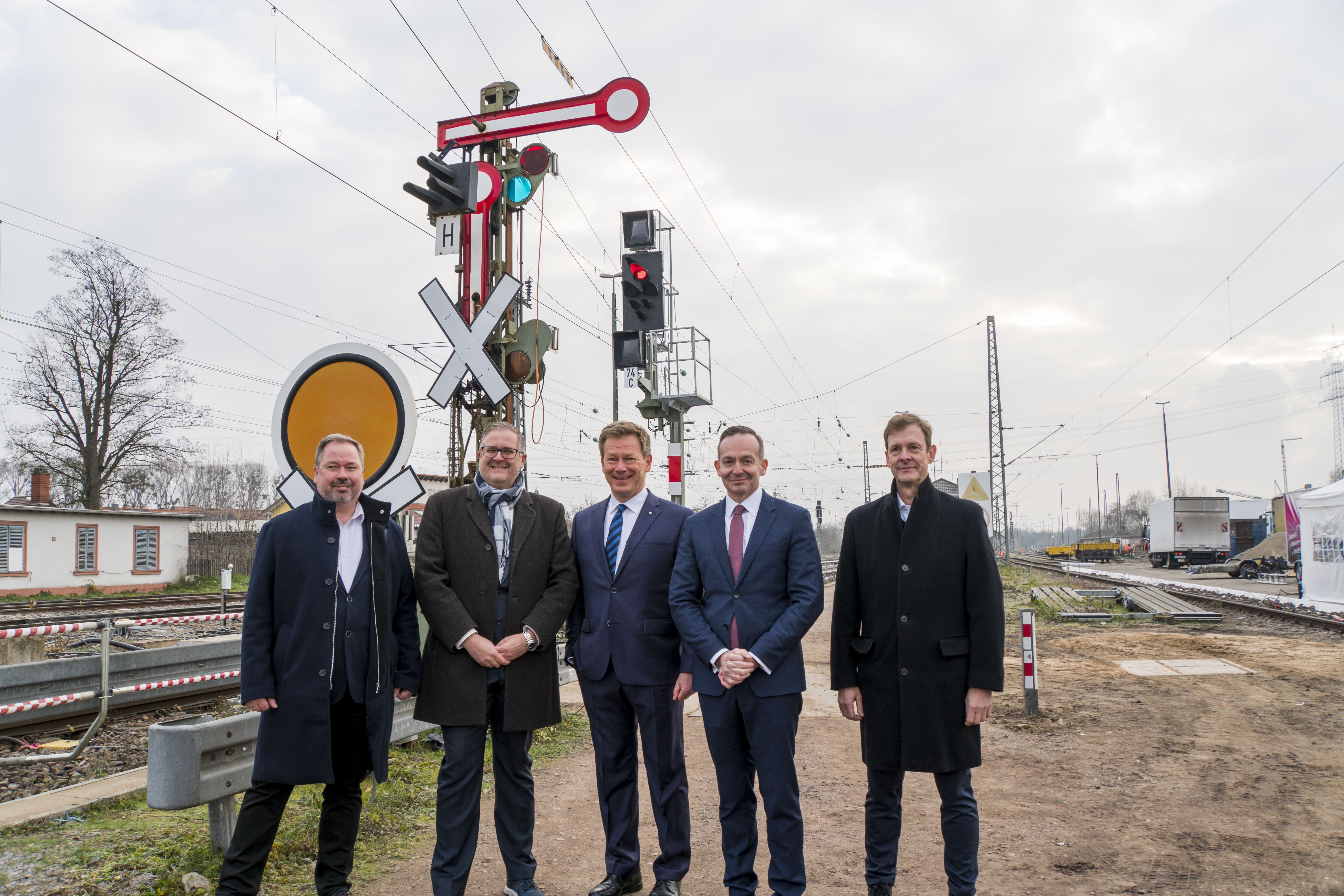 From left to right: Gabor von Wilmoski (DB Netz AG), Markus Fritz (Vice President Main Line Signalling Thales Germany), Dr. Richard Lutz (Chairman of the Board of Management Deutsche Bahn AG), Federal Minister of Transport Volker Wissing and Frank Gülicher (DB Netz AG)
Facts at a glance:
- Between Wörth and Speyer, seven old interlockings were replaced by Thales' electronic interlockings (ESTW L90), which already contain essential interfaces of the future digital interlocking and thus form the basis for the "Digital Node Stuttgart".
- The high-speed program (SLP) is being financed by the federal government with a total of 500 million euros from the Corona stimulus package and includes the digitization of seven lines.
- The Wörth-Germersheim-Speyer line was put into operation in just around two years from the time it was commissioned.
- The entire conversion was carried out largely under 'rolling wheels', as hardly any closures were possible on the busy rail line.
"Everyone involved in our Thales project team is united by a great passion for what we do every day for our customer and partner Deutsche Bahn, so that it can fulfill its highly complex mobility mission a little more perfectly every day. The great trust that our most important European customer has placed in us for many years is also a great responsibility of which we are aware. Today, I am happy for the railroad and at the same time proud to have successfully delivered this milestone, which is so important for them, on time and as general contractor," says Markus Fritz. "Our thanks also go to all our partners and contractors, with whom we were able to work together to successfully complete this impressive project on a fast-track basis," Fritz added.
We will share news about the event later today via our Instagram channel (@thales_deutschland).
Information on our signaling and interlocking technology can be found on our website.