Thales Transportation team completes clothing drive with women's charity SMART Works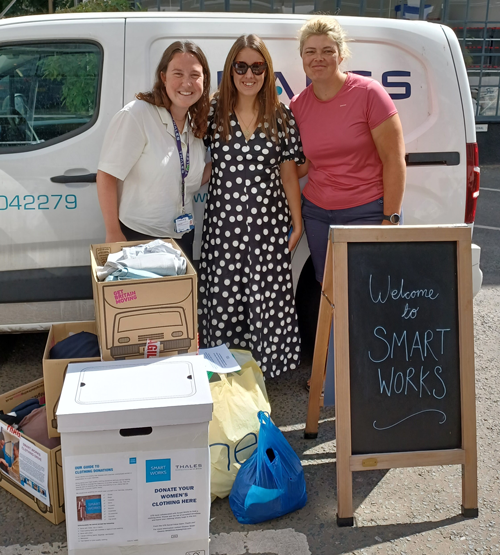 Last month, the Thales Transportation team was delighted to take part in our first joint clothing drive alongside charity partner, SMART Works.
Seeking to supply women with the tools for entering industry – from clothing to interview preparation – SMART Works has a proven track-record of driving change throughout numerous employment sectors and increasing diversity in traditionally underrepresented jobs.
This initiative marked the latest social value project in which Thales Transportation has partaken, with the aim to benefit local communities and women entering diverse careers. Amongst SMART Works' beneficiaries, 40% are single mother households.
Throughout our clothing drive, we took donations at our Quadrant House, Waterloo, Beckton and Stratford offices, collecting items ranging from shoes to handbags and clothes. Over three weeks, we managed to collect six full boxes to donate to the charity. 
At Thales Transportation, building self-confidence and developing  relevant skillsets forms a large part of our social value objectives, whether through our education programmes, apprenticeships or work with charities such as SMART Works. Inspiring women to find and exceed their limits in whatever profession they wish to pursue, reflects Thales Transportation's wider aim to push boundaries and deliver more for local communities, London and  the UK.
By boosting representation and diversity amongst our own ranks, Britain's rail sector can harness a vast amount of unrealised potential and create a better industry for the future. We look forward to our collaborative projects with SMART Works throughout the coming year.