Thales has held a leading position in the naval domain for the past 30 years. A significant number of Thales radars, fire control and command & control systems have been delivered to the Royal Thai Navy.
In the last five years, Thales has recorded a number of successes to address the Royal Thai Navy's (RTN) blue and littoral water requirements. This has included the delivery of the following combat management and communication systems:
TACTICOS Combat Management System (CMS), VARIANT surveillance & tracking radar and LIROD fire control radars on the Offshore Patrol Vessel (OPV) First Class OPV HTMS KRABI, built locally by Bangkok Dock Shipyard.
TACTICOS CMS and MIRADOR observation and tracking system for the Khamronsin Corvettes.
TACTICOS CMS and MIRADOR FCS for the First Class of the Patrol Gun Boat.
In April 2016, Thales was awarded two significant contracts for the supply of a full spectrum of Above-water and Underwater solutions for the Royal Thai Navy. In one contract, Thales was awarded the role of prime contractor for an extensive upgrade of two Bang Rachan Class minehunters built in the late 80's (HTMS Bang Rachan and HTMS Nong Sarai), marking Thales's first success in the underwater systems and sonars market in Thailand. As prime contractor, Thales will be responsible for the revised vessel design, repairs and modernisation, the procurement of equipment and the platform integration.
In a second contract, the Royal Thai Navy's second Krabi Class vessel will be equipped with a Thales integrated solution that includes the TACTICOS combat management system and an integrated bridge and navigation suite. Thales will supply the Tactical Data Links Link RTN and LINK-Y Mk2 and all internal and external communication systems as well as be responsible for all integration activities, including the 76 mm gun, 2x 30mm gun and HARPOON SSM.
By working together with its naval key industrial partner, and establishing expert teams in Thales Thailand, Thales is building an indigenous capability with its partners in Thailand, in shipbuilding, integration and providing training and Integrated Logistic Support (ILS) to the Royal Thai Navy. In addition, Thales is serving the Royal Thai Navy's Marine Corps with digital tactical radios, as well as other key capabilities, enabling optimal operation in challenging environments.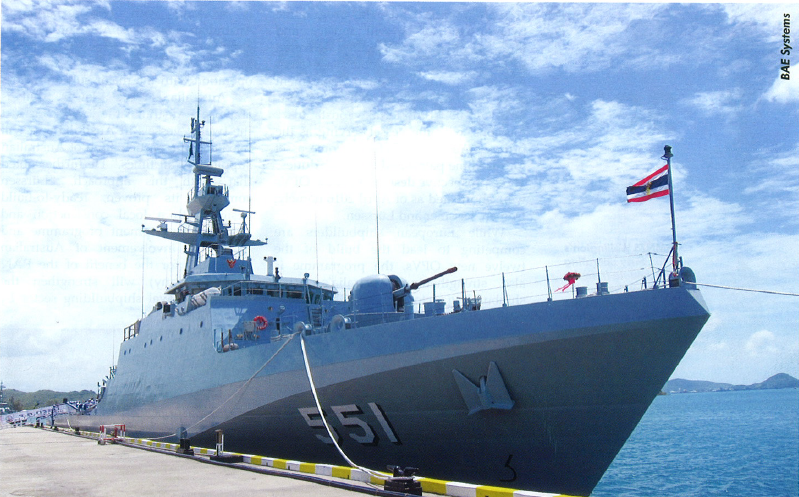 © BAE Systems
In the land domain, Thales has a wide portfolio of systems and products for soldier and military vehicle applications. The Group has been modernising tactical communication capabilities since 2008 and is continuously working with the Royal Thai Army to offer world-class modern digital communications. Furthermore, the Group is a major supplier of electronic warfare equipment, dedicated to intelligence and counter-measure applications, as well as thermal imagers & radars for surveillance operations.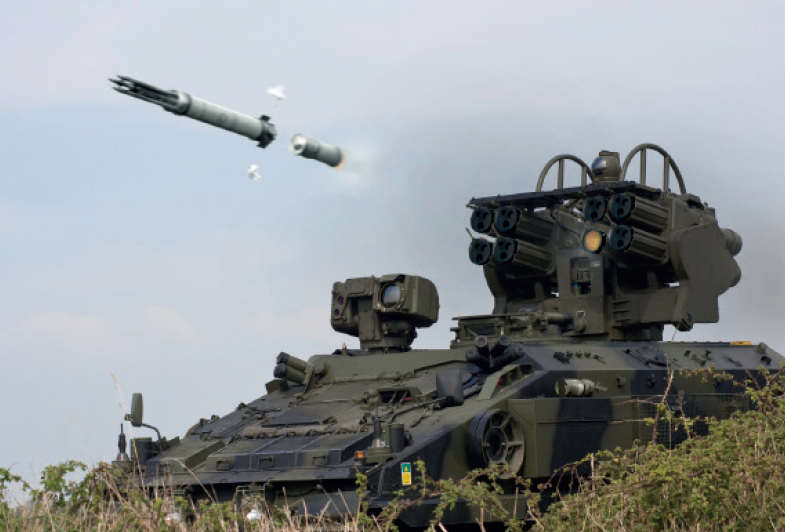 © Thales


In air defence, the Royal Thai Army selected Thales' STARStreak Air Defence System in 2012. The system comprises of the world's fastest very-short-range air defence (VSHORAD) missile and Lightweight Multiple Launchers (LML). Following up on this initial purchase, in 2015, Thales signed a new contract to supply the Royal Thai Army with the second and third batches of the STARStreak Air Defence System.
In 2017, Thales is working with DTI to support establishing local expertise in the area of vehicle-based Digital Communications and Command systems as well as integrated air defence systems.