Alongside the development of secure products, secure handling of information is also a fundamental part of everyday operations at Thales Deutschland. For Thales, information security does not only mean protecting its own information, but also that of its customers and partners. This has an impact on all business processes, from communication to supplier selection and up to product development. Since 2019, Thales Deutschland has been operating an Information Security Management System (ISMS) certified according to ISO/IEC 27001:2013 in order to ensure information security.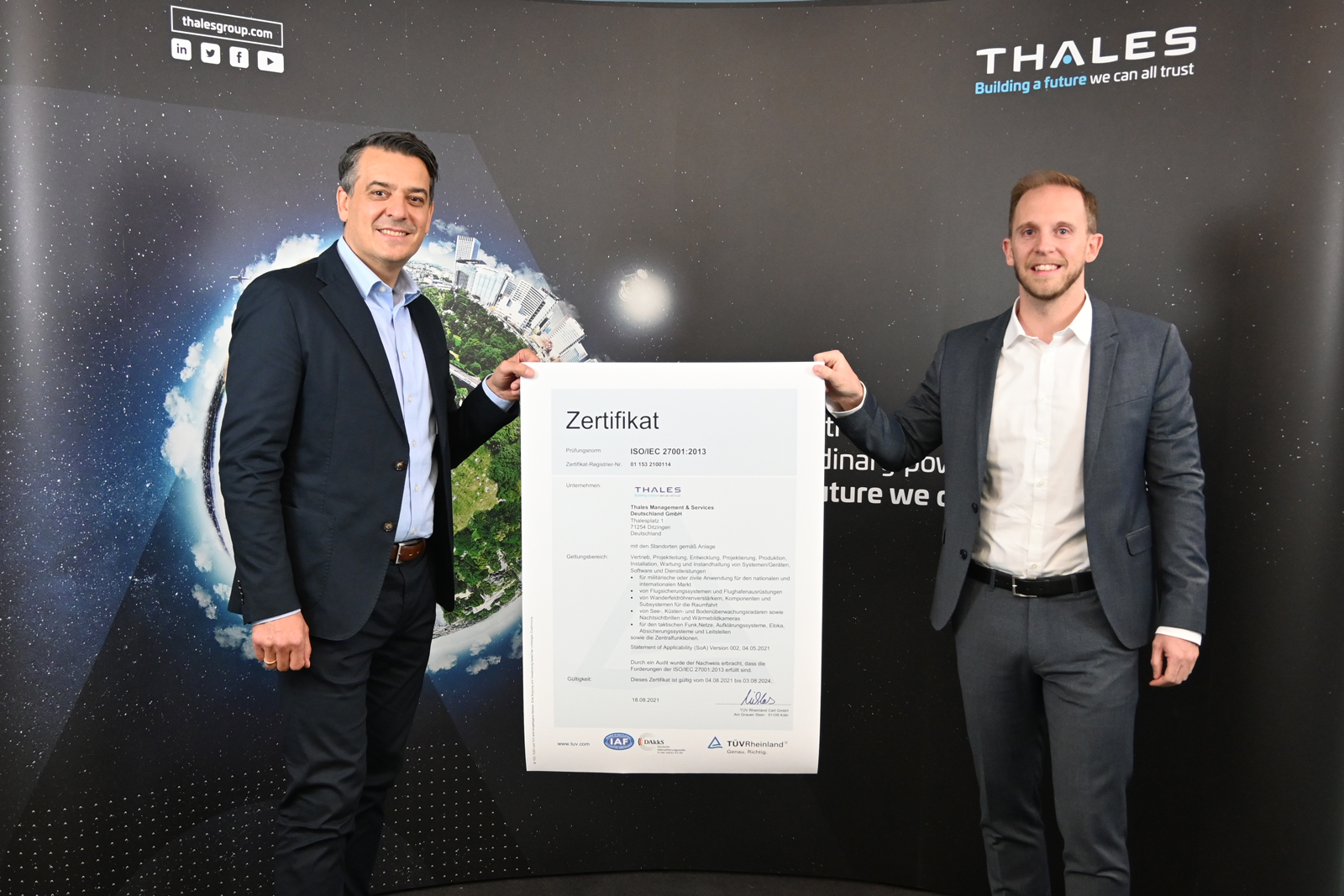 In June 2021, TÜV Rheinland also audited all other Thales Deutschland business divisions (Land & Air, Microwave & Imaging Sub-Systems, Naval, Secure Communications & Information, Training & Simulation) as well as THALES Immobilien Deutschland GmbH and Thales Management & Services Deutschland GmbH – where the core operations of Thales Deutschland take place – as having an effectively operating ISMS in accordance with ISO/IEC 27001:2013.
Risk management as a basis
"The successful certification acknowledges our company as an effective threat and risk manager adhering to an internationally recognised standard procedure," Oliver Dörre, Chairman of the Management Board of Thales Germany, explains. "As a digital champion, it is important to exemplarily live information security also within our company. This important certification strengthens our customers' trust in us and in our cyber security solutions," Dörre continues.
The certification is valid for three years and requires an annual audit of the ISMS. However, the work of the information security organisation does not end with certification. Information security is an ongoing task that Thales takes very seriously and thus continues to work on an appropriate protection of information assets.