Thales Germany receives a prestigious award for equal opportunities in personnel policy – the TOTAL E-QUALITY Award
At Thales, we believe that we can achieve the best results with mixed teams and that equal opportunities must become a matter of course – and this is why promoting diversity & inclusion is firmly anchored in our strategic goals and why we have defined action plans and targets to actively promote diversity and make it an integral part of our corporate culture.
Our commitment has now been officially confirmed by the TOTAL E-QUALITY Deutschland e. V. Award: On November 5, Bernd Schopp, Vice President Human Resources, and Petra Mörsfelder, Diversity Manager, accepted the TOTAL E-QUALITY award for Thales Germany at the Bavarian Academy of Sciences.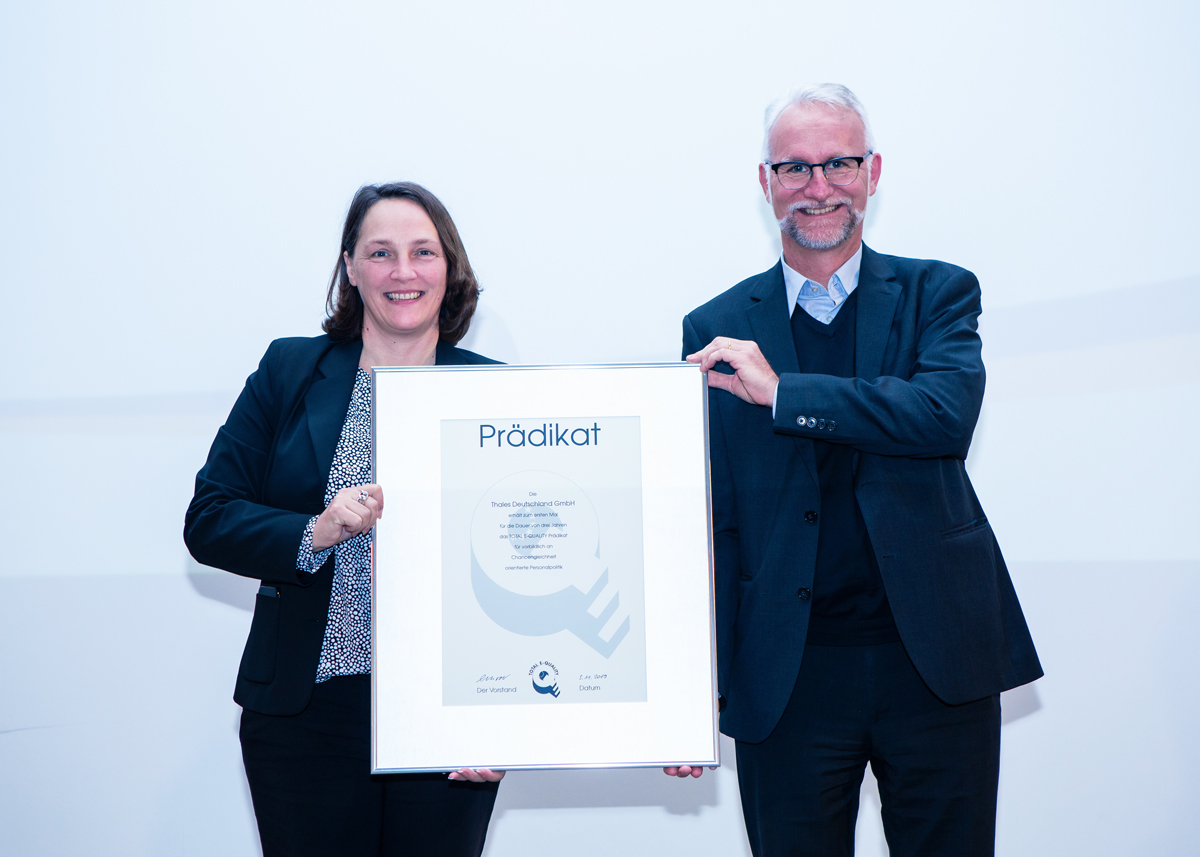 The TOTAL E-QUALITY Deutschland e. V. awards the title for exemplary personnel management action that is geared to equal opportunities. It recognizes a successful and sustainable commitment to equal opportunities for women and men in the workplace and the promotion of an effective life balance through a proven, holistic approach. In the past, our Arnstadt site has won the TOTAL E-QUALITY award many times – and now all of our Thales Germany sites have received the award, which remains valid for three years.
"The award honors our commitment and the many diversity projects we have carried out at Thales Germany in recent years," said Bernd Schopp, who was delighted with the independent jury's decision. "We have worked consistently and with the active participation of all company levels to firmly establish the philosophy of equal opportunity, particularly in the areas of leadership, personnel development, talent promotion and talent acquisition, and to incorporate equal opportunity into the shaping of our working environment."
Petra Mörsfelder added: "The award also motivates us to continue to work purposefully for a cultural change towards more diversity and open-mindedness. For our next application in three years' time, we're already working to meet the criteria for the additional Diversity award for sustainable measures in other dimensions of diversity, such as generations, ethnicity, sexual orientation, and physical and mental abilities. This will sustainably support the transition to more diversity and tolerance, both within our company and in society."
About TOTAL E-QUALITY
TOTAL E-QUALITY Deutschland e. V. pursues the goals of establishing and sustainably anchoring equal opportunities for women and men in business, science and politics, as well as diversity in the workplace. This goal has been achieved when the talents, potential and competences of both sexes are (equally) recognized, included and promoted.
In addition to reconciling work and family life, this also involves recruiting and developing staff with equal opportunities, promoting partnership in the workplace and addressing equal opportunities in the company's guiding principles. One priority in this regard is the promotion of women to management positions.
The award
proves that besides the "hard facts", the "soft facts" also count towards success and that the organization is not only committed to the compatibility of family and career, but that it also comprehensively pursues the topic of equal opportunities;
certifies that our organization creates a profitable use of resources from the potential and the special abilities of women;
motivates employees and creates a bond between them and the company – and it is also advantageous in that it attracts the best minds, since job applicants prefer an outstanding company.
More information can be found at: https://www.total-e-quality.de/en/