End-to-end cybersecurity for connected vehicles
The automotive sector is undergoing a profound transformation as vehicles are being connected to everything (V2X) – traffic lights, parking meters, other vehicles, and much more.
It's all aimed at supporting innovations like advanced driver assistance systems (ADAS), shared mobility, autonomous driving, and electric vehicles (EV).
While these technologies improve safety, convenience, and even greening up our environment, this vibrant, dynamic ecosystem only works if we can trust it.
That's where Thales comes in.
 
Thales designs, builds, and operates cybersecurity solutions to protect all critical assets and connected systems of automotive industry players. 
Drawing on decades of digital security experience across highly demanding markets, we provide advanced automotive cybersecurity expertise to minimize risks, protect vehicles and their data, and ensure trust between mobility stakeholders.
An increasing need for automotive cybersecurity
The automotive sector is complex, and it's evolving to include a growing number of connected car stakeholders.
As the ecosystem becomes increasingly connected, attack points multiply, exposing new vulnerabilities that hackers can exploit to threaten vehicle safety, users´ privacy, and car data integrity. 
Up to 605%
Increase of automotive cybersecurity incidents since 2016
To compete in the new automotive landscape and ensure trust in the ecosystem, global carmakers (OEMs) must deliver a strong cybersecurity framework that meets evolving automotive regulations.
The United Nations Economic Commission for Europe (UNECE) WP29 regulation, adopted in June 2020, is moving the industry in this direction by requiring automotive OEMs to integrate vehicle cybersecurity along the entire value chain.
In other words, it's driving a ´security by design approach. 
Together, building a connected car we can all trust.
How can we stop hackers from taking control of critical car systems and stealing sensitive data?
The key to safeguarding connected cars and defending against attack is managing secure access for a multitude of authorized stakeholders such as car drivers, car manufacturers, automotive IoT platforms, service providers, insurance companies, and maintenance operators.
 
From design to factory, to life on the road, you can trust in Thales to safeguard vehicles, drivers, and data: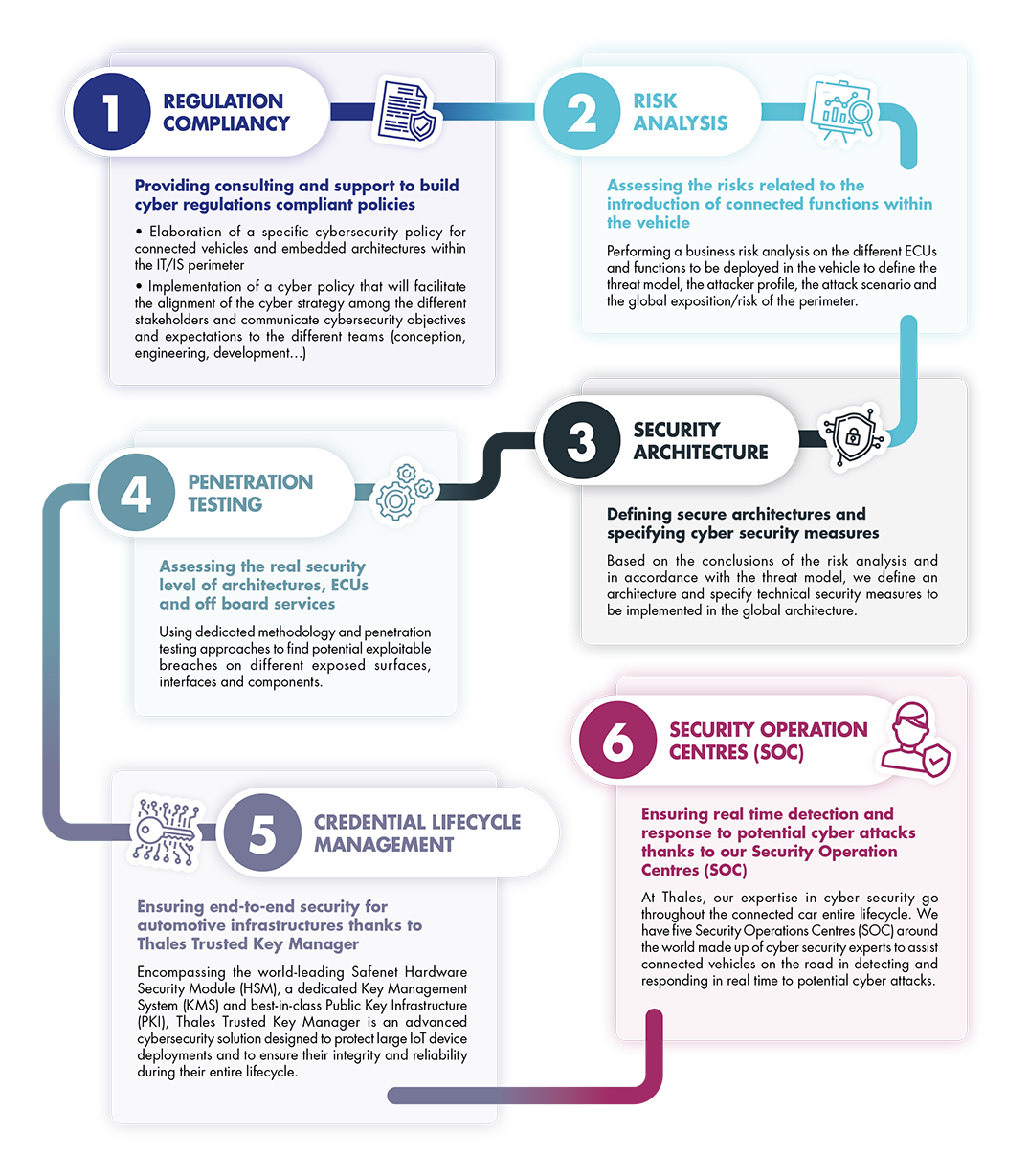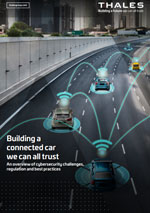 Deep dive into automotive cybersecurity regulation and best practices
With rising concerns in automotive cybersecurity, Thales supports vehicle manufacturers to understand the new regulation and how to design robust and secure architectures.
Download the whitepaper